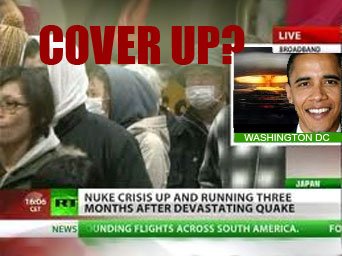 Fukushima Radioactivity is Everywhere All Over Northern Hemisphere and Every One is Already Contaminated to Some Degree
Recently President Obama ordered a complete news blackout of the flood ravaged crippled Fort Calhoun, Nebraska nuclear plant which is a symptom of the ongoing world wide cover up 'of the biggest industrial catastrophe in the history of mankind' ~ Fukushima.
It's an election year and President Obama is determined that no bad news or a looming nuclear crisis will undermine his re-election as president in 2012. But the truth has a way of undermining the best of the worst deceptions.
For example, a shocking report prepared by Russia's Federal Atomic Energy Agency (FAAE) on information provided to them by the International Atomic Energy Agency (IAEA) states that the Obama regime has ordered a "total and complete" news blackout relating to any information regarding the near catastrophic meltdown of the Fort Calhoun Nuclear Power Plant located in Nebraska.
According to the report "US Orders News Blackout Over Crippled Nebraska Nuclear Plant", the Fort Calhoun Nuclear Plant suffered a "catastrophic loss of cooling" to one of its idle spent fuel rod pools on 7 June after this plant was deluged with water caused by the historic flooding of the Missouri River which resulted in a fire causing the Federal Aviation Agency (FAA) to issue a "no-fly ban" over the area.
But that's small potatoes compared to the on going Fukushima cover up for the Fukushima deception continues unabated and a world wide health crisis is looming.
Here are the facts:
According to the highly credible investigator columnist Dahr Jamail, scientific experts believe Japan's nuclear disaster to be far worse than governments are revealing to the public.
– "Fukushima is the biggest industrial catastrophe in the history of mankind" Arnold Gundersen, a former nuclear industry senior vice president, told Al Jazeera-English. "Fukushima has three nuclear reactors exposed and four fuel cores exposed," he said, "You probably have the equivalent of 20 nuclear reactor cores because of the fuel cores, and they are all in desperate need of being cooled, and there is no means to cool them effectively…. Independent scientists have been monitoring the locations of radioactive hot spots around Japan and their findings are disconcerting.
– "We have 20 nuclear cores exposed, the fuel pools have several cores each, that is 20 times the potential to be released than Chernobyl," said Gundersen. "The data I'm seeing shows that we are finding hot spots further away than we had from Chernobyl and the amount of radiation in many of them was the amount that caused areas to be declared no-man's-land for Chernobyl. We are seeing square kilometres being found 60 to 70 kilometres away from the reactor. You can't clean all this up".
– "We still have radioactive wild boar in Germany, 30 years after Chernobyl"
In the US, physician Janette Sherman MD and epidemiologist Joseph Mangano published an essay shedding light on a 35 per cent spike in infant mortality in northwest cities that occurred after the Fukushima meltdown and may well be the result of fallout from the stricken nuclear plant.
The eight cities included in the report are San Jose, Berkeley, San Francisco, Sacramento, Santa Cruz, Portland, Seattle, and Boise, and the time frame of the report included the ten weeks immediately following the disaster.
" There is and should be concern about younger people being exposed and the Japanese government will be giving out radiation monitors to children," Dr MV Ramana, a physicist with the Programme on Science and Global Security at Princeton University who specializes in issues of nuclear safety, told Al Jazeera."  Read "Fukushima: It's much worse than you think"
Gundersen's assessment of solving this crisis is grim.
"Units one through three have nuclear waste on the floor, the melted core, that has plutonium in it, and that has to be removed from the environment for hundreds of thousands of years," he said. "Somehow, robotically, they will have to go in there and manage to put it in a container and store it for infinity, and that technology doesn't exist. Nobody knows how to pick up the molten core from the floor, there is no solution available now for picking that up from the floor."
Gundersen believes it will take experts at least ten years to design and implement the plan.
"So 10 to 15 years from now maybe we can say the reactors have been dismantled, and in the meantime you wind up contaminating the water," Gundersen said. "We are already seeing Strontium [at] 250 times the allowable limits in the water table at Fukushima. Contaminated water tables are incredibly difficult to clean. So I think we will have a contaminated aquifer in the area of the Fukushima site for a long, long time to come."
Note that GE, the maker of the Fukushima plant, owns something like 49% of NBC, which in turn is linked to msnbc.com. And then we have Westinghouse, another nuclear contractor, who owns CBS. My point is, the nuclear industry and the big news houses are interlinked and are not about to rock the boat (especially with their hired hand, Obama, running for re-election.). Remember, Obama received large contributions from the nuclear Industry and in turn has offered up a $50 billion stimulus package for nuclear construction.
Note also that the article "Fukushima: It's much worse than you think" is from Al Jazeerra-English and not the American Main stream press which is not only in bed with the corpocracy but purposely looking the other way. But we can't afford to look the other way ~ for this looming world health crisis is already upon us.
Bob Nichols, a columnist for VT, confirms the same toxic Fukushima radiation aftermath in his article titled "Fukushima: How Many Chernobyls Is It?".
Dr. Helen Caldicott described what's happening at Fukushima as "kind of like a nuclear war with no explosion." She believes the release of nuclides from Fukushima is much higher than has been reported by officials and could, over time, cause millions of cancers. She says "We're talking about random compulsory genetic engineering for the rest of time. And almost all mutations are deleterious. They cause diseases like cystic fibrosis, diabetes, and dwarfism – there are over 2600 genetic diseases – I could go on and on. So what we are doing is just the most ghastly experiment, not just on the human species but on 30 million other species that cohabit the planet with us."
Let's make it simple. Fukushima radioactivity is all over the Northern Hemisphere and each and every one of us is already contaminated to some degree ~ particularly on the West Coast where I reside.
Fukushima Equals 3,000 Billion Lethal Doses
Dr. Michio Kaku pointed out on CNN March 18, 2011 that Chernobyl involved one reactor and only 57.6 Tons of the reactor core went into the atmosphere. In dramatic contrast, the Fukushima Daiichi disaster immediately involved six reactors and IAEA (International Atomic Energy Agency, a UN Agency) documented 2,800 Tons of highly radioactive old reactor cores.
Looking at the current Japanese meltdown as more than 50 Chernobyls is one way some people are beginning to estimate the disaster.
Simple division tells us there are at least 48.6 Chernobyls in the burning old reactor cores pumping fiery isotopes into the Earth's atmosphere. Some are calculating that this all adds up to three thousand billion (3,000,000,000,000) Lethal Doses of Radiation ~  meaning there are 429 Lethal Doses chasing each and every one of us on the planet, to put it in a nutshell.  Learn more at Natural New's "Fukushima Nuclear Disaster" >>>
It appears that Orwell is correct ~ for it becomes exceedingly apparent during these days of universal deceit and corporate deviousness that telling the truth is not only a revolutionary act but, in this case, perhaps the only means for human survival.
---
About the Author: Allen L Roland is a Freelance Alternative Press Online columnist. He is also a practicing psychotherapist, author and lecturer who also shares a daily political and social commentary on his web site at AllenRoland.com. He also guest hosts a Truthtalk, a national radio show that airs monthly. He is available for comments, interviews, speaking engagements and private consultations via email at [email protected].
Allen L Roland, PhD is a Freelance Alternative Press Online columnist. He is also a heart-centered spiritual consultant, author, and lecturer who also shares a weekly political and social commentary on his website at AllenRoland.com. He also guest hosts Truthtalk, a national radio show that airs monthly. He is available for comments, interviews, speaking engagements as well as private consultations via email at [email protected].
Roland is a twin who was born in Boston, Massachusetts, survived a dysfunctional family, pursued and lived his dreams, including becoming a Navy supersonic carrier pilot, finding himself by fully opening his heart, writing three books, siring four children ~ and still living his ultimate dream by making a difference from a place of love, celebration, and service.
His Ph.D. dissertation THE UNIFIED FIELD was chosen by Common Boundary and Noetic Science Institute, in their 1998 national dissertation contest, as one of the top three finalists for combining spirituality and psychology. His ongoing heart-centered work as a consultant with veterans with PTSD is the most satisfying work of his life. Allen's online newsletter, columns, and radio broadcasts are committed to the truth ~ as he sees it ~ for only the truth is revolutionary.
ATTENTION READERS
We See The World From All Sides and Want YOU To Be Fully Informed
In fact, intentional disinformation is a disgraceful scourge in media today. So to assuage any possible errant incorrect information posted herein, we strongly encourage you to seek corroboration from other non-VT sources before forming an educated opinion.
About VT
-
Policies & Disclosures
-
Comment Policy
Due to the nature of uncensored content posted by VT's fully independent international writers, VT cannot guarantee absolute validity. All content is owned by the author exclusively. Expressed opinions are NOT necessarily the views of VT, other authors, affiliates, advertisers, sponsors, partners, or technicians. Some content may be satirical in nature. All images are the full responsibility of the article author and NOT VT.