[Bil'in, West Bank] – Six years of weekly protests against the route of Israel's separation wall and four years after the Israeli high court declared the path of The Wall illegal and admitted its purpose had nothing to do with 'security' but with settlement expansion, Israeli army bulldozers began to dismantle The Wall in Bil'in this week.
The new path of The Wall sanctioned by the high court still leaves 435 acres of village land on the Israeli side, and thus The Bil'in Popular Committee has declared June 24th will be the beginning of the struggle against the new route of The Wall. After this Friday's afternoon prayers at the mosque, the ritual mass demonstration will again march to The Wall/Fence, but this time they plan to dismantle it and access the Palestinian's legally owned land.
Mohammed Khatib, spokesperson for the Popular Committee noted, "On the ground, nothing has changed yet. All we know is that although the Israeli court officially pronounced our claims to be just, the army continued to protect the original route shooting and arresting protesters, thereby completely ignoring the ruling. We will continue to struggle until all the land is returned to our people and until we see an end to the Israeli occupation." [1]
On 4 November 2009, Richard Boudreaux, correspondent for the LA Times, reported from Bilin:
"Every Friday Mohammed Khatib's forces assemble for battle with the Israeli army and gather their weapons: a bullhorn, banners — and a fierce belief that peaceful protest can bring about a Palestinian state.
"His message is a hard sell: Khatib, 35, is a modern-day Gandhi…And the risks of his activism are enormous…The Israeli army has targeted him. He was arrested, severely beaten and threatened with death during a series of midnight raids on the village this summer. He was freed on condition that he report to an Israeli police station each Friday at the hour of the weekly protest." [2]
"The wall will fall in Bilin; the wall will fall like in Berlin"
In a speech commemorating the 750th anniversary of Berlin on 12 June 1987, Ronald Reagan challenged Mikhail Gorbachev, to tear down the Berlin wall, "We welcome change and openness; for we believe that freedom and security go together, that the advance of human liberty can only strengthen the cause of world peace…if you seek peace…tear down this wall!"

In 1989, the Berlin Wall came crashing down due to the build up of pressures exerted by the Solidarity movement demanding freedom at the time of the demise of Communism.
The fall of the Berlin Wall symbolically ended the Cold War and proved that walls cannot keep people apart. The Berlin Wall was twenty-seven miles of rolls of barbed wire augmented with a high concrete barrier and watchtowers, floodlights, and a no man's land.
Israel's Wall is twice as high and five times as long as the one that fell in Berlin.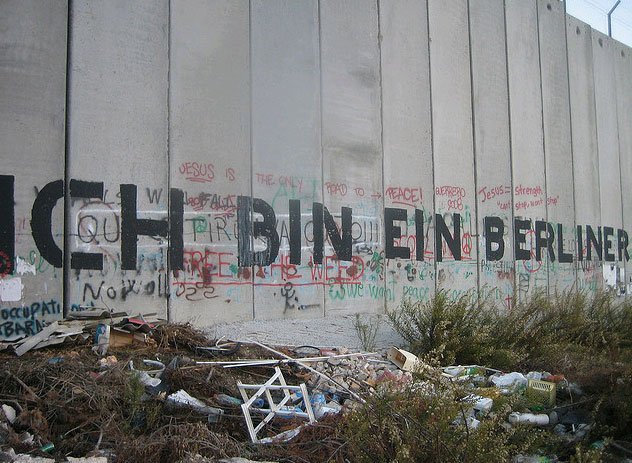 "Financed with U.S. aid at a cost of $1.5 million per mile, the Israeli wall prevents residents from receiving health care and emergency medical services. In other areas, the barrier separates farmers from their olive groves which have been their families' sole livelihood for generations." [3]
When Israel's Wall is super-imposed on a map of Palestinian aquifers, it exposes that The Wall is also about grabbing those natural resources from the indigenous peoples of that land.
In Bilin, the Green Line is five miles from Israel's separation barrier and for the last six years every Friday afternoon after prayers at the mosque, Palestinians and growing numbers of Israelis and Internationals have been waging a nonviolent solidarity march in resistance to the route of the construction of Israel's Wall-which in Bilin is a twenty foot high wire fence that has confiscated their prime agricultural land.
I was inspired to go to Bilin after attending a November 2005, Power Point Lecture by an Israeli and Palestinian member of Anarchists Against the Wall, who spoke throughout America.
Anarchists Against the Wall/AAtW is a collaborative NONVIOLENT resistance and civil disobedience group of Palestinians, Israelis and Internationals who are dedicated to bringing down Israel's separation wall and ending the occupation of Palestine, which has now entered its 44th year!
Israeli anarchist, Jonathon Pollak said:
"Although Israel marketed the Wall as a security barrier, logic suggests such a barrier would be as short and straight as possible. Instead, it snakes deep inside the West Bank, resulting in a route that is twice as long as the Green Line, the internationally recognized border. Israel chose the Wall's path in order to dispossess Palestinians of the maximum land and water, to preserve as many Israeli settlements as possible, and to unilaterally determine a border.
"In order to build the Wall Israel is uprooting tens of thousands of ancient olive trees that for many Palestinians are also the last resource to provide food for their children. The Palestinian aspiration for an independent state is also threatened by the Wall, as it isolates villages from their mother cities and divides the West Bank into disconnected cantons [bantusans/ghettos]. The Israeli human rights organization B'Tselem conservatively estimates that 500,000 Palestinians are negatively impacted by the Wall.
"We believe that, as with Apartheid South Africa, Americans have a vital role to play in ending Israeli occupation – by divesting from companies that support Israeli occupation, boycotting Israeli products, coming to Palestine as witnesses, or standing with Palestinians in nonviolent resistance." [4]
For the last six years of Friday's, locals, internationals and Israelis of conscience have endures tear gas, rubber bullets, sound bombs and other means of 'crowd dispersal' inflicted upon them by Israeli forces in ever escalating force.
During my first of four visits to Bilin in January 2006, the Israeli forces targeted only the activists who ran down the hill along the side of the fence; but times had changed by June 2009.
During that trip, just as the front of the crowd neared the area of descent, another gate and more barbed wire had been erected in front of it and Israeli forces assaulted us immediately with tear gas as we approached.
Bilin's Israeli attorney, Michael Sfard, credits Khatib with the inspired idea to erect under cover of dark a clandestine 10X10 brick edifice just yards from where 700 upscale Jewish only apartments were being built on Palestinian land and which I photographed in January 2006:
I learned then from Iyad Bornat, Head of the Popular Committee, "A few weeks ago we brought in a caravan [house trailer] on our land close to where the settler's apartments are being built. While we were inside the Israeli Forces sawed the door open and pulled us out and roughed us up. So, we brought in another caravan and during the night we built a concrete brick building within four hours to resist the wall and occupation. People come and go; they are from all over the world.
They support our nonviolently resisting the wall that is clearly stealing our land. This wall and the Israeli forces are not allowing us onto our land to care for our olive trees. They confiscated our land and impose military law upon us and claim we are trespassing on our legally owned land."
Abdullah, the Coordinator of Against The Wall in Billin, informed me that as of January 2006, 1,600 residents of Billin who legally own 4,000 dunums of property had 2,003 dunums of it confiscated by Israel to build the Jewish only apartments upon which Palestinians are not even allowed to approach.
During that visit I also spoke with a few of the dozens of Israelis and Internationals who were maintaining a presence for days or weeks at a stretch, such as a twenty year old from Indiana who was studying Middle East Foreign Policy in Jerusalem and had spent her weekends at the outpost in Bilin since it was constructed.
A twenty year old from New York told me, "We are fighting an important struggle. If America would only learn the truth about what is happening here, they would stop their blind support of the Israeli government that denies people basic human rights."
That outpost was demolished long ago but internationals, Israeli's and villagers have persisted seeking justice.
After visiting Bilin in 2009, Archbishop Desmond Tutu, stated: "Just as a simple man named Gandhi led the successful non-violent struggle in India and simple people such as Rosa Parks and Nelson Mandela led the struggle for civil rights in the United States, simple people here in Bilin are leading a non-violent struggle that will bring them their freedom. The South Africa experience proves that injustice can be dismantled."
The wall will fall in Bilin; the wall will fall like in Berlin, but it will require Presidents to grow a spine and Prime Ministers to listen to people of conscience!
Resources
Washington Report on Middle East Affairs

, Page 43, Jan/Feb. 2007.
Eileen Fleming, Memoirs of a Nice Irish-American 'Girl's' Life in Occupied Territory, pages 55-56
Eileen Fleming founded WeAreWideAwake.org. She produced videos "30 Minutes with Vanunu" and "13 Minutes with Vanunu".  She has authored many books including; A USS Liberty Remembrance of 50 years USA Government Cover-Up of Israel's 8 June 1967 Attack on USA Spy-Ship, Wabi Sabi Body ETERNAL SPIRIT, and Heroes, Muses and the Saga of Mordechai Vanunu. Click here to see her latest books. Visit Eileen's YouTube Channel
ATTENTION READERS
Due to the nature of independent content, VT cannot guarantee content validity.
We ask you to
Read Our Content Policy
so a clear comprehension of VT's independent non-censored media is understood and given its proper place in the world of news, opinion and media.
All content is owned by author exclusively. Expressed opinions are NOT necessarily the views of VT, other authors, affiliates, advertisers, sponsors, partners or technicians. Some content may be satirical in nature. All images within are full responsibility of author and NOT VT.
About VT
-
Read Full Policy Notice
-
Comment Policy