I have been writing for on line news groups for a few months now, and occasionally I get emails that actually blow me away.  We are blessed to live in the greatest country on earth, beyond any reasonable doubt.
In 1492 when Columbus was said to discover the shores of America, through 1776 when the unique concept of freedom was first pronounced with the Declaration of Independence, up until today, the United States has already secured its place in history as being a unique country where freedom seeking people the world over come looking for the opportunity to better themselves, many even risking their lives to do so.
I don't see too many waiting in line to leave this country though at times I wish a lot would, particularly those who feel the US is a terrorist state, a "fraud", a quasi detention camp that has created a totally unfair environment from which people cannot excel, or a place they want to turn into a socialistic haven where "government becomes the answer to all their problems". Having traveled to many countries all over the world and temporarily lived in several, I would never have imagined that people who were lucky enough to be born here could so vehemently espouse such gibberish. Maybe they need a dose of reality and go live elsewhere. At the least, a new bit of education is in order.
A recent article appearing on a news service, written by a supposedly educated person, refers to the US as being the biggest terrorist nation, which coincidentally mimics some of the other thoughts rendered by other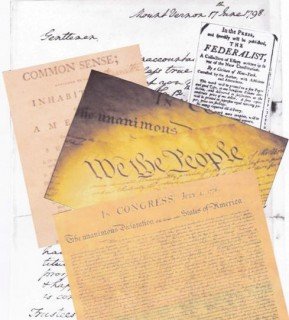 writers on various platforms. The article in reference uses as an example, the fact that we used the atomic bomb to end the war with Japan, killing thousand of civilians (I presume he meant "innocent civilians").  An estimated 78 million people died because of the actions of the aggressive nations of Germany, Italy and Japan in WWII (25 million military, 35 million civilian). So accordingly, if we follow this writer to a logical conclusion, another 500,000 American soldiers and probably 5-10 million Japanese civilians would have been an acceptable alternative (A study done for Secretary of War Henry Stimson's staff by William Shockley estimated that conquering Japan would cost 1.7-4 million American casualties, including 400,000-800,000 fatalities, and five to ten million Japanese fatalities).
Let us not forget, it was the Japanese who bombed Pearl Harbor that got us into WWII and that Hilter was elected to office by a majority of Germans. The death toll of WWII, including the 35 million civilians rests on the shoulders of the civilians that allowed such events to occur. Governments are the agents of their populace, and when they attack other nations and kill human beings, the citizens of those governments share in the responsibility. Innocence, used in the sense of an innocent bystander to an event that in no way involves him, cannot fairly be used to describe the adult citizen of a country engaged in violent or destructive acts unless these act are completely unknown and unknowable to the citizen and the rest of the public as well.
As to other rantings of America's detractors, I challenge all to name one country that has protected the world from the likes of dictators and ethnic cleansing, and other atrocities we have witnessed over the decades. This is definitely not to condone all the many faults we find with government or for those we have, through the power of the vote, entrusted with our governance, but any nation that has come to the aid of so many either through military means or through the billions of dollars our people give every year to humanitarian and disaster relief aid, is pretty damned noble to me!

As Colin Powell so eloquently stated , "We have gone forth from our shores repeatedly over the last hundred years and we've done this as recently as the last year in Afghanistan and put wonderful young men and women at risk, many of whom have lost their lives, and we have asked for nothing except enough ground to bury them in, and otherwise we have returned home to live our own lives in peace. But there comes a time when soft power or talking with evil will not work where, unfortunately, hard power is the only thing that works".
Following his service in the Marine Corps Ed Mattson built a diverse career in business in both sales/marketing and management. He is a medical research specialist and published author. His latest book is Down on Main Street: Searching for American Exceptionalism
Ed is currently Development Director of the National Guard Bureau of International Affairs-State Partnership Program, Fundraising Coordinator for the Warrior2Citizen Project, and Managing Partner of Center-Point Consultants in North Carolina.
Mr. Mattson is a noted speaker and has addressed more than 3000 audiences in 42 states and 5 foreign countries. He has been awarded the Order of the Sword by American Cancer Society, is a Rotarian Paul Harris Fellow and appeared on more than 15 radio and television talk-shows.
ATTENTION READERS
Due to the nature of independent content, VT cannot guarantee content validity.
We ask you to
Read Our Content Policy
so a clear comprehension of VT's independent non-censored media is understood and given its proper place in the world of news, opinion and media.
All content is owned by author exclusively. Expressed opinions are NOT necessarily the views of VT, other authors, affiliates, advertisers, sponsors, partners or technicians. Some content may be satirical in nature. All images within are full responsibility of author and NOT VT.
About VT
-
Read Full Policy Notice
-
Comment Policy