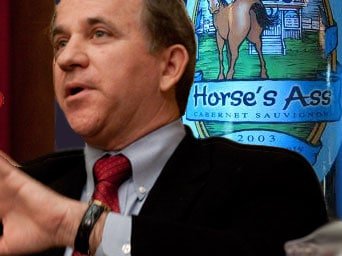 Another Horror Story
The same tactics used illegally against Afghan insurgents and terror suspects is routinely used against wounded and disabled active duty members of Americas military.  Defending this criminal behavior is one of the most reprehensible and unpatriotic Americans in its history, Representative Steven Buyer of Indiana.
No single individual we can name has done more to harm our troops in the field and our veterans at home.  Why the people of Indiana kept reelecting this worthless SOB astounds me.
Shame on you!  What you will see should anger and sicken you.  If you can't find a proper target for this anger, look to Indiana, look to Steven Buyer.  Indiana should have gotten him out of office, elected a jackass if they had to as long as it was an American jackass.
[youtube BAPJM0HwpFA]
Buyer was forced to resign, claiming his wife had "health issues."  Insiders in Indiana politics tell me Buyers was facing pressing personal issues tied to mysteriously "disappeared" charity funds.
As reported in the Star, of the $883,272 raised, major expenditures are as follows. Expenses are 30 percent, or $268,636. Of that, 51 percent, or $137,213, went for fundraising, 30 percent, $81,164, for wages and benefits, and 14 percent for various other expenses. The fund balance is $614,636. Expenses included golf outings at the Fenwick Country Club in New York in 2004, and in years 2005, 2006, and 2007, golf outings were held at the Atlantis Resort in the Bahamas, and concluded in 2009 at Disney World and the Boulders in Colorado.

Tough duty this fundraising, especially when you are a member of the House Energy and Commerce Committee. With Steve serving on the House Energy and Commerce Committee, the primary contributors to the scholarship fund, and it's a short list, were companies with a vested interest in how Steve votes while serving on the committee. Pharmaceutical and telecommunications interests contributed approximately $700,000 of the $883,272 raised.
Violating one of my cardinal rules, no Wikipedia references, I include this on Buyer:
In early October 2009, Buyer's press secretary referred questions to the foundation, saying "It's not Congressman Buyer's foundation," although the foundation shared an office with Buyer's campaign office in Monticello.[25] Several days later, Buyer said he had created the foundation, with the goal of creating a sustainable organization to award scholarships to high school seniors.[26]

As of the end of 2008, annual fundraising golf outings had raised more than $880,000 for the foundation. Almost all the contributions were from 20 companies and trade organizations that had interests before the House Energy and Commerce Committee, of which Buyer is a member. As of October 2009, the foundation had not awarded any scholarships, and had given out only $10,500 in charitable grants, almost half of which went to a cancer fund run by the chief Washington lobbyist for Eli Lilly and Company. Buyer said the foundation would need to raise at least $1 million to become self-sustaining; it would then begin awarding scholarships.

In June 2009, Buyer said "there is no connection" between his legislative actions and donations to the foundation. "I'm not an officer. I'm not a board director," he said of his role in the non-profit. "Do I help the foundation? Yes, I do. Do I help other charity groups? Yes, I do."[24]

On January 25, 2010, CREW (Citizens for Responsibility and Ethics in Washington) filed complaints against Rep. Buyer with the Office of Congressional Ethics and the IRS regarding possible ethics and federal tax law violations referencing The Frontier Education Foundation.[27]
Buyer, a lawyer, holds the rank of Colonel in the Army reserve with 3 years active duty as a lawyer. Members of congress like Lindsay Graham and others are always "colonels."  It allows them to double dip on pensions and parade around in uniform.  Their promotions cost career officers well earned rank.

Former President George W. Bush "appointed" Buyer to his rank.  Members of the American armed forces were in shock.

Buyer claims to have "combat experience" interrogating Iraqi POWs.  God help them and god help any American troops he has worked to destroy.
Buyer has been awarded the following honors for his work against America's troops and veterans:
Reserve Officers Association Arthur T. Marix Award
Enlisted Association of the National Guard of the United States G.V. "Sonny" Montgomery Eagle Award
Retired Officers Association Colonel Paul W. Arcari Meritorious Service Award
Dept. of Europe of the Reserve Officers Association Nathan Hale Award
Military Coalition's Award of Merit
Judge Advocate General's Distinguished Member of the Judge Advocate General's Corps Regiment
Reserve Officers Association Minuteman of the Year
Vietnam Veterans of America Legislator of the Year
Air Force Sergeants Association L. Mendel Rivers Award of Excellence
Enlisted Guard Association of the United States Concord Minuteman Award
Senior Army Reserve Commanders Association Outstanding Legislator of the Year Award
The Citadel's Man of the Year (1995)
I am sick of stories like this crossing my desk, not just these but more and more out of Buyer's district.  Watch the video.

You won't believe it, you simply have to see it.  After these hearings exposed the criminal assaults routinely directed at our own military by our own military, Secretary Gates still held his job, got to retire with honor.  No general was prosecuted, no one is in prison for these deplorable crimes.
It is still going on, if anything, worse than before.
Watch "Colonel" Buyers "forget" who gave him $25 grand to start his golfing charity scam:
[youtube j7uLmwUhOtY]
Gordon Duff posted articles on VT from 2008 to 2022. He is a Marine combat veteran of the Vietnam War. A disabled veteran, he worked on veterans and POW issues for decades.
Gordon is an accredited diplomat and is generally accepted as one of the top global intelligence specialists. He manages the world's largest private intelligence organization and regularly consults with governments challenged by security issues.
Duff has traveled extensively, is published around the world, and is a regular guest on TV and radio in more than "several" countries. He is also a trained chef, wine enthusiast, avid motorcyclist, and gunsmith specializing in historical weapons and restoration. Business experience and interests are in energy and defense technology.
ATTENTION READERS
We See The World From All Sides and Want YOU To Be Fully Informed
In fact, intentional disinformation is a disgraceful scourge in media today. So to assuage any possible errant incorrect information posted herein, we strongly encourage you to seek corroboration from other non-VT sources before forming an educated opinion.
About VT
-
Policies & Disclosures
-
Comment Policy
Due to the nature of uncensored content posted by VT's fully independent international writers, VT cannot guarantee absolute validity. All content is owned by the author exclusively. Expressed opinions are NOT necessarily the views of VT, other authors, affiliates, advertisers, sponsors, partners, or technicians. Some content may be satirical in nature. All images are the full responsibility of the article author and NOT VT.