Three Plays in Paris presented in Paris "  "West Side Story" , "Au Deux Lits du Delit"  a British play translated into French and  and "La Cortėge du Tchoulent" provide insight into three cultures.
by Jane Rosenstein and Didier Lambert
While people go to see plays for entertainment, these three plays had special meanings.  The actors and actresses were very entertaining.   The first play was performed by students, the second by professional actors and actresses  and the third by a lady wanting to promote the Yiddish language and musicians.
West Side Story
First we saw "West Side Story" an American play  presented by a Paris acting school, Studio International des Arts de la Scene , founded in 2008  for the purpose of preparing students to become professional actors and actresses. Vanessa Mareschal is the director of  this school which presents musical comedies and has courses in acting, singing and diction.
We learned about  the play from their booth at the  Foire de Paris, a  Paris show which we attended. The school gives free admission to the play hoping to get more students of course and also to show how successful their programs are.
This  play was presented in French except for the songs which were in English.  Many people in US have seen this play and know the story.  The actors played their parts well and lived their roles. The music was pre-recorded but the actors and actresses sang in English but with a French accent.  It was a bit funny to see them speaking French while  portraying Puerto Ricans. Both our French and American friends enjoyed the show.
We could not help but think that the conflicts of the races -Caucasian verses Puerto Rican exists  today in New York City.  While minorities such as Puerto Ricans  have gained power since their arrival in New York City, they still may face social prejudices such as people's attitudes of ethnic preferences as was sung in a song with the lyrics "Stick to your own Kind,"  Here in Paris where we live, there is discrimination against t the large Muslim population. Many fear they will lose their powers to dominate the country. People stick to their own kind when they arrive here but eventually assimilate.
In Paris, we call Black people "Black" instead of the French word for black "noire."  Companies must hire a small percentage of  their staff as handicapped people.  Consider the handicapped and disabled Veterans. There is discrimination against them in the work force even if they can do the jobs better than others.
The play was enjoyed by both French and American visitors.  All enjoyed the songs sung in English but the Americans attending knew some of the lyrics.   It is nice to know that even in today's financial crisis. we can profit from those who have money to enroll in an acting school and can enjoy a free play and then think about the message about discrimination.
A Deux Lits du Delit
French people liked this play" A Deux Lits du Delit ( translation:  To  two beds of misdemeanor),  in the boulevard ( street comedy) style and so did we. A married woman going to a hotel to meet her lover is not an unusual theme in French plays but when her husband goes there to meet his lover, it turns out to be a hilarious situation.
First one  husband goes to meet a lover who turns out to be the wife of another husband who goes to meet his lover who turns out to be the wife of the first husband.  Foreign visitors even those  not knowing the language who were told the story would enjoy the play from the actions of the cast including singing and dancing. The audience hopes that the  respective married couples  will not meet each other.
This British  play  was written by Darek Benfiield.  Stewart Vaughan (Directeur Délégué du Théâtre) and Jean-Christophe Barc translated and adapted the play into French.
The director of the  700 seat  Théâtre de la Michodière in the center of Paris is Jacques Crėpineau.  Arthur Jugnot plays Noilet, the bellman who has to deal with the problems of  directing the wives and husbands to meet their  lovers, delivering champagne to their rooms, handling their problems about the rooms  and make sure the couples don't meet. He dances and does cartwheels and is very entertaining.  The cast includes
Cyril Garnier as Sėbastian, Guillaume Senyou as Cėderic, Juliette Meyniac as Sophie, Lawrence Porteil as Clara.
The theatre, with its  traditional  charm of plush chairs and an  ornate ceiling,  was full the night we went.  People came early to enjoy drinks in the bar before the performance. It is a custom in France to give the usher a small tip. Programs are sold not given free like in some countries.   Most of the people were Parisians but some French people from other regions of France come to this theatre when they travel to Paris.  The actors and actresses sang and danced with enthusiasm, and really seemed to enjoy their roles.The audience related well to the theme and laughed a lot.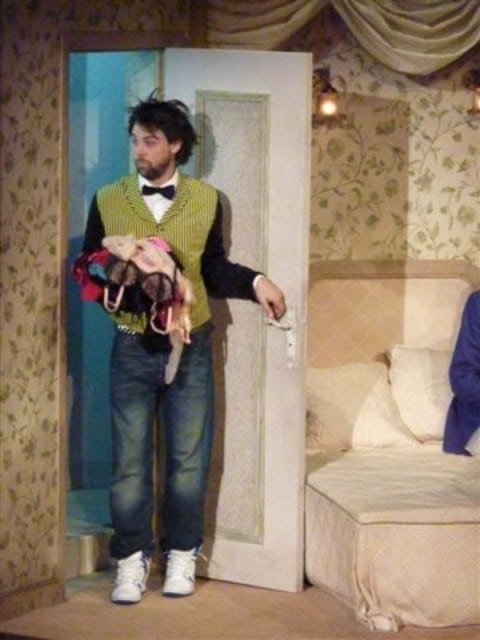 In today's stressful environment, boulevard style entertainment is very helpful for relaxation.
It is important to enjoy a play with an interesting theme.
Parisians have over more than 100 plays to choose from each week and these are listed in two well known weekly publications that classifies the plays and gives short descriptions of them.
There are half priced kiosks where people can buy tickets starting at noon for the performances on the same day.
La Cortėge du Tchoulent
La Compagnie Les Haim presented this musical gastronomical  caberet  translated as the procession of Tchoulent ( Sabbath  meal) written and sung by Miléna Kartowski.   The musicians  who performed were Nicolas Arnault, piano, Francois Collombon, percussion and Samuel Maguin , clarinet.
Miléna wanted to give people in Paris an experience to know and enjoy a Yiddish play because here in Paris we don't have any Yiddish theater.  Also she wanted to keep the Yiddish language alive.We were pleased to attend with our friend Erez Levy who works for a Jewish organization Le Center Medem which often organizes cultural events including Yiddish plays and music.
For the Jewish Sabbath ( Shabes in Yiddish)  orthodox  Jewish people, who do not turn on utilities during Shabes , put the main meal in a pot and it cooks from Friday before sunset until Saturday  lunch .  That is the meaning of Tchoulent – the meal slow cooked for Shabes.
The play presented courses from typical Jewish Sabbath and holiday meals with songs and actions. When we arrived, we were given a menu including appetizers, main courses, desserts and after dinner drinks. The audience mostly Jewish liked the songs and most knew the dishes such as varnitches (bow tie noodles with Bulgar wheat , gefilte fish, kartofl soup ( potato soup). We saw their smiles as they heard the names of the Jewish food sung.  They even joined in singing some of the songs.  Many of the retired people there spoke Yiddish.
Miléna sang and danced with enthusiasm. The music was lively with a good tempo and well played by musicians who enjoyed entertaining the audience.
We left happy and hungry for a good Jewish home cooked meal which could include some of the dishes on the menu but didn't find a good Jewish restaurant and weren't invited to anyone's home for a good
Jewish dinner.
Each of the three play was entertaining and providing cultural awareness.  From West Side Story, we learned about the Puerto Ricans problems being accepted by New Yorkers.  A DeuxLits de Delits provided us with insight into French humor.  La Cortėge du Tchoulent gave us an interesting experience about Yiddish  theater.
ATTENTION READERS
Due to the nature of independent content, VT cannot guarantee content validity.
We ask you to
Read Our Content Policy
so a clear comprehension of VT's independent non-censored media is understood and given its proper place in the world of news, opinion and media.
All content is owned by author exclusively. Expressed opinions are NOT necessarily the views of VT, other authors, affiliates, advertisers, sponsors, partners or technicians. Some content may be satirical in nature. All images within are full responsibility of author and NOT VT.
About VT
-
Read Full Policy Notice
-
Comment Policy