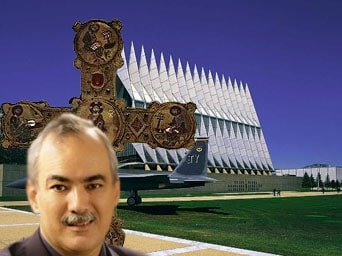 CNN Catches up to The New Fourth Estate Regarding Walid Shoebat
On 13 July 2011, CNN's Anderson Cooper reported on the so-called Islamic terrorist export, Walid Shoebat, who has been duping The MSM and making a mint off of Americans claiming he is now a devout Christian after years as a Palestinian Liberation Organization terrorist. [1]
See Video here: http://t.co/7o0UkZf
On 25 February 2008, this reporter attended one of Walid Shobat's shows in Melbourne, Florida and most all of the 2,000 seats at The King Center in Brevard County were filled with fannies attached to Americans who paid $18.00 for a seat and upwards of $1,000.00 to attend the pre-show meet and greet with the 'three stooges' of Christian fundamentalism during their "WAKE UP AMERICA! Confessions of 3 X-Terrorists" show.
"Walid Shoebat, Kamal Saleem and Zachariah Anani [who was a no show that night] are the three stooges of the Christian right. These self-described former Muslim terrorists are regularly trotted out at Christian colleges…to spew racist filth about Islam on behalf of groups such as Focus on the Family…Curly, Larry and Mo, who all say they are born-again Christians, engage in hate speech and assure us it comes from personal experience. They tell their audiences that the only way to deal with one-fifth of the world's population is by converting or eradicating all Muslims." [2]
This event was sponsored by Project: Restoration, an "educational performing arts ministry that emphasizes Hebraic teaching and support of Israel. [Whose] mission [and] ministry is to restore the biblical and historical truth of God's word regarding His commandments, His people, His land, and His coming kingdom [by working] together with Christian and Jewish communities to bless Israel and the Jewish people. [For they] believe that we are living in a time spoken of by prophets as the end of times when Israel will be a 'cup of trembling in the hands of the nations' and that we must stand with Israel and the God of Israel [for the] Restoration of the Kingdom of Israel and the return of Israel's King, Yeshua ha Maschiach (Jesus the Messiah)." [3]
Missing from the Christian website and the rhetoric from the speakers were the teachings of Jesus who warned that, "What ever you do unto the least; you do it unto God…Stop judging…Stop condemning…Forgive and you will be forgiven…For the measure with which you measure any other will be measured back unto you." [Luke 6:36-38] and Jesus' promise that, "The Peacemakers shall be called the children of God." [Matthew 5:9].
While the teachings of Jesus were neglected, I was most encouraged when Walid kicked off his show claiming that the "stupid" New York Times and a "stupid" journalist [this reporter] who interviewed his relative Kamal Younis were smearing his good reputation of being an ex-terrorist by exposing his fabricated biography.

From his pulpit, Walid insisted that his father is a fundamentalist and that Kamal Younis's brother Jawad lost his arm making a bomb and is an attorney who defends other terrorists.
On 3 February 2008, I published my interview with Kamal Younis, titled "USA Air Force Academy Feb. 6, 2008: Failure of Intelligence to Support the Troops" from which I excerpt:
The infamous darling of fear filled fundamentalist Christians and Jews of the cult spewed by the likes of John Hagee and the idiot wind blown on FOX's Hannity & Colmes, Bill O'Reilly and Neil Cavuto show, will be show boating at the annual political forum at the US Air Force Academy on Feb. 6, 2008.

Walid Shoebat, author of "Why We Want to Kill You" has built a lucrative speaking career by manipulating the fears and whipping up hatred between Jews and Muslims and he claims to be a former Islamic terrorist who has converted to Christianity.

Shoebat also feels very strongly that the ongoing war against Israel has nothing to do with an Arab desire for a Palestinian state, "Never in history was there a Palestinian state," said Shoebat, "we never wanted a Palestinian state – even today the Palestinians do not want a Palestinian state. They want the destruction of the Jews, period. It's a religious holy war."

Keith Davies, the director of the Walid Shoebat Foundation announced that not just Walid, but two other 'former terrorists' s would be filling the heads of our troops and he was, "delighted that the United States Air Force has recognized the brave stand that these men take in educating the American people on the real causes of terrorism. The fact that the Academy has invited our speakers is an important step as to understanding the issue of terrorism and the issues surrounding the problems of the Middle East."

The Navy failed to protect the troops when they failed to investigate the history of Walid Shoebat!

I learned from one of Walid's many Palestinian American relatives, Kamal Younis, who checked his facts with other relatives and everyone of them agreed that, "Walid's entire biography is a manufactured fabrication. His handlers have taken one point and have twisted it and built up a fictional story."

That fictional story can be read @ www.shoebat.com/bio.php
Kamal clued me in, "His bio claims that his grandfather was the Muslim Mukhtar (chieftain) of Beit Sahour-Bethlehem. It neglects to mention that Beit Sahour is adjacent to Bethlehem, not a part of Bethlehem and also ignores the fact that in Beit Sahour at that time there were eight tribes; two Muslim and six Christian. Walid's grandfather was only the Mukhtar for one of the Muslim tribes. Walid's bio claims his grandfather was a friend of Haj-Ameen Al-Husseni, the Grand Mufti of Jerusalem and notorious friend of Adolf Hitler. Walid's grandfather never even met him and was a peaceful man.
"I helped Walid's father Ahmad get a job and we both attended Humboldt State College in Arcata, California, from 1954-1960. Walid was born in September of 1960 in Beit Sahour after his American mother and father returned there from America. His older sister and brother were born in the USA, and the family lived in Jericho until 1968, then in Saudia Arabia for two years then returned to Beit Sahour.
"In 1976, his sister Mona was coming home from school with her friends and were stopped and beaten up by Israeli soldiers, they nearly broke Mona's back. This made Walid very angry and shortly thereafter he attended his first demonstration against the occupation. In 1977 Walid was caught distributing Palestinian flags and was arrested and held for about two weeks in Mascubia Prison, until his mother went to the Embassy and got him released.
"The biggest act of 'terror' he ever committed was to glue Palestinian flags on street posts. But, when he was in jail he met someone who invited him to join a group against Israel. In 1977 Walid and his friends put packages behind a bank, but there were no explosives in it. That year he also met some Jehovah Witnesses and joined them for a while.
"Walid speaks about his grandfathers whom he never met, never knew and he labels them as terrorists! I knew them and they were peaceful men.
"Walid came to the U.S. in 1978 and met an Afghani friend and they went into business together, but it didn't work out, so he moved to Chicago in 1981 where many cousins live and asked for help. He went to Loop College [now Harold Washington College] and was appointed as a foreign student advisor; a position offered him so he could pay his tuition.
"The repo man took Walid's truck and after that he went back to California. He met a Palestinian girl there and they got married and had a son. But, he beat his wife and that marriage broke up.
"Walid's maternal grandparents were wealthy and when they died Walid was to share the inheritance with his sister and brother, but his siblings never received a dime from their grandparent's estate. And, while his own father was in a nursing home in California Walid took his mother and moved far away from him to another city.
"Walid claimed on CNN that he met Sheikh Jamal and was a member of the Muslim Brotherhood and claimed he had been a member of a U.S. sleeper cell terrorist group. All his relatives doubt this greatly, but we do believe he is being paid big money to keep saying bad things about Muslims." [4]
On 5 February 2008, I received an email threat of a lawsuit from Walid's handler unless I apologized and recanted what I reported.
I emailed back that I would do neither but took Walid up on his offer to engage in a dialogue. I have yet to receive a reply or a legal notice, but I did publish the email threat and parts of Walid's epistle defending his terrorist past with my side of the dialogue on the 7th of February: http://j.mp/nbTQjA
I have known Walid's relative, Kamal Younis as a friend since 2003. I met him through the non-profit Interfaith Olive Trees Foundation for Peace dedicated to raising awareness of and funds to purchase fruit bearing trees on both sides of The Wall in Israel Palestine who hope to replace the over one million trees destroyed by The Wall. The International Court of Justice in The Hague has deemed The Wall is illegal and it must fall.
"Financed with U.S. aid at a cost of $1.5 million per mile, the Israeli wall prevents residents from receiving health care and emergency medical services. In other areas, the barrier separates farmers from their olive groves which have been their families' sole livelihood for generations." [5]
During my five trips to Israel Palestine, I went to Walid's birthplace; Beit Sahour, a suburb of Bethlehem. I met 8 of his relatives who fed me, gave me a bed and then accompanied me for two days through the Dheisheh refugee camp, which is 100% Muslim and a five minute taxi ride from the Church of The Nativity in The Little Town of Bethlehem: Occupied Territory. Over half of the 11,000 resident refugees of Dheisheh are children under 18 and they exist on less than one square kilometer of the 'Holy' Land. I interviewed old men, dozens of teenagers and mothers, but I did not meet any fundamentalist terrorists.
Back to the 2008 Walid Shoebat Show:
Walid's oratory style is part pep talk and part exhortation with a Hitler-eske intensity and his show is slickly produced to incite the masses.
Walid spewed that, "I love FOX News, but not Geraldo Rivera! His biggest mistake wasn't drawing the line in the sand in Iraq; it is his support of a Palestinian state."
The audience roared with laughter and exuberant applause, which was repeated as Walid preached, "Islam is a revolutionary faith out to destroy all governments. Muslim nations have a command from Allah to rule the world. Islam is a constitutional form of government. When you have a senator take the oath of office on the Koran he is pledging to uphold Sharia law and not the Constitution."
The next morning, I phoned Walid's relative Kamal Younis the good news that his name was mentioned from the King Center stage and filled him in that his brother Jawad is another supposed terrorist.
Kamal laughed, "Walid is a master of spin! He takes one iota of truth and creates a fiction! It is true my brother is an attorney. It is true that he lost his left hand and some fingers from his right; it was in 1954 and I think my brother was in the sixth grade. Jawad and a half dozen of his friends were out playing under the olive trees in Beit Sahour. They found a grenade left over from the '48 war, but they didn't know what it was. Jawad brought it home and got a hammer. He began banging on the grenade hoping to open it up but it exploded! The explosion killed one of the children and we almost lost Jawad too. Today my brother is a well-respected attorney in Amman, Jordan. We all know that King Hussein does what ever the CIA wants, so it would be impossible for Jawad to defend terrorists.
"Walid's father is no fundamentalist. I have known his father since we were young men, we went to college together. Walid's father was not too bright and was always at the bottom of the class. In fact, both his parents have something wrong upstairs. Walid's father is a simpleton, he is a simple man but also an honest and peaceful man. He is religious in that he would pray five times a day, but not a fundamentalist at all. None of Walid's relatives are extremists, only Walid is. It's apparent Walid is involved in a smear campaign with fundamental Christian Zionists to convince Jews and Christians that Islam is out to get them."
I also told Kamal that although the after show crowd around the table of hundred dollar video sets at the "WAKE UP AMERICA! Confessions of 3 X-Terrorists" show, was three people deep, I made my way through to one of the merchants and handed him my WeAreWideAwake.org business card with phone number and asked him to deliver it to Walid as coming from the 'stupid' reporter who had been in the audience and would love to interview him.
I am still waiting.
Washington Report on Middle East Affairs, Page 43, Jan/Feb. 2007
Eileen Fleming founded WeAreWideAwake.org. She produced videos "30 Minutes with Vanunu" and "13 Minutes with Vanunu".  She has authored many books including; A USS Liberty Remembrance of 50 years USA Government Cover-Up of Israel's 8 June 1967 Attack on USA Spy-Ship, Wabi Sabi Body ETERNAL SPIRIT, and Heroes, Muses and the Saga of Mordechai Vanunu. Click here to see her latest books. Visit Eileen's YouTube Channel
ATTENTION READERS
Due to the nature of independent content, VT cannot guarantee content validity.
We ask you to
Read Our Content Policy
so a clear comprehension of VT's independent non-censored media is understood and given its proper place in the world of news, opinion and media.
All content is owned by author exclusively. Expressed opinions are NOT necessarily the views of VT, other authors, affiliates, advertisers, sponsors, partners or technicians. Some content may be satirical in nature. All images within are full responsibility of author and NOT VT.
About VT
-
Read Full Policy Notice
-
Comment Policy