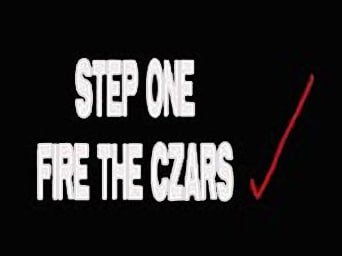 The mischief these politicians create unhinges the mind
Following the three-ring circus the press politely called the "budget debate", and in effect, tried to lay the blame on the "damnable Tea Party", is only the beginning of the contempt the press and the "inside-the-Beltway Crowd" has for the rest of us commoners. Has anyone thought about the consequences we'd be facing had the House of Representatives simply agreed to President Obama and the House passing a flat budget increase with nobody standing up for making budget cuts? Are we all this stupid?
Folks, since the start of the Bush Presidency through the Pelosi Congress and the current Obama Presidency, we are staring at a $16.2 trillion dollar national debt right in the old eyeballs, and that does not include UNFUNDED MANDATES (pensions, Social Security, Medicare, etc, into the future) which are conservatively estimated at about $76 trillion (the entire global  GDP is only about $65 trillion). To put that into prospective for the current debt situation (not counting the unfunded mandate portion), that boils down to about $46,000 for every man, woman, and child in the US, or about $184,000 for a family of four! When Bush became President the debt was at $5.2 trillion and even before the end of the Obama Presidency we were pegged at $14.2 trillion, but have bumped that up to $16.2 trillion which, as the President called it, "an historic deal" with the signing of the latest budget deficit deal. On a spending spree of $4 billion a day is not what anyone would call being responsible.
Just to get an even better picture of how far the Washington politicians are from mainstream American out here in "fly-over land", you should all recall those infamous words of House Speaker Nancy Pelosi as she slithered out from under the podium ending her term as House Speaker…
"Deficit reduction has been a high priority for us. It is our mantra, pay-as-you-go."
When Pelosi took control of Congress on January 4, 2007, the national debt stood at $8,670 trillion dollars. The last day of the 111th Congress on December 22, 2010 the national debt was $13,858 trillion – a roughly $5.2 trillion increase in just four years… the yearly federal deficit roughly quadrupled during the Pelosi era from $342 billion in fiscal year 2007 to an estimated $1.6 trillion at the end of fiscal year 2010. Oh yes…and don't forget her own personal "earmark" of $30 million to save some swamp rat at the old Candlestick Park.
Washington has the arrogance to assign some of the same bimbos that got us into this mess to a "gang of twelve" super deficit committee to develop a plan to put us back on a path to solvency. Perhaps the tone of my words lack "respect" to those we have entrusted the future of our country, but anyone who has ever been in the military, or for that matter, anyone who has been around the block once or twice, knows "respect" is not given, it is EARNED. Those in inside the Beltway, and those in the press, must believe the average American is just plain stupid.

My father once told me, "that to simply criticize is a disservice if you can't come with a solution". Another way to put that is a quote by Anthony J. D'Angelo, "If you have time to whine and complain about something then you have the time to do something about it." So where do we go from here?

Emulate how the private sector deals with budget cuts
Listening to a recent interview with a state governor who has decided to run for the presidency, I was struck by how, with the help of his government staff, was able to bring their state's finances back from the abyss by following how business works. Maybe because it makes such good sense, and maybe because Washington bureaucrats in general, have lost sight of what life was like back in the free enterprise capitalistic marketplace, or maybe because they have never done anything accept academia and government employment, politicians can't seem to figure it out. Or maybe deep down inside they believe that if they make the task of balancing the budget and cutting spending "look difficult", most Americans will buy into their charade that being a Politician really is a difficult job and justifies the six-figure income they get.
What I am going to lay out as a possible solution makes sense to me and should make sense to most everyone else. It includes some relatively simple steps.
A successful business (company, corporation, LLC) is traditionally run with a chief executive, and a tiered level of department heads, supervisors and workers who are striving to achieve success for the company. All must ultimately be accountable to the stockholders (yes folks, stockholders, are the owners of companies that are other than mom-pop or entrepreneurial enterprises). If the company fails to be accountable, the company collapses and you the stockholder, lose your retirement investment or your 401K program is probably flushed down the toilet.
The first approach to government accountability is to demand accountability from the President, the Legislature and each department head that oversees the operation of the thousands of governmental agencies. We the people are in essence THE STOCKHOLDERS.So let's approach government budget reductions as would a normal business enterprise struggling in a world of economic downturn, lower (tax) revenue due to high unemployment, and as if we are facing economic collapse. While the example I am going to use to show how successful the federal government could be in cutting costs without cutting services, I will start with giving you the comparison of compensation at all four levels of employment, private sector, state government employment, local government employment, and federal employment, so you will be able to extrapolate your own assumption for your state and local government budget problems (Salaries and benefits—for identical jobs—are 30 percent to 40 percent higher in the federal government than in the private sector). With that scenario in place:
Private Sector    State Gov Worker        Local Gov worker      Federal Worker
$18.98 /hr                $21.19/hr                       $21.02/hr                    $28.64/hr

GS11- GS15 (management and supervisor positions):
Annual compensation up from  $62, 467  –  $155,500
We will assume that the "workers" are equivalent between private sector and federal workers, and that  GS11 and GS15 federal employees would be the equivalent of the supervisory personnel of most private sector companies. These are not low-paying jobs that should not come without the responsibility of having to account for operational efficiencies and sound business management.
That being said, both the worker and supervisors have a fiduciary responsibility to the shareholders of the company and in the case of the federal worker, to the taxpayers of the country. They are in the best position to know how each of their jobs effect the efficiency of the department under which they work, and together are the ones to know how to improve what is need to insure a continuum of production even under the strain of a 5% budget cut.
For the money that we, the taxpayers are paying them, they should be the ones determining how to best apply a simple 5% budget cut. With 5% reduction (probably covered by listening to internal government workers and their supervisors eliminating waste, fraud, duplication, and abuse), all the politicians could then take credit for doing something right.
Wednesday I will go into how all this affects Americans in general, veterans and the Military budget specifically, and what we are in store for by letting bureaucrats take an axe to fixing the budget mess they created.
Following his service in the Marine Corps Ed Mattson built a diverse career in business in both sales/marketing and management. He is a medical research specialist and published author. His latest book is Down on Main Street: Searching for American Exceptionalism
Ed is currently Development Director of the National Guard Bureau of International Affairs-State Partnership Program, Fundraising Coordinator for the Warrior2Citizen Project, and Managing Partner of Center-Point Consultants in North Carolina.
Mr. Mattson is a noted speaker and has addressed more than 3000 audiences in 42 states and 5 foreign countries. He has been awarded the Order of the Sword by American Cancer Society, is a Rotarian Paul Harris Fellow and appeared on more than 15 radio and television talk-shows.
ATTENTION READERS
Due to the nature of independent content, VT cannot guarantee content validity.
We ask you to
Read Our Content Policy
so a clear comprehension of VT's independent non-censored media is understood and given its proper place in the world of news, opinion and media.
All content is owned by author exclusively. Expressed opinions are NOT necessarily the views of VT, other authors, affiliates, advertisers, sponsors, partners or technicians. Some content may be satirical in nature. All images within are full responsibility of author and NOT VT.
About VT
-
Read Full Policy Notice
-
Comment Policy