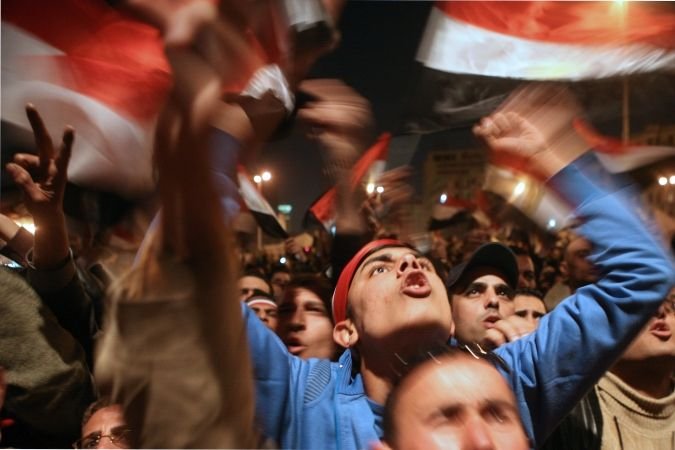 "Peace with Egypt, which is considered an asset, only when it is at risk, was a peace that Israel toyed with and breached from the beginning."
By Gideon Levy, Haaretz
The Israeli flag that was taken down by a young Egyptian from the window of the Israeli Embassy in Cairo was faded and worn, flying from an old, nondescript office tower, invisible from the street to the naked eye.
 A great deal of murky water has flowed through the Nile since the flag was first unfurled; people who think that the hatred for Israel that is now boiling over is a divine edict, fate or the wrath of nature, should think back to the early days of peace between Israel and Egypt.
Then, in the carefree 1980s, tens of thousands of Israelis streamed to Egypt and were welcomed with open joy. It was a pleasure to be an Israeli in Cairo in those days; sometimes even a great honor.
The masses demonstrating against Israel now are the same masses who once welcomed the Israelis. Even if Friday's "million-man rally" against Israel only became a thousand-man march, the hatred has sparked. But it does not have to be this way.
The fact that it has not always been this way should be food for thought in Israel.
But as usual, the question of why does not come up for discussion here. Why is there terror? Because. Why is there hatred? Because. It is much easier to think that Egypt hates us and that's that, and divest ourselves of responsibility.
Peace with Egypt, which is considered an asset only when it is at risk, was a peace that Israel toyed with and breached from the beginning.
It required recognizing the legitimate rights of the Palestinian people and granting it autonomy within five years. Israel conducted ridiculous negotiations, headed by its interior minister (Yosef Burg ) with the intention of making the negotiations go away, and never met its obligations. The invasion of Lebanon the day after the treaty was completed in 1982 was dangerous and impertinent. Against all odds, Egypt withstood this baiting.
People who ask why Egyptians hate us should think back to these two pivotal actions by Israel.
 Public memory may be short-lived, but hatred is not. Its flames have been fanned since then.
People who want to understand why the Egyptians hate us should recall the scenes of Operations Cast Lead and Defensive Shield, the bombing of Beirut and the shelling of Rafah. If Israelis were exposed to scenes in which some country acted in the same way toward Jews, such hatred would burn within us toward that country as well. The Arab masses saw terrible pictures and its hatred increased.
New game ahead with brand new rules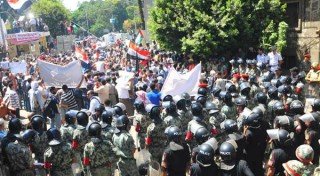 That hatred had fateful significance with the arrival of the Arab Spring. The rules of the game in the new Middle East changed. Peace and cease-fire agreements to which the tyrants in the old Egypt, Syria and Jordan held with much gnashing of teeth, could no longer be preserved in democratic or partially democratic regimes.
From now on, the people are speaking; they will not stand for violent or colonialist behavior toward Arabs, and their leaders will have to take this into consideration. The occupation, and Israel's exaggerated shows of force in response to terror attacks are now being put to the test of the peoples, not just their rulers.
There is a positive side to this in that it may rein Israel in, as has already recently been seen with regard to Gaza: If not for the new Egypt, perhaps we would already be in the throes of Operation Cast Lead 2. But in the long-term, this will not be enough to hold back our forces and hold our fire.
It is becoming exhausting to reiterate this, but it is now truer than ever: Israel no longer has the option of living only by the sword.
The dangers inherent in the new reality that is emerging before our very eyes are not of the type that military prowess alone can overcome for years. We cannot gird ourselves forever, no matter how protected and armed we are.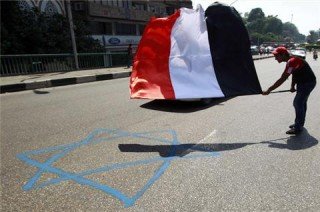 The new Arab leaderships will not be able to ignore the desires of their peoples, and their peoples will not accept Israel as a violent occupier in the region. Not only does an Operation Cast Lead become almost impossible, the continued occupation endangers Israel – the longer it lasts, the stronger the resistance to Israel's very existence.
It is not difficult to imagine how things could be different. It's enough to recall the first days of peace with Egypt, or the early days of Oslo – until the Arabs recognized the fraud.
It is not difficult to imagine peace agreements that would lead to the end of the occupation and a response to the Arab peace initiative.
The only way is to create a new Israel in the eyes of the new Arab world. Only if this happens can we return to Cairo's Khan el-Khalili market and be accepted there.
Let us not waste words over the alternative; it does not exist for Israel.
for more articles by Dr. Ashraf Ezzat visit his website
Ashraf Ezzat is an Egyptian born in Cairo and based in Alexandria. He graduated from the faculty of Medicine at Alexandria University.
Keen not to be entirely consumed by the medical profession, Dr. Ezzat invests a lot of his time in research and writing. History of the ancient Near East and of Ancient Egypt has long been an area of special interest to him.
In his writings, he approaches ancient history not as some tales from the remote times but as a causative factor in our existing life; and to him, it's as relevant and vibrant as the current moment.
In his research and writings, Dr. Ezzat is always on a quest trying to find out why the ancient wisdom had been obstructed and ancient spirituality diminished whereas the Judeo-Christian teachings and faith took hold and prospered.
Dr. Ezzat has written extensively in Arabic tackling many issues and topics in the field of Egyptology and comparative religion. He is the author of Egypt knew no Pharaohs nor Israelites.
He writes regularly at many well-known online websites such as Dissident Voice and What Really Happened.
Dr. Ezzat is also an independent filmmaker. His debut film was back in 2011 The Annals of Egypt Revolution and in 2012 he made Tale of Osiris a short animation for children.
In 2013 his short The Pyramids: story of creation was screened at many international film festivals in Europe. And he is working now on his first documentary "Egypt knew no Pharaohs nor Israelites".
ATTENTION READERS
We See The World From All Sides and Want YOU To Be Fully Informed
In fact, intentional disinformation is a disgraceful scourge in media today. So to assuage any possible errant incorrect information posted herein, we strongly encourage you to seek corroboration from other non-VT sources before forming educated opinion. In addition, to get a clear comprehension of VT's independent non-censored media, please read our
Policies and Disclosures
.
Due to the nature of uncensored content posted by VT's fully independent international writers, VT cannot guarantee absolute validity. All content is owned by the author exclusively. Expressed opinions are NOT necessarily the views of VT, other authors, affiliates, advertisers, sponsors, partners, or technicians. Some content may be satirical in nature. All images are the full responsibility of the article author and NOT VT.
About VT
-
Comment Policy