by Robert O'Dowd
An eBook by Tim King and Robert O'Dowd tackles the environmental contamination at former MCAS El Toro and Camp Lejeune, including the murder of a senior Marine Corps officer at El Toro.  The book is scheduled for release in October/November  2011.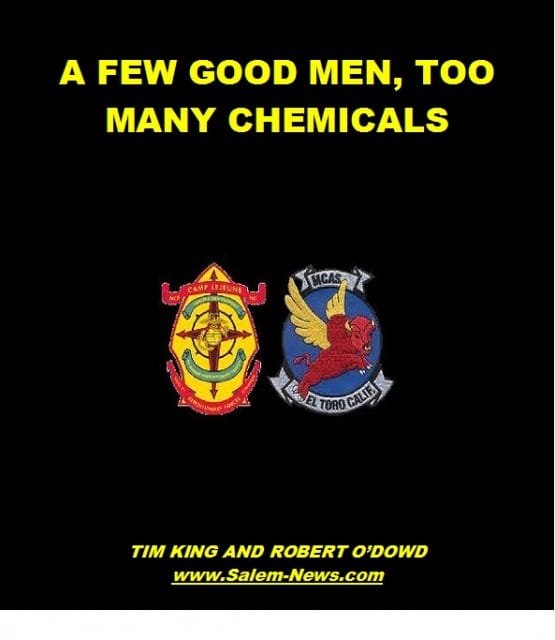 (SALEM, OR) – A Few Good Men, Too Many Chemicals tells the story of the thousands of veterans, their families and civilian workers at former MCAS El Toro and Camp Lejeune, at one time two of the most hazardous military installations in the U.S.  Those who lived and worked on these bases and were exposed to toxic chemicals and other environmental hazards continue to be ignored by the U.S. government, including the over 70 Marine Veterans of Camp Lejeune with male breast cancer, the highest incidence of occurrence of this rare cancer in any other demographic in the U.S.
In telling the story of the environmental contamination at these Marine Corps bases, we  hope to alert others who were stationed there and have not connected the dots of serious medical conditions to military service; to solicit Congressional support to require the Department of Veterans Affairs (VA) to provide medical care monitoring and health care for those injured and to establish the scientific expertise within the VA to fairly evaluate Veterans Disability and Compensation claims for medical conditions linked to environmental exposures at all military installations on the National Priority List (NPL).
There are actions that the VA and Veteran Service Organizations (VSOs) can take now with minimum expenditure of funds to alert Veterans and others to the health effects of exposure to deadly environmental hazards.
The simplest and least costly action for the VA and the VSOs is to establish internet links to the EPA Superfund database for the 130 military Superfund installations.  The VA and most VSOs have excellent internet sites. The EPA Superfund database lists the Contaminants of Concerns (COC) for each site.  The COC are the chemical substances found at the site that pose an unacceptable risk to human health or the environment.  EPA links the health effects of exposure to COC to a database maintained by the Agency for Toxic Substances Disease Registry (ATSDR).  With a few clicks on the internet, both the Veteran and his/her medical care providers can have access to COC and their health effects.  It's no exaggeration that this information may literally save lives.
Camp Lejeune has been labeled as 'death camp' for those who drank, showered, and cooked with the contaminated water on the base from 1957 to 1987.
MCAS El Toro Marines who worked directly with toxic chemicals without protective clothing and face masks or were exposed to dioxin and other toxic chemicals from the burnings at El Toro's landfills, fire fighting and crash crew burn pits and all on the former base who were exposed to contaminated water from the base wells prior to 1986 were at risk for exposure to toxic chemicals. For Marines assigned to MWSG-37,  'ground zero' for the TCE plume spreading off the base several miles into Orange County, the most industrialized 200 acres on the base, and an area with 11 contaminated sites, the risk of exposure to toxic chemicals was high.
For those who worked with TCE and other dangerous chemicals, the risks of dermal and inhalation exposures were often dismissed by the uninformed.  One sign of exposure to TCE was laughed off by MWSG-37 Marines who experienced facial flush after drinking a few beers.  They didn't know that subacute TCE exposure in combination with alcohol consumption produced the flush which could last from a few hours to several weeks. More importantly, they had no clue that prolonged exposure to this toxic chemical could lead to premature
death.
The soil and groundwater in the MWSG-37 area were contaminated with TCE, Perchloroethylene (PCE), and long list of toxic chemicals. Even for those who didn't work directly with these chemicals, but worked in the buildings over the TCE plume and ingested and showered with contaminated well water prior to 1986, routes of exposure to contaminants through ingestion, inhalation and dermal contact were present.
The Navy and EPA dismiss any concerns about El Toro's wells but we found evidence that supports the use of the base wells long after municipal water was purchased.  The Navy's failure to inspect all wells for the locations of their well screen intervals before sealing them in concrete after the first well inspected in 1998 was found opened in the contaminated aquifer and all of the original well construction drawings were reported missing may have been a deliberate attempt to cover-up the contamination or negligence on the part of a professional engineering staff that knew better.     
MCAS El Toro was decommissioned in July 1999. The former base is a safer environment today than prior to its closure.  Since the 1980s, the Navy spent hundreds of millions on remediation at the base. When MCAS El Toro made the NPL in 1990, the government knew the extensive contamination on the base was a serious health hazard. Even though the base wells were abandoned by then, Marines continued to work with TCE despite government reports that this carcinogen was discontinued at the base in the mid-1970s.  TCE drums were buried on the base to hide them from the Marine Corps Inspector General.  The Navy has made no efforts to recover these steel drums.
At Camp Lejeune, the contamination of the base wells with organic solvents and benzene is a documented fact. The contamination covered a 30 year period from 1957 until 1987 and may have exposed as many as one million people to toxic chemicals. The Marine Corps refuses to accept responsibility for any injuries and deaths from Camp Lejeune's well water. Senator Daniel Akaka, the former Chairman of the Veterans Affairs Committee, after hearing testimony on Camp Lejeune's contamination said that the Marine Corps had been less than forthright. He stopped short of saying that the Corps had lied but it's hard to believe that the Corps with an outstanding record of service could be that negligent.
The number of injuries and deaths from both bases could have been mitigated with medical care monitoring. MCAS El Toro is not anyone's radar.  Requests for an occupational exposure assessment by MCAS El Toro Veterans and dependents were passed from ATSDR to the Navy and back to ATSDR and ignored.
With 130 military installations on the EPA Superfund database, the Defense Department faces a huge potential liability from dependents and civilian workers (the only ones who can file tort suits). This may be the raison d'etre for the Navy and Marine Corps' refusal to accept responsibility for injuries from Camp Lejeune's contaminated wells. To do so, may be the proverbial Pandora box, opening the door to many others who were exposed to environmental hazards on 130 military Superfund installations and were injured from these exposures.
Hundreds of Federal tort claims for Camp Lejeune have been filed with the Navy Judge Advocate General (JAG). No action has been taken on the tort claims.  At the moment, they are just dust collectors.  Claimants have the right to pursue action in Federal court after six months and a few have taken that step.  Legislation was introduced in 112th Congress to provide for medical care through the VA for Camp Lejeune Veterans and their dependents injured from the base's contaminated water wells.  There is no effort underway to provide for similar injuries for those with exposure to toxins at MCAS El Toro or any other military installation.
In a day when the nation faces serious financial deficits, there's little interest in paying for medical monitoring and health care for Veterans injured on EPA Superfund bases. With the exception of the two senators from North Carolina, Congressman Brad Miller and their co-sponsors on two bills introduced in the 112th  Congress for Camp Lejeune, there's no interest to provide medical care for Veterans and their dependents injured on other Superfund military installations.
For Camp Lejeune, MCAS El Toro and the many military bases on the EPA Superfund list, these are not just examples of one or two drums leaching into the groundwater. For our military, dependents, civilian workers and in many cases those living near these bases, the volume of toxic chemicals in the soil and groundwater posed a serious environmental health risk.
The use of MCAS El Toro to fly guns to Central and South America and cocaine into the U.S. during the Contra War is not new news. Gary Webb wrote about the influx of cocaine and its devastating effects on African Americans in major urban centers.  Marine aircraft and crews were not used for these flights, but unmarked civilian aircraft were authorized to use the airfield, refueled and Marine Corps leadership knew of the flights. 
During our investigation, we learned of the murder of Colonel James Sabow,  a decorated Marine fighter pilot and third in command at MCAS El Toro in 1991.  The government denies his murder, despite expert testimony and overwhelming forensic evidence.  The motive of his murder was to prevent him from telling all he knew about the guns for drugs flights.  Shortly before this death, the purging of a critical data processing file was done to keep information on the flights from the Marine Corps Inspector General.  Like the purged file, TCE drums were buried on the base to keep knowledge of the use of this chemical from the Marine Corps Inspector General, after their use was no longer authorized. Other records relating to environmental contamination are lost under circumstances strongly suggesting a deliberate trashing of incriminating evidence.      
The base wells at MCB Camp Lejeune were contaminated with toxic chemicals for 30 years, according to The Subcommittee on Investigations & Oversight of The Committee on Science & Technology, U.S. House of Representatives.
The Subcommittee accused the Marine Corps of viewing the serious contamination of the base wells as a public relations battle rather than a public health hazard.
The hearing charter released prior to the September 16, 2010 hearing, "Camp Lejeune: Contamination and Compensation, Looking Back, Moving Forward" was highly critical of Marine Corps and left no doubt as to where the Subcommittee stood:
"For thirty years, Marines and their dependents serving at Camp Lejeune were exposed to toxic chemicals in their drinking water. It took the USMC more than four years to shut down drinking water wells they knew to be contaminated with toxic chemicals and another 24 years and an act of Congress to force them to inform Veterans about this contamination of potential health problems. For two decades the U.S. Marine Corps prevented full disclosure regarding the true extent of contamination at Camp Lejeune. In the past, ATSDR has struggled to obtain complete cooperation and support from the Navy in providing them with records necessary to conduct accurate and comprehensive public health assessments of Camp Lejeune's toxic hazards. The U.S. Marine Corps continue to view past environmental contamination at Camp Lejeune as a public relations battle rather than a public health hazard. In July 2010, for instance, they released a glossy booklet on Camp Lejeune's Historic Drinking Water which excludes critical information and misrepresents scientific conclusions about the health impact of past toxic exposures on Camp Lejeune residents."
For the many Veterans of Lejeune and El Toro, a modern day version of the ditty written by the "Battling Bastards of Bataan" at the beginning of WW II seems to fit:
We're the Veterans of
contaminated land,
No mama, no poppa, no Uncle Sam.
No aunts, no uncles, no nephews, no nieces.
No rifles, no planes, or
artillery pieces.
And nobody gives a damn.
Robert O'Dowd served in the 1st, 3rd and 4th Marine Aircraft Wings during 52 months of active duty in the 1960s. While at MCAS El Toro for two years, O'Dowd worked and slept in a Radium 226 contaminated work space in Hangar 296 in MWSG-37, the most industrialized and contaminated acreage on the base.
Robert is a two time cancer survivor and disabled veteran. Robert graduated from Temple University in 1973 with a bachelor's of business administration, majoring in accounting, and worked with a number of federal agencies, including the EPA Office of Inspector General and the Defense Logistics Agency.
After retiring from the Department of Defense, he teamed up with Tim King of Salem-News.com to write about the environmental contamination at two Marine Corps bases (MCAS El Toro and MCB Camp Lejeune), the use of El Toro to ship weapons to the Contras and cocaine into the US on CIA proprietary aircraft, and the murder of Marine Colonel James E. Sabow and others who were a threat to blow the whistle on the illegal narcotrafficking activity. O'Dowd and King co-authored BETRAYAL: Toxic Exposure of U.S. Marines, Murder and Government Cover-Up. The book is available as a soft cover copy and eBook from Amazon.com. See: http://www.amazon.com/Betrayal-Exposure-Marines-Government-Cover-Up/dp/1502340003.
ATTENTION READERS
We See The World From All Sides and Want YOU To Be Fully Informed
In fact, intentional disinformation is a disgraceful scourge in media today. So to assuage any possible errant incorrect information posted herein, we strongly encourage you to seek corroboration from other non-VT sources before forming an educated opinion.
About VT
-
Policies & Disclosures
-
Comment Policy
Due to the nature of uncensored content posted by VT's fully independent international writers, VT cannot guarantee absolute validity. All content is owned by the author exclusively. Expressed opinions are NOT necessarily the views of VT, other authors, affiliates, advertisers, sponsors, partners, or technicians. Some content may be satirical in nature. All images are the full responsibility of the article author and NOT VT.