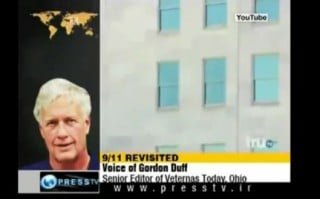 Abe Foxman Acolyte Taken to the Woodshed By Veterans Today
By Gordon Duff, Senior Editor
 (Editor's note:  Consider this a lesson plan for anyone confronted with an ADL "gatekeeper")
For the months leading up toward this disastrous period in Israeli history, the break in relations with Turkey, hundreds of thousands of Israeli Jews demonstrating for real democracy, the flood of evidence tying Israel to 9/11, the UN condemnation of Israel for the Freedom Flotilla killings and the upcoming UN vote on Palestine, Veterans Today Senior Editor, Gordon Duff along with columnist James Fetzer are confronted with what clearly is shown to be a 9/11 "denialist" pretending to be a peace activist.
During a recitation of "talking points" from Abe Foxman's ADL (Anti-Defamation League), an organization we believe has been tasked with covering up Israel's involvement in 9/11, total mayhem breaks out.  Amid a flood of deflections, accusations of "antisemitism" and outright falsehoods, what can only be considered a clandestine spokeperson for the New World Order is stopped in his tracks:
[youtube y6nwZS5X7GA]
Note that the video edits out additional charges of "antisemitism' and references to the "holocaust."  However, enjoy what you are allowed to see.
In retaliation for this confrontation, Abe Foxman of the AntiDefamation League issued a press release yesterday condemning Veterans Today, Gordon Duff, James Fetzer, Alan Sabrosky and Kevin Barrett as "vicious antisemites."
The real height of hilarity is Foxman and the ADL putting up a page criticizing one of their own front organizations.  The real shame about having Foxman hate you is how meaningless it is.  Now, if it were Dick Cheney, then you could brag:  "The worst person in the world hates me."  With Foxman, all you can say:  "The second worst person in the United States hates me."
(Veterans Today sees the ADL, misnamed the "AntiDefamation League" as an anti-American organization that targets Jews in America with fear mongering and has been repeated tied to acts such as spraypainting synagogues with swastikas and worse.
Their affiliate group, AIPAC, is known to be a spy organization that worked for the Soviet Union against the United States during the Cold War.  These aren't simple "Jews" but rather something extremely sinister, something using much more than propaganda, an organization willing to use violence, particularly against the Jewish people.)
If that were on a T shirt, it would be on the 75% off rack at Bloomingdales in a week.
Our take on all of this?
Shakespeare says it best, as is so often the case:
The lady doth protest too much, methinks.
Hamlet Act 3, scene 2, 222–230
This oft misquoted line from Shakespeare, used in the context we note, makes the point well
If there were any doubt of Israel's complicity in 9/11, we have put those doubts to rest.
As Abe Foxman pointed out so aptly on his website, www.adl.org, the issues of Israeli involvement in 9/11 must be addressed, not through childish accusations and bad prose, as the ADL is best known for, but extradition, trials and executions.
Gordon Duff is a Marine combat veteran of the Vietnam War. He is a disabled veteran and has worked on veterans and POW issues for decades. Gordon is an accredited diplomat and is generally accepted as one of the top global intelligence specialists. He manages the world's largest private intelligence organization and regularly consults with governments challenged by security issues.
Duff has traveled extensively, is published around the world and is a regular guest on TV and radio in more than "several" countries. He is also a trained chef, wine enthusiast, avid motorcyclist and gunsmith specializing in historical weapons and restoration. Business experience and interests are in energy and defense technology.
ATTENTION READERS
Due to the nature of independent content, VT cannot guarantee content validity.
We ask you to
Read Our Content Policy
so a clear comprehension of VT's independent non-censored media is understood and given its proper place in the world of news, opinion and media.
All content is owned by author exclusively. Expressed opinions are NOT necessarily the views of VT, other authors, affiliates, advertisers, sponsors, partners or technicians. Some content may be satirical in nature. All images within are full responsibility of author and NOT VT.
About VT
-
Read Full Policy Notice
-
Comment Policy