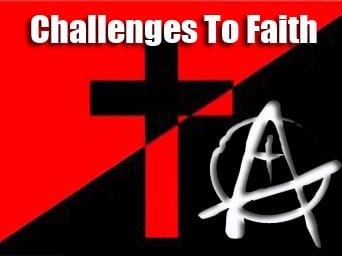 Plus observations of agnostic, anarchist turned Scripture-only Christian
by Tom Valentine
With all the information about the Talmudic hubris tainting the Old Testament, and all the religious hypocrisy emanating from televangelism, how does a reasoning, devoted, Scripture-only Christian sustain his faith?
Many "churchists" seem to run into difficulty, and abandon what they previously believed. It is apparent they went into belief for the standard reasons—family and societal pressures, and not because reason and life experiences guided them to it.
While I am Christian, I am not evangelist. I don't care what or how others believe, so long as no harm is done. Regardless, I am having no problem in sustaining my faith in God and in Jesus Christ.
However, If one's belief has been blindly closeted and is emotionally superficial as is that of snake handlers, tongue talkers and so-called Christian-Zionists, a term I have often labeled the mother of oxymorons, then for any of them to stray into reason-challenges will pose a problem.
Having never had the dogma of denomination attached to my belief, My witness or testimony may have a flavor of its own. But, I think from reading many responses to VT articles, my experience is not that unusual.
I shot off my big mouth the other day in a written response to my own column, and said I would deal with this topic (of belief) in a future column, the future is here.
My faith in Jesus Christ has been shaken many times as I research and write—especially about the nature of the criminal conspiracies to dominate and enslave all humans in a One World dictatorship ruled by precepts taken directly or indirectly from the Bible, and deceptive history.
If a Christian must believe that the Bible is "inerrant"or that a human can be elected "infallible" by other humans, then I could never have counted myself among them.
In my reading, Jesus was a man who embodied the fullness of God, and not God incarnate, a view that would have labeled me heretic in the early going of the church. You can find verses supporting both in the New Testament. The trinity concept always bugged me, but it did not build nor destroy my faith.
The bickering between Protestants and Catholics never floated my boat, I've always seen it much like a turf battle for carnival goers.
I do believe Christ is the "savior" of mankind, and is the entity I may rely upon when I enter the nonphysical world, or the "Kingdom within me."
Faith is the linchpin of all religions, especially the heavily criticized "middle east" monotheistic religions subject to serious debate in VT.
"Faith is the substance of things hoped for; the evidence for things not seen." (Paul to the Hebrews.) I have never seen a better definition.
If one wants a reasoned historical look at why Christianity grew strong, they need to read a short book from the long account of Roman history.
Edward Gibbon, the greatest historian among English writers was noted for his criticism of Christianity. He was also a mason, and Royal Society Cabalist, nevertheless, I suggest you read his chapters on "Christians and the Fall of Rome,first published in 1776, and recently put out by Penguin Books, 2004. Serious, reasoning Christians should read it, it is less than 100 pages, and it gives the history of the early Christians before Constantine made Catholicism the State religion.
You will learn important details about the growth of Christianity, written by perhaps the most dispassionate scholar using only original sources.
It was from this segment of Gibbon that I learned about a Greek philosopher named Aristides, who delivered an "apology" for Christianity to the Pagan Emperor Hadrian, not a friend of Christians. You can Google the Apology of Aristides to read it.
This guy gives the emperor a good summary of Creation followed by all the "errors" of barbarians, Greeks, Romans Egyptians and Jews (without mention of the Talmud). And then he describes Christians.
Since my faith ultimately rests with God, the Creator, nothing that man can say or write or film can supplant it, because I can see God in action every day. I honestly don't understand those who cannot see.
To me the height of hubris rests in the Egos of the original Talmudists, who actually claimed they knew more than the God revealed to them. The second most arrogant are secular (earthly) humanists, who vainly worship the creatures, excluding the Creator.
I am reminded of an exchange within responses to a VT column I wrote, wherein another responder suggested that wanting to be part of a special creation, requires a massive Ego. I thought about it, and rejected it without rancor. After all, humility, which is apparently hard to come by, is the basis for Christ's philosophy.
Christ not only "saves" individual souls with his promise of mediation, but he saved the world from the scribes and Pharisees. If the message be heeded.
Since the Bible is at the very core of the conspiracy theories that are devouring ignorant humanity a different perspective may be useful.
We humans, each having a mind/soul can really think up bizarre things. An adage is that people's behavior can confound even the Angels. Christ Made it perfectly clear what we should do to enjoy better living in our lifetimes, but people, being what we are, bleeped it up. I think this is why both Christianity and Islam adopted so many rituals and repetitions to be practiced—people are mostly too arrogant, ignorant and self-centered to adopt a wise philosophy without daily props.
Today, there are two opposed claws reaching out to enslave the lemming-like masses—one claw is humanism, the other is misplaced faith in Talmudic scripture. Both have mass appeal for lazy minds, and both are equally pulling sheep into pens for shearing.
Catholic dogma for all its organizational and institutional flaws held out against humanism better than did the Protestants, and so the venerable church caught the most media flack; Protestants were quick to take the bait of Darwinism and enjoyed this fools advantage over more rigid Catholics (Human Nature?).
While the above has been a big part of the "Divide and conquer" campaign (Divide and Conquer Using Beliefs) I think the biggest games have been played on the various Bible Seminaries among the American Protestant churches—This deliberate and evil influence has resulted in millions of sincere, but thoughtless, people becoming Christian Zionists.)
This latter was an unmistakable, deliberate plot to destroy Christianity from inside out, and required about 200 years of evil plotting. The rub comes from the fact that it was my own digging into the matter that led me firmly into the bosom of Christ making me an implacable enemy of Zionism.
In the beginning, I was merely leaning toward the appeal of Christ as a pillar of great philosophy, but after studying the unmitigated crap found in the so-called Scofield teaching Bible, I discovered the irrefutable proofs of genuine Bible prophecy, which I wrote about here: (August, 2011 Marks The 1,941st Anniversary!)
What those "irrefutable proofs" areleads into the greatest predictions of future events ever made. Both well documented.
Part two coming
Tom Valentine (born August 20, 1935, same day as Ron Paul) is a businessman, writer, commentator and radio host with an anti-establishment perspective. He worked with Radio Free America from 1988 to 2004. He tends to align with issues from left and right ends of the political spectrum, as well as libertarianism. His main journalistic interests have been unorthodox health care methods and conspiracy theories. He is a believer in many alternatives as cancer cures, and believes that soy products are unhealthy for human consumption. All of his views are at odds with the mainstream medical community.
ATTENTION READERS
We See The World From All Sides and Want YOU To Be Fully Informed
In fact, intentional disinformation is a disgraceful scourge in media today. So to assuage any possible errant incorrect information posted herein, we strongly encourage you to seek corroboration from other non-VT sources before forming an educated opinion.
About VT
-
Policies & Disclosures
-
Comment Policy
Due to the nature of uncensored content posted by VT's fully independent international writers, VT cannot guarantee absolute validity. All content is owned by the author exclusively. Expressed opinions are NOT necessarily the views of VT, other authors, affiliates, advertisers, sponsors, partners, or technicians. Some content may be satirical in nature. All images are the full responsibility of the article author and NOT VT.