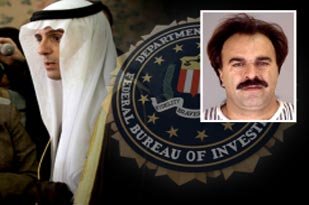 For Barack Obama to take a prominent role in announcing the case may prove to be a serious political and diplomatic mistake.
Even the senior law enforcement official involved in the investigation admitted that "the alleged plot to kill the Saudi ambassador to the US did not fit with what was known about the methods and practices of the supposed perpetrators, the Al Qods force of the Revolutionary Guards."
There are so many doubts and questions surrounding the alleged Iranian-sponsored assassination plot against the Saudi ambassador, that for Barack Obama to take a prominent role in announcing the case may prove to be a serious political and diplomatic mistake.
The American public loves intrigue and simplistic narratives, good versus bad. What they don't like is to be lied to in the narrative. We were fooled once by the Iraq-WMDs "mushroom cloud" campaign orchestrated by Bush-Cheney. As a result we are still fighting two seemingly endless wars in the Middle East.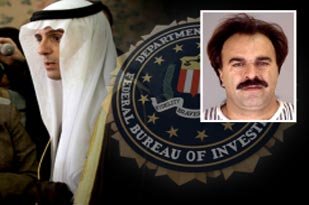 By highlighting a "terror" plot that involved a Mexican drug cartel, the Saudi ambassador to the US, and a highly unstable potential assassin, Obama brought us Bush-Cheney, the Sequel.
As Obama announced the Justice Department action he promised "strong sanctions" against Iran. The Justice case alleges that an Iranian-American, Manssor Arbabsiar, was introduced to a man he thought had a connection to a Mexican drug cartel, very bad guys with assassination skills.  Arbabsiar's "contact" to the cartel was, in fact, an undercover US Drug Enforcement official, who was setting up a standard FBI "sting".
The indictment also includes Arbabsiar's cousin Ali Gholam Shakuri, an officer in the Iranian Qods Force.  It is that elite army unit that allows the Department of Justice to claim that the plot has ties to the "highest" levels of the Iranian government. Obama said there was evidence that additional connections were made, but they have not been included in the indictment, and may never be, on security grounds.
A "sting" most often targets a major player believed to be a serious threat to American peace and security.  Arbabsiar may yet emerge as a serious player, but that is no reason why Barack Obama should be in the White House as the nation's lawyer, announcing the case . He has an Attorney General to perform those duties. Criminal case announcements should be made in the Justice Department, not in the White House.
Instead of waiting for these criminal charges to make their way through the US judicial system, President Obama used a press event in the White House East Room, to address his domestic audience with tough talk about "sanctions" against Iran, a largely meaningless threat since we already have saddled Iran with "sanctions".
Who is this dangerous Iranan-American at the center of this "terror plot thriller"?
The Washington Post spoke with an Arbabsiar friend, Tom Hosseini, a store owner in Corpus Christi, Texas. Hosseini has known Arbabsiar since the late 1970s, when both came to the United States as students.  The Post profile on Arbabsiar portrays the alleged assassin as someone who did not appear to be capable of carrying out a sophisticated death plot.
Hosseini wonders how anyone, especially an elite military organization such as Iran's Qods force" the unit the US Department of Justice alleges was running Arbabsiar would be involved with his long time friend.

"It's a puzzle," Hosseini said. "Maybe somebody offered him some money. He doesn't have the brain to say no."

Within the small Iranian American community in this Gulf Coast city, Arbabsiar, 56, was well known and well liked. But he was also renowned for being almost comically absent-minded, perpetually losing keys, cell phones, briefcases, anything that wasn't tied down. He failed at a succession of ventures from used cars to kebabs.

"He was just not organized," said David Tomscha, who once owned a car lot with Arbabsiar.
University of Michigan Middle East scholar and well-informed blogger, Juan Cole, finds the government's case against Arabsiar, "falling down funny".
Under a heading that recalls a movie about public gullibility and a TV show about a less than competent secret agent, Wagging the Dog with Iran's Maxwell Smart, Cole wrote on his Informed Comment blog:
That a monumental screw-up like Arbabsiar could have thought he was a government secret agent is perfectly plausible. I'm sure he thought all kinds of things. But that he was actually one is simply not believable.

OK, Qasim Soleimani, the head of the Qods Brigade special operation forces of the Iranian Revolutionary Guard Corps, may not be a nice man. But he is such a competent man that US officials in Iraq widely believed that he repeatedly outmaneuvered and defeated them there.

The allegation that Soleimani was running a hard-drinking incompetent with no memory and no sense of organization like Arbabsiar on the most delicate and dangerous terrorist mission ever attempted by the Islamic Republic of Iran is falling down funny.
This case has what the Guardian calls "the ring of a far-fetched Hollywood thriller". Even the senior law enforcement official involved in the investigation admitted that "the alleged plot to kill the Saudi ambassador to the US did not fit with what was known about the methods and practices of the supposed perpetrators, the Al Qods force of the Revolutionary Guards."
MJ Rosenberg has serious reservations about the narrative the Justice Department has outlined. He writes on his blog, Political Correction:
At this point, it is impossible to say how serious the plot was and, more importantly, if it even had anything at all to do with the Iranian government. Are we ready to believe that the cold and calculating people who govern Iran are contracting out assassination plots with Mexican drug traffickers or that they would pick Washington as the best place to attack the Saudi ambassador (knowing that being found responsible for a major explosion in Washington would mean war with the Saudi Arabia and United States)?

This is not to dismiss the plot as phony or contrived. But after the Iraq war experience, it would be awfully stupid of Americans to simply accept without question anything we are told about nefarious Muslim states that must be stopped before a "mushroom cloud" appears over downtown Washington.
The Main Stream Media is an essential co-conspirator to our political leaders in this hyping of "terror" stories.  Andrew Kilgore, publisher of  The Washington Report, recalled one story that began in 1981, shortly after the start of Ronald Reagan's first term.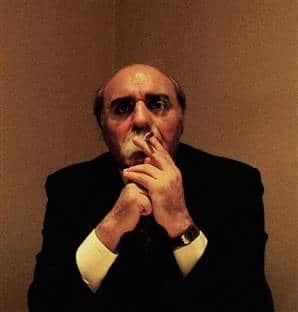 Breathless articles about Libyan "hit [assassination] squads" began to occupy the front page of The Washington Post. For three weeks, Post readers—and the U.S. government—were obsessed with these squads, which reportedly originated in the Middle East, had reached Europe, and were currently in Canada, where they were poised to cross into the United States like a swarm of northern killer bees.
Five years later, after Reagan  was safely reelected to a second term,  the truth emerged. As narrative, the ending fizzled. Kilgore explained:
Manucher Ghorbanifar, a small-time Iranian exile working in Washington for Mossad, Israel's secret intelligence service, confessed in 1986 that he had dreamed up the hit squads. Why? "To hurt Libya, an enemy of Israel."
Why does the American public keep falling for these thrilling, but questionable, tales? The media likes to peddle them and the public needs its circuses.
On the website, Reader Supported News, John Cook goes inside one media operation to demonstrate how this worked around the tenth anniversary of 911.
ABC News president Ben Sherwood. . . . told his staff in a morning conference call to stop reporting news of a potential terror plot timed to the 9/11 anniversary in such a "measured way" and to "turn this into a thriller."

A few days before the 10th anniversary of the 9/11 attacks, government sources raised the alarm that according to a single, uncorroborated source, at least three Al Qaeda operatives had been dispatched to the U.S. to strike Washington, D.C., or New York City on or around the anniversary.

How did the ABC News folks initially treat this information? Like a "news story." They reported it, on the news.

Sherwood is smarter than that. "News stories" are boring! People don't want "news." They want drama! Action! Thrills! Which is why, according to a transcript of Sherwood's morning conference call with ABC News staffers on the eve of the anniversary weekend that a tipster sent us, he told them to sex it up a little. . . .

Sherwood told his news staff to treat the story like a Hollywood movie script, as opposed to a boring old real story involving actual people and things.

Here's how Diane Sawyer breathlessly recounted the story on World News Tonight two nights before the tenth anniversary of 911:

"We are a nation coming together tonight to remember 9/11 ten years ago, and to stand sentry on the new threat that has been leveled against the United States. As the clock runs down to the anniversary on Sunday, police, bomb-sniffing dogs, and National Guard are all out in force in New York and Washington, D.C.

Intelligence officials are poring over the names on flights from abroad, and ABC News has learned new details on this terror threat."

Can you hear that clock ticking? Brian Ross' report that night featured 24-style time-stamp graphics as he counted down the story:

"Thursday night, as the President arrived to address Congress, the FBI and the CIA were in high gear."

To his credit, Ross also included this quote from former counterterrorism official Richard Clarke, though he didn't let it get in the way of the thrills: "So far, we haven't been able to find any evidence in the real world that this report is true."
As we now know, there were no "terror attacks" on the tenth anniversary of 911. But for much of the days preceding this anniversary, ABC had its "thriller",  and journalism plunged more deeply into the darkness of entertainment posing as news.
Meanwhile, back in the White House East Room, President Obama proudly announced the opening of a new "terror plot thriller". These are not good days for the Republic.
***
Pic. Credit: The picture of Obama above is by Philip Scott Andrews of the New York Times. The graphic image of  Manssor Arbabsiar & the Saudi Diplomat is from the website MWC. The image of  Manucher Ghorbanifar is from Wikipedia.
This article was first posted @ Wall Writings
---
James Wall is currently a Contributing Editor of The Christian Century magazine, based in Chicago, Illinois.  From 1972 through 1999, he was editor and publisher of the Christian Century magazine.  He has made more than 20 trips to that region as a journalist, during which he covered such events as Anwar Sadat's 1977 trip to Jerusalem, and the 2006 Palestinian legislative election. He has interviewed, and written about, journalists, religious leaders, political leaders and private citizens in the region.  Jim served for two years on active duty in the US Air Force, and three additional years in the USAF (inactive) reserve. He can be reached at:  [email protected].
ATTENTION READERS
We See The World From All Sides and Want YOU To Be Fully Informed
In fact, intentional disinformation is a disgraceful scourge in media today. So to assuage any possible errant incorrect information posted herein, we strongly encourage you to seek corroboration from other non-VT sources before forming an educated opinion.
About VT
-
Policies & Disclosures
-
Comment Policy
Due to the nature of uncensored content posted by VT's fully independent international writers, VT cannot guarantee absolute validity. All content is owned by the author exclusively. Expressed opinions are NOT necessarily the views of VT, other authors, affiliates, advertisers, sponsors, partners, or technicians. Some content may be satirical in nature. All images are the full responsibility of the article author and NOT VT.