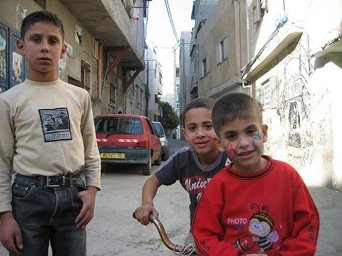 Joharah Baker is Director of the Media and Information Department at the Palestinian Initiative for the Promotion of Global Dialogue and Democracy (MIFTAH). She wrote:
It has been just under a week since the historic deal between Hamas and Israel saw the release of captured Israeli soldier Gilad Shalit for 1,027 Palestinian political prisoners.
In Israel, an entire nation let out a sigh of relief that their son had come home safely.
There is no arguing the intense human aspect behind this prisoner release. But what so much of the western press in particular has bypassed so far is the human aspect of our prisoners, who unlike Shalit, have been bunched up into one unappealing category: murderers, terrorists, people out for blood. And who wants to give a human story to that?
I do and have ever since my first of seven trips to Israel Palestine in June 2005.
On July 25, 2007, I wrote:
Reverend Dr. Mitri Raheb, captivated over forty international youth who attended Sabeel's Second International Conference: "40 Years in the Wilderness…40 Years of Occupation"

Born in Bethlehem, Rev. Dr. Mitri Raheb, has been the Pastor of the Evangelical Lutheran Christmas church in Bethlehem since 1988. He is the General Director of the International Center of Bethlehem/ICB, which provides the people of occupied territory training in arts, crafts, training and degrees in media and communications and health and wellness programs for youth and the elderly.

Raheb spoke with passion, "People need to see the potential of Palestine and Palestinians come to this center to create facts on the ground; creative and cultural facts on the ground while Israel creates destructive facts on the ground.
"We are not spectators, we have a role to play…we are nonviolent but I have problems with nonviolence; people from abroad come here and give us sermons on nonviolence and I appreciate it, but why don't they preach nonviolence to Israel and America?

"It's a miracle that the Palestinians are so nonviolent in spite of the abuse we live with on a daily basis. If you lived here every day you would get fed up too. The world assumes it is the Palestinians who are the violent ones, but nonviolence is who we are. If you operate in a system of violence you will also be violent when you go home.
"Palestinians who throw stones; and many think that is ok, but I say why do that? One day you will throw stones at Palestinians too and that is exactly what happened in Gaza, but the reason is the occupation! Where do you think Hamas learned to torture? In Israeli prisons from their captors!

"There is no way to end the violence without first ending the occupation. Our Palestinian government was boycotted for a year and a half by America and the EU: this is violence! As long as the violence is exercised against us that is OK with the world. When the Presbyterians talked divestment the Zionist rose up and said 'you can't do that!'

"I started interfaith dialogue in 1985 because Christians should not be islands and you don't dialogue just with yourself, you must dialogue with the other and the biggest temptation for the church is to stay within their walls and only be dedicated to their own members; which leads to a dead church. We are called to go out, and we do not just preach with words, people here are fed up with words; they hear one thing and see another with their eyes.

"They hear peace, peace, peace and for 85 years the politicians have been working for peace and the situation gets worse. Blair, and all the politicians are into PR for themselves; they do nothing for our situation. Blair got himself a good job marketing himself and he will come and go and Israel will continue building the wall, settlements and carving the West Bank into Swiss cheese; Israel gets the cheese and we Palestinians fall into the holes!

"Fifty million American dollars
Related Post:
Channel 4 Investigation:
Eileen Fleming founded WeAreWideAwake.org. She produced videos "30 Minutes with Vanunu" and "13 Minutes with Vanunu".  She has authored many books including; A USS Liberty Remembrance of 50 years USA Government Cover-Up of Israel's 8 June 1967 Attack on USA Spy-Ship, Wabi Sabi Body ETERNAL SPIRIT, and Heroes, Muses and the Saga of Mordechai Vanunu. Click here to see her latest books. Visit Eileen's YouTube Channel
ATTENTION READERS
Due to the nature of independent content, VT cannot guarantee content validity.
We ask you to
Read Our Content Policy
so a clear comprehension of VT's independent non-censored media is understood and given its proper place in the world of news, opinion and media.
All content is owned by author exclusively. Expressed opinions are NOT necessarily the views of VT, other authors, affiliates, advertisers, sponsors, partners or technicians. Some content may be satirical in nature. All images within are full responsibility of author and NOT VT.
About VT
-
Read Full Policy Notice
-
Comment Policy