I will always remember with fond memory and cherish those years I served this county, my country of choice and will always remember the friends I lost in the war
When I first arrived in the US back in 1962 as an immigrant, my oldest brother Nabil was undergoing basic training at Ft. Bragg, NC.
He was to stay there a few extra months for his jump training. Nabil left for Columbia, South America back in '53 and a year later my father was able to get an immigrant visa to the US and Nabil joined my father in 58.
It was in '62 that I first met my brother Nabil since his departure in '53. Within couple of weeks of arriving home back in Gary, Indiana Nabil was on his way to Fairbanks, Alaska where he stayed for 18 months.
Almost a year to the date after graduating from high school, I got my draft notice in Washington DC where I was working for National Airlines. I took my induction tests and welcoming papers in Chicago and joined the US Army on June 2nd 1966. Of course no need here to mention what I saw, which was so shocking of men doing all they can to get out of the draft and going to war.
The train trip from Chicago to Ft. Polk; LA was a long one almost 36 hours with a breakfast stop in Jackson, Mississippi. Since arriving in the US I traveled to cities like Chicago, Milwaukee, Detroit, Ann Arbor, South Bend, Washington DC and New York, but it was my first trip South and I could not believe the poverty I saw as we traveled south to Louisiana. I guess not much has changed since then.
Basic was not so easy, and I was assigned to a company with a bunch of guys from Texas, Illinois, Arkansas and Indiana and of course every one wanted to show how tough they were and of course the drill sergeant took care of that behind the barracks.
I was so lucky to be selected a squad leader from the first day and I shared a room in the wooden barracks and it was on my first day that I was called in to the office of the CO to inform me, as Muslim, the mess made arrangements for me to have special meals.
I very much appreciate this gesture and I told this story thousands of times to people in the Middle East who questioned treatment of Muslims. Of course that was before September 11th, when all that changed.
The Vietnam War came home to Gary in 64, with the first funeral I attended. The brother of my girl friend was killed in Vietnam. Of course that was neither the first nor the last death that I remember.
My bunkmate on the train down to Ft. Polk died within days of arriving in Vietnam and a classmate from high school Jack Nurse was the first one to die from our graduating class. The war was every thing to us in those years.
Lucky for me, I was sent to Ft. Monmouth, NJ for communication school and I was able to manage and pass the 10 weeks electronic school and I was the only one out of 25 graduating class that did not receive orders to proceed to Vietnam.
I was sent to Ft. Huachuca, AZ. Frankly it was great assignment. While at Ft. Monmouth, I was selected as squad leader and I was selected squad leader within one week of arriving in Arizona.
The War in Vietnam was intensifying with hundreds of thousands finding their way to Vietnam, and my brother Nabil was one of those. He was stationed in Pleiku. Nabil later was to serve in Panama, in Puerto Rico, Honduras, Salvador, Peru, Ecuador, Yemen and Saudi Arabia. He lives in San Anton.
Soon after graduation from high school, my bother Lutfi joined the US Marines and soon was followed by other brother Suleiman who joined the Army and soon after I was discharged my other brother Taiseer joined the US Marines.
It was an American family with 5 out of 6 brothers serving the nation.
While at Ft. Huachuca I won the "soldier of the month" several times and was nominated to attend the 6th Army NCO Academy in Ft. Louis, Washington. There was the real challenge and competition. I was skinny guy with a foreign accent and I could not believe when my name was put up for competition.
Throughout the weeks I was in Ft. Louis, I had to compete every day with guys who were the perfect Army poster. The competition ran all the way to the graduation ceremony with this army poster guy and me from South Dakota taking turn leading the troops. I could not believe it when the commanding general called my name and awarded me the "Leadership Award" it was truly the best honor I had in my life.
I left the army after my two years with the rank of Sergeant E5 and I returned home to Gary, Indiana looking for job. I was turned down everywhere I went. I chose not to apply to US Steel. After two weeks of job hunting, and after a long day of searching I decide to walk into Burns Memorial Chapel, a funeral home and I got the job.
While at Horace Mann High School my counselor always wanted to steer me toward non-college career and I simply refused. Few years later I was invited to become the guest speaker at "college night" at the same school.
A year after honorable discharge I enrolled at Indiana University where in addition to going to school full time, I worked as an orderly at Mercy Hospital, at Inland Steel, a bus driver at the university among other jobs. I went on to earn a bachelor degree, a master of public and environmental affairs and a law degree.
The training I had in the US Army was of great help to me while at Indiana University and it helped me win the presidency of the Freshman class and the presidency of the student government a year later and it helped me win the chairmanship of the Indiana Student Association, an association of all colleges and universities in the state of Indiana.
Being an active member of the IU Veteran Club made all the difference in winning such competition and so many thanks to all my friends members of the IU Veteran Clubs for their support. Yes, not-withstanding the anger and protests against the war, we were really "in" on campus and were very active in community and student affairs.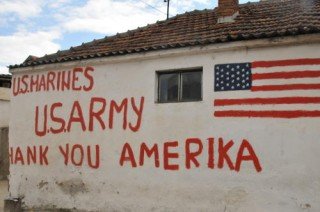 September 11th was a watershed for us in this country, and we became the "enemy". So many things have changed. I must share with you this interesting and moving story.
My Marine brother Taiseer's car and house in St. Petersburg, Florida was attacked and the St. Pete Times carried the story and the police report.
The next day and to the shock of every one in the housing complex, a retired Marine Colonel came looking for him.
As the people gathered around to see what is going on, upon meeting with my brother, he opened his brief case, gave my brother the US and Marine flags and as every one watched in amazement, told my brother "we US Marines stick together, and any one bothers you, you know where to find us."
The next day, the St. Pete Times carried a picture of my brother Taiseer wrapped in the American flag. Well, I guess this is the US Marines.
I will always remember with fond memory and cherish those years I served this county, my country of choice and will always remembers the friends I lost in the war and will always remember the friends I made while at Indiana University.
Joining the US military was the least thing my family can do for this country, a country that gave us home, citizenship, rewarding careers and so many friends. Thank you America for every thing.
God Bless You America.
Sami, a Palestinian-American and a US Army Veteran (66-68), recipient of the "soldier of the month award and leadership award from the 6th Army NCO Academy, is an international legal and business consultant with over 40 years of international experience, in construction, hospitality services, conservation, and defense, in the Middle East, Europe, and North Africa. Sami is a holder of BA, MPA in Public and Environmental Affairs, Jurist Doctor from Indiana University. While at IU he was elected class president, student government president and chairman of the Indiana Students Association,
Active in peace movement as a co-author of the pre-amble for the One State for All of its people and voluntary service program SalamNation. A frequent contributor on national and international affairs. He resides in the United States.
ATTENTION READERS
Due to the nature of independent content, VT cannot guarantee content validity.
We ask you to
Read Our Content Policy
so a clear comprehension of VT's independent non-censored media is understood and given its proper place in the world of news, opinion and media.
All content is owned by author exclusively. Expressed opinions are NOT necessarily the views of VT, other authors, affiliates, advertisers, sponsors, partners or technicians. Some content may be satirical in nature. All images within are full responsibility of author and NOT VT.
About VT
-
Read Full Policy Notice
-
Comment Policy