"Fighting against your own people is not heroism, but cowardice"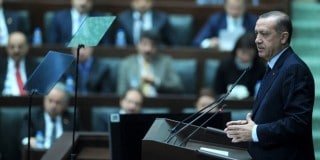 Turkey's Prime Minister Erdogan has once again stepped up to the historical plate and hit one out of the park.
He has publicly challenged Assad not to go the way of Hitler, Mussolini, Ceausescu, and Gaddafi. I am not sure Assad is listening. He has not been so far.
Assad has pushed the envelope even more when he agreed with the Arab League to pull his troops back to the barracks, only to have them go onto the attack the next day.
It was a great humiliation and loss of face for the League, not something that they really needed or could afford.
Are their hypocrites among them? Of course, but they are everywhere. Throw a dart off the observation seating area in Congress and you have a better that even chance of hitting one.
But where Assad made a huge goof here, reneging on a deal in a day, that kinds of opens the door to other avenues of conflict resolution.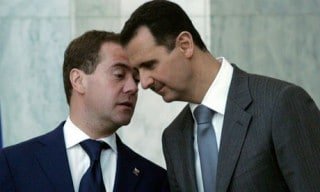 Assad still holds some cards. Russia has no intention of losing it's only naval port on the Mediterranean. Iran wants to maintain it's defense in depth with the Russian S-300 top of the line air defense missiles over Syria territory.
And China will not be leaving Iran hanging out to dry, even more so with Obama and Hillary making such a big deal over SE Asia military alliances.
The American dummies are making it very easy for China to offer a nuclear umbrella over Iran…and maybe Pakistan while they are at it. Then again, that's what the 'dummies' might want.
But Erdogan is the semi wildcard here. The Israeli rhetoric has calmed down while Turkey got their F-16s upgrade package. And Gordon informed me this week that they have F-35's on order.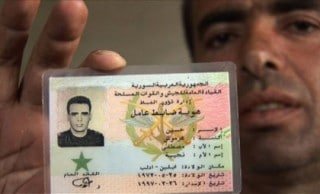 Have you noticed there has not been a peep in the news about oil drilling spats around Cyprus. It's almost like if someone told all them to cool it.
I can't imagine they got bought off, when the Super Committee turned up with dead chicken on the trillion dollars in budget cuts. Even Israel's Iran attack hysteria has cooled down.
Meanwhile, more army troops seem to be deserting. What is happening to their families could determine whether enough joint them to turn it into a dam break.
They will need anti-armor munitions to discourage attacks against the towns.
There have been no car bombings or suicide attacks yet, but that could start up at any time. The Assad folks might even do it themselves to 'prove' the rebels are just terrorists, and they would not be the first. Maybe they can even borrow some frozen bodies from the Balkans from Israel that they keep in the freezer for when they need a few.
News Report Text from Al Manar in Lebanon:
Turkish Prime Minister Recep Tayyip Erdoğan has called on embattled Syrian leader Bashar al-Assad to step down for the sake of his own people and the region, reminding him of the tragic end of Adolf Hitler and ousted Libyan leader Muammar Gaddafi.
Erdoğan said during his Justice and Development Party's (AK Party) parliamentary meeting that "for the welfare of your own people and the region, just leave that seat."
"Assad is showing up and saying he would fight to the death. For God's Sake, against whom will you fight? Fighting against your own people is not heroism, but cowardice.
If you want to see someone who has fought until death against his own people, just look at Nazi Germany, just look at Hitler, at [Benito] Mussolini, at Nicolae Ceausescu in Romania," he said.
"If you cannot draw any lessons from them, then look at the Libyan leader who was killed just 32 days ago in a manner none of us would wish for and who used the same expression you used."
The prime minister referred to Assad's remarks over the weekend, when the Syrian leader defiantly vowed to fight and die if needed as an Arab League deadline for his government to stop its lethal crackdown on protesters expired with 20 more people killed.
Condemning Monday's attack on three buses carrying returning Turkish pilgrims to Turkey passing through Syria, Erdoğan called on Assad to find the perpetrators of the attack as well as those responsible for earlier attacks on Turkish missions in Syria.
Erdoğan has grown increasingly critical of the Syrian regime and said last week that the world must urgently "hear the screams" of Syria and do something to stop the bloodshed.
Turkey has allowed Syrian refugees and military defectors to take refuge on its soil and Syria's political opposition has used Turkey as a place to meet and organize.
Assad's deepening isolation and the growing calls for his ouster are a severe blow to a family dynasty that has ruled Syria for four decades and any change to the leadership could transform some of the most enduring alliances in the Middle East and beyond.
Tensions between the Syrian administration and Turkey have once again run high after three buses carrying Turkish pilgrims to Turkey from Saudi Arabia, where they had gone to perform the Islamic pilgrimage, were attacked at a check point in Syria on Monday.
The Turkish Foreign Ministry said the attack occurred near the central city of Homs, where Syrian activists reported at least nine people killed by security forces on Sunday. The statement said two Turkish citizens were injured in the attack.
Jim W. Dean was an active editor on VT from 2010-2022.  He was involved in operations, development, and writing, plus an active schedule of TV and radio interviews.
ATTENTION READERS
We See The World From All Sides and Want YOU To Be Fully Informed
In fact, intentional disinformation is a disgraceful scourge in media today. So to assuage any possible errant incorrect information posted herein, we strongly encourage you to seek corroboration from other non-VT sources before forming an educated opinion.
About VT
-
Policies & Disclosures
-
Comment Policy
Due to the nature of uncensored content posted by VT's fully independent international writers, VT cannot guarantee absolute validity. All content is owned by the author exclusively. Expressed opinions are NOT necessarily the views of VT, other authors, affiliates, advertisers, sponsors, partners, or technicians. Some content may be satirical in nature. All images are the full responsibility of the article author and NOT VT.