Gone in the Snap of the Fingers
by Gordon Duff,  Senior Editor
Whatever else is going on in the world, banking collapses, wars, current but forgotten were we to be honest, our lives and memories are of Christmas. 
My own memories, the earliest, would have Harry Truman as president, cars with running boards and an America more than just forgotten, a time really erased, recreated only in movies and television. 
My own childhood was spent in Detroit, the son of an automobile worker living in a neighborhood that, today, may look somewhat as it did.
It isn't.  Detroit, the city itself, nears death.  A few ethnic neighborhood blossom, Hispanic, Muslim, Polish, but decay is an understatement.
"Post-apocalyptic" is closer to the truth, with entire square miles of burned out homes, abandoned shacks, piles of trash and fearful residents darting from shadow to shadow hoping to evade the random gunfire that brings so many young lives to an untimely end.
Detroit's streets are like spokes of a wheel, Michigan Avenue, Grand River, Woodward, Gratiot, heading out of the city, across the state.
Each of these main urban thoroughfares I remember ever block of, every mile, from the 1950s onward.
Then, they were lined with businesses, bakeries, butcher shops, restaurants, sidewalks lined with shoppers, curbs lined with cars now only in museums or disappeared from even the junk yards decades ago.
Detroit was always bleak, a city of factories, of brown snow and yellow air, sulphur and smoke, automobile exhaust and cigarette smoke.
Christmas was all that made it different, the only sign that life had any hope, any potential, the only signal that heavenly reward may actually exist, albeit a belief few if any held in all but the most superficial and passing moments.
I was never raised a Christian but accepted, even revelled in the pageantry of the religious holiday that, we are now told, had illegally intruded itself into publicly financed schools.
I enjoyed singing of the baby Jesus or taking the stage, speaking lines heralding the birth of "the savior of mankind."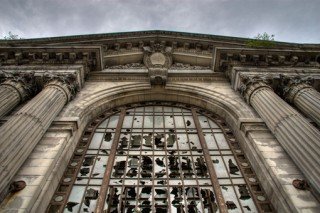 There was beauty in the mythology, especially in a world of filth and crime, a world of hopelessness where the greatest war in the planet's history had only recently ended.
Those around you, be they survivors of combat from battle fronts in nearly every continent or war profiteers, grown rich on the "black market," still defined themselves with the intensity of the decades just passed.
Short decades before, in the 1930s, the world economy had collapsed.  Then there were no "bailouts."
If President Hoover were to have his way, half of America would have starved to death, a strange task for a man known to have saved so many Europeans from a similar fate at the end of that earlier war, that First World War, the one that made the world "safe for democracy."
As my mother used to tell me, "you could go to the movies for a nickel…but nobody had a nickel." 
She grew up in a mining town in Kentucky, "Glomar," a few miles from Hazard. where barefoot children suffered malnutrition while a parent would work 12 hours a day in a coal mine, breathing poisonous dust, only to have his meager earnings taken by "the company" to pay rent on a shack with neither heat nor toilet and running water.
She would speak of these times, when millions of Americans "rode the rails," searching for a handout or a day's work, human skeletons often left to rot in ditches or shot down by "private police" hired to protect the prosperous from the reality of horrors around them.
There are many today that would see these times return.  Obama sees it as a debate.  I see this Christmas as one in a sea of time, where years click by, friends, parents, even children die, and I go on and on.
[youtube 9aXgutY3xm8]
Christmas is a time when some, just perhaps, might ask "why?"
Those of who who have lived that long remember Christmas as a child, the mythology of Santa Claus, the reality or mythology of religion, which any honest person will admit is little but "window dressing" for the holiday.
I see the memories clearly.  I see cars change, I see stores disappear, reappearing as shopping malls and even those torn down, replaced by "membership" stores and Amazon.com.
I was a child, I was a soldier, sleeping in the mud 8000 miles from home on Christmas morning, I was a student.
I remember being a parent most of all, then a grandparent. Christmas has always been a reminder.
I can remember what I was told about the Christmases that came before, my father's story of stealing 5 gallons of maple syrup so his family wouldn't starve. 

This was, I think maybe 1914?  He was a child then, father dead, 8 brothers and sisters and a family business stolen by "helpful relatives."
He could never touch maple syrup since, the smell itself would drive him away.
There were always movies.  First and foremost was Dicken's "Christmas Carol," the Reginald Owen version from the 1930s.  We hear so much about "It's a Wonderful Life" with Jimmie Stewart.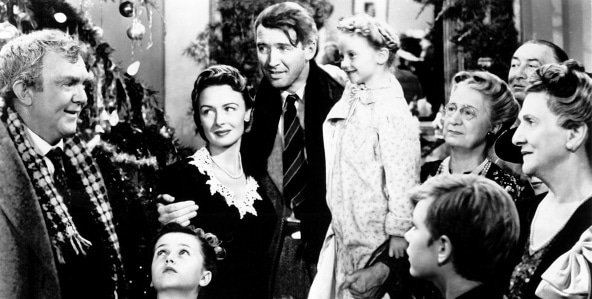 None of us had seen it as it had been banned, seems like the plot line about "evil bankers" was considered "communist." Now folks lie about having seen it on television, rewriting reality as our society rewrites it history.
Christmas has always been about expectations and we all admit, commercial exploitation, the overpriced and useless toys children are programmed to want, told they must have and that parents must struggle to obtain at any cost or admit "failure." 

I lived that one for years as have most Americans.
Christmas, for those who admit it, is a time of dishonesty, of anger and impatience, of greed, of envy and mostly of disappointment.
But what is real disappointment?  We define "disappointment" as failure to meet an expectation.  But what is an "expectation?"
The dying work to stay alive for Christmas.  Immediately after the holiday, there is a huge surge in deaths.
For many, Christmas is a time of awareness, where the loneliness suffered on a daily basis suddenly becomes unbearable.
Four years ago, nearing Christmas, I lost both a mother and son within days of each other.  This is a part of Christmas I will always remember.
Christmas is a time of loss for many, of empty chairs, of Christmas cards not received, of holiday visits that will be no more, the broken friendships, the entropy of death and disease, be it cancer or drunk drivers or the suicides, so many suicides, particularly among veterans.
For some, life comes together.  The children grow and prosper, the grandchildren are healthy, for a year or so, grandparents are healthy and fit.  But this is true for fewer and fewer.
More often, the children live with mother or grandmother, no father to be seen.  The family home is replaced by something else, a shelter or no home at all.
The retirement and insurance that was meant to secure the short years of retirement looted by Wall Street and the global kleptocracy it represents.
"Grandpa," in his 70s now works at Home Depot or Sam's Club while "Grandma" cleans the homes of the rich.  The children, too often, failed parents looking for jobs that will never exist or being educated for that new "technological America" that went to China decades ago.
Christmas, to most of us, is at its most special with small children, seeing the wonder in their eyes, the trust, their belief in us, believing that parents can keep them safe, that the world is a kind place.
Then I think of the parents of sick children or I hook up my "journalist self" and view the world in its entirety.
Worst of all, I remember Christmas in Vietnam and realize that Americans with automatic weapons are pushing themselves into homes in nation after nation, hunting "terrorists."
The real terrorist, of course, is the American and his hulking presence, his uniform and his weapons.
Saddest, perhaps, is that these same Americans are, not just our children but some of the best of our children, the ones we worked to keep safe.
They live now in danger, thousands of miles away, working to hold onto humanity and decency when our own government finds such things useless and despicable.
We are seen across the world as a land of liars, of thieves and of mindless brutes. 

Real Americans know better but our actions, Abu Ghraib, the raptor attacks, the "search and destroy" missions that cost so many innocent lives speaks so much louder than any act of kindness.
My own expectations?  I wanted an end to war with Vietnam.  I wanted to see children grow, be educated and live meaningful lives, able to have children of their own, all having a special feeling about America as something good and clean, flawed but hopeful.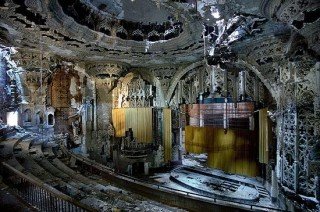 I never expected us to be going 300 miles per hour in the wrong direction with millions of Americans openly espousing values they call "conservative" but that I have always recognized as sociopathic and criminal.
I accept our fictionalized history, race hatreds erased, antisemitism never happened, no depression, no struggle for workers rights, no battles to secure our environment or maintain even the most basic political rights for all but the wealthy and powerful.
Now a good parent and successful American is one who can steal enough to allow his children and grandchildren to survive in relative security while millions around them wither and die.
Toward that end, no dishonor is not accepted, no crime not embraced.
This is the standard of humanity today as exemplified by our business and public ethics, as lived as taught in our universities, as seen in everything around us.
Each Christmas I feel more exhausted, more overwhelmed.  I drive to the mall and pass homeless at each corner.  Here in Ohio it is quite cold and 12 hours standing with a sign asking for money for food is not done for amusement.
My phone, my email, each day stories of families of veterans torn apart by bureaucracy that exercises abusive power with utter impunity.  Nobody, nothing is answerable in America today.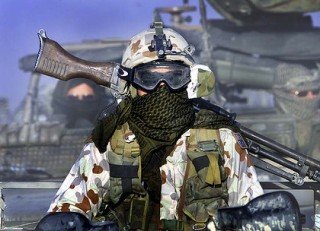 Then I hear so many talk, not just the Republican presidential candidates, largely psychopathic personalities but so many others, some I know personally.
Don't they know the things they say are insane and this isn't the anonymous insane that rant on the internet comment boards.
Those of us who watch such things have suspicions, see patterns and don't have to connect "dots" or make wild conclusions.
Human kind is not meant to survive and man is being programmed to accept this and not care, even if accepting the death of ones own children is a part of it.
Jeff Gates would call it "pre-staging" but even his worst fears are being exceeded.
To enjoy the Christmas season, each year our "blinders" have to become bigger, our hearts smaller, our eyesight less acute, our ability to ignore the cries of the suffering more honed and polished.
Making a difference begins when we stop lying.
Gordon Duff is a Marine combat veteran of the Vietnam War. He is a disabled veteran and has worked on veterans and POW issues for decades. Gordon is an accredited diplomat and is generally accepted as one of the top global intelligence specialists. He manages the world's largest private intelligence organization and regularly consults with governments challenged by security issues.
Duff has traveled extensively, is published around the world and is a regular guest on TV and radio in more than "several" countries. He is also a trained chef, wine enthusiast, avid motorcyclist and gunsmith specializing in historical weapons and restoration. Business experience and interests are in energy and defense technology.
ATTENTION READERS
Due to the nature of independent content, VT cannot guarantee content validity.
We ask you to
Read Our Content Policy
so a clear comprehension of VT's independent non-censored media is understood and given its proper place in the world of news, opinion and media.
All content is owned by author exclusively. Expressed opinions are NOT necessarily the views of VT, other authors, affiliates, advertisers, sponsors, partners or technicians. Some content may be satirical in nature. All images within are full responsibility of author and NOT VT.
About VT
-
Read Full Policy Notice
-
Comment Policy