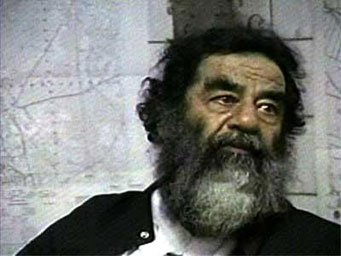 Check out Saddam Don't Surf – a song dedicated to Saddam Hussein
And the New Phony Book Book "We Got Him"
by Johnny Punish
Yesterday marked the 8th year anniversary of the capture of Saddam Hussein. To mark the occassion, Lt. Col Steve Russell who allegedly led the team to capture Saddam wrote a book called "We Got Him"
When U.S. forces allegedly exterminated Osama bin Laden in Pakistan on May 1, 2011 (wink wink), the world cheered not only the death of the 9/11 terrorist mastermind but the unmatched might, skill, and perseverance of America's military elite. It was a brilliant example of history repeating itself; less than a decade earlier, the capture of Saddam Hussein, a triumph of military strategy in and of itself, opened the door for the most recent and essential victory in the fabricated War on Terror.   It should be noted that un-officially, the Pentagon has an amazing group of script writers that make sure that the stories told all fall somewhat in line to insure that the narrative makes cents.   Its' business as usual, take no offence.
Now what we have here is the official riveting account of a grand human saga that tested every element of character and fortitude: the six-month manhunt that ended at a hole on the bank of the Tigris River, and the blow-by-blow plays of the actual raids that netted Saddam, culminating in the electrifying quote heard around the globe, "We Got Him!"
Now it should absolutely be noted that in the special opps community it's well known that Lt. Col. Russell's team was a cover for the real folks that "captured" Saddam. While I can't divulge my source, I can tell you that this person I call "Spit Ball" was there and Spit Ball personally spoke with and "befriended" Saddam.   You should know that while Saddam was  a horrible dictator, personally, he was a bit charming and frankly suprising friendly and very coherent.  He knew the game being played.  Please note that Spit Ball s still working in the theatre of operations and thus cannot compromise operations.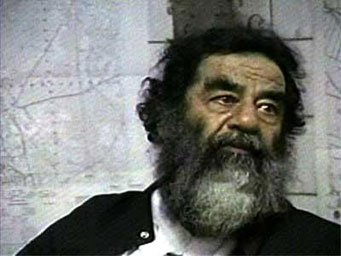 I mean, come on folks? Did you think you were going to get the real story from an official source? Really? Did you forget that those who gave us this fabricated war gave us WMD's and Joe Wilson's Yellowcake to eat in Nigeria at the Valerie Plame Restaurant?  As the late Philosopher and comedian George Carlin said "I dont' believe anything they tell me" and I think that fits.
Hey, you should know that the real guys who took out Saddam need their cover for various reasons and so we get an official account of the story from the pre-approved State Department and Pentagon list. It keeps the narrative of the history they want us to believe in line with their agenda.
Hey the info you get is controlled.  Don't take it personal okay.  It's just the way things are and have been for a very long time.
Now it should be noted that no other event in Operation Iraqi Freedom caught the attention of the world like the hunt for and capture of Saddam Hussein. Square in the middle of the search, living in Saddam's hometown of Tikrit, it's claimed that Lt. Col. Steve Russell and his men of the 1st Battalion, 22nd Infantry Regiment, 4th Infantry Division were there. Okay, good stuff.
This book is packed with "rare photos" and "insider information", We Got Him! chronicles the day-by-day search and the successes and dead ends as regular and special-operations soldiers tore into Saddam's social networks.
This is the definitive official account of this major historical event and of the sacrifice that made it happen. It also provides a rare look at the enemy side of the action. With his extensive journal notes, combat reports, and painstaking research, Steve Russell has preserved the story as only someone who lived the experience can do. Yep, and it's pure fiction and it will make a great movie someday! Ya hear me Spielberg!
Visit msnbc.com for breaking news, world news, and news about the economy
In addition, I also have a recorded a song called "Saddam Don't Surf" that is dedicated to the long gone dictator. Check it out here in the video below. Enjoy!
[youtube Cs88g7qhuac]
To download the song, visit the Official Johnny Punish Store
---
ABOUT THE AUTHOR: Johnny Punish is a musician, artist, entertainer, businessman, investor, life coach, and syndicated columnist. Educated at University of Nevada Las Vegas, his articles appear in Veterans Today, MunKNEE and his Johnny Punish Blog. His art music is promoted by Peapolz Media Records and played on net radio at Last.fm and more.
Resources: Store – Music – Videos – Amazon – YouTube – Twitter – Facebook
2011 copyright – Johnny Punish
ATTENTION READERS
Due to the nature of independent content, VT cannot guarantee content validity.
We ask you to
Read Our Content Policy
so a clear comprehension of VT's independent non-censored media is understood and given its proper place in the world of news, opinion and media.
All content is owned by author exclusively. Expressed opinions are NOT necessarily the views of VT, other authors, affiliates, advertisers, sponsors, partners or technicians. Some content may be satirical in nature. All images within are full responsibility of author and NOT VT.
About VT
-
Read Full Policy Notice
-
Comment Policy