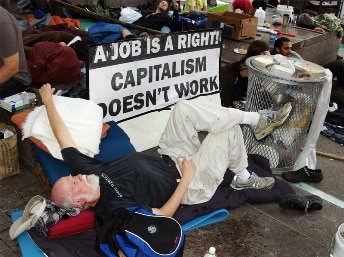 How's the battle over the Federal Budget going? How's the battle on creating jobs working out for the chronic unemployed? How's the class envy war doing? How's that approval rating of the President doing? What is the voter's perception of our elected Congressional representatives?
Answers "THEY" want you to believe…
Question one: "We are making headway."
Question two: "The unemployment rate has dropped to 8.6%. That shows the President's program is finally starting to work. He deserves four more years"
Question 3: "The protestors are right. The greedy rich need to pay their fair share, and the best plan would be to confiscate all their wealth and pay down the National Debt, or redistribute all the money of those capitalists to those who are less fortunate and to whom society has treated unfairly".
Question 4: "It may be at an all time low but will rise as more of his programs prove to be successful; after all, Obama is so smart"
Question 5: "It's the damn Republicans. They are the cause of all the problems because they stand in the way of implementing all the President's programs, including the new stimulus and jobs creating bill".
First, who is "THEY" I refer to above? They would be the "enlighten elite" who know far more than those out here in fly-over land; "THEY" are the mainstream media who bet the ranch on getting Barack Obama elected; "THEY" are the media who believe The Messiah in the White House is the most brilliant intellectual of all time and can do no wrong; and "THEY" are those who believe life is truly unfair, and that anyone who is successful, became successful, not because of hard work, ingenuity, education, and entrepreneurial spirit, but by sheer luck, greed, criminal behavior, cheating, and stealing their way to the top.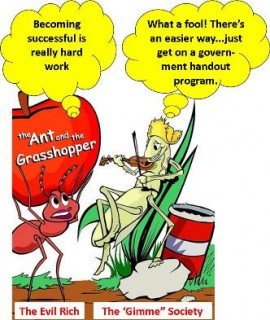 "THEY" are folks who simply cannot take responsibility for the decisions they have made in life…the decision to drop out of school, the decision to do drugs, run afoul of the law, to game the welfare system, and to blame everyone else for their predicament.  It's the story so eloquently demonstrated by the parable of Aesop's Fable, The Ant and the Grasshopper, who fiddled and played all year long while the ants worked hard every day preparing for the cold hard days of winter, storing goods to insure their survival. We know how that story ends and the moral of it, but we can't seem to apply the same scenario to those who make up the "THEY" population.
Our Constitution ensures everyone an equal opportunity to success. No where can I find where it is written that everyone is guaranteed equal results. There are those that say, there was never an equal opportunity for Blacks, Hispanics, and early in American history, for Irish and Chinese immigrants who, for survival, had to toil in adverse conditions to build the cross-country railroad system. Maybe there is some truth to the fact, that early in US history the Constitution was only a document and that all men really weren't perceived as equal. It took two hundred years and 620,000 dead soldiers (both White and Black) during the Civil War to secure access to the freedom we all have a shot at today.
OK, but how can you say everyone has an equal right to succeed when so many don't. The first problem is that those who don't succeed, do not take the time to do the basics…get an education (no matter what you are lead to believe, high school is free, college, through the community college districts is free: and the path to a four-year degree is available to anyone through school loans, scholarships, and grants). It does take some work.
The second problem is that those in the minority often listen to "An Ethnic Spokesman", who continues to beat into their heads that they can't make it in our unfair system and that the way to success is through government freebies and programs. We all know who those "Spokesmen" are (does Jessie Jackson, and Al Sharpton ring a bell?). They jump on every issue to charge racism and bias, just to get their name in the media. Name any government freebie-program or handout that created anything but a further dependency on government and a life of poverty…can't do it can you?
Why is it that people continue to come to the US, have no money, can't speak the language, work long and hard hours do menial work if necessary (washing dishes, driving a cab, housekeeping, nanny-care, and similar low-end jobs), and just a few short years down the road that same person owns the Chinese restaurant on the corner; just became the new dot.com millionaire; now owns his cab and a dozen others; owns the dry cleaning establishment down the street; or is a mid-level executive in an international company, while his/her kids graduate Sigma Cum Laud.
Meanwhile on the streets of the inner-city, down at the Social Services offices, and waiting for free healthcare at emergency centers all over the country, we watch as our tax dollars walk away without any need to take a drug test, or showing proof the recipient is trying to get educated or learn a job skill.
Many will view my opinion as myopic and simple, but can anyone name a single document, contract, or agreement that is perfect and works every time from its inception or implementation, without a hitch? Any document like the US Constitution, created by man is subject to the same foibles that are present in everything man does. This is why the ability to amend the Constitution was developed, and following the enactment of the Equal Rights Amendment in the Sixties, the implementation followed by subsequent legislation insured a level playing field for all citizens.
So, what are the real answers to the questions above?
In the first question we are being lead to believe that the same bunch of legislators who got our country to a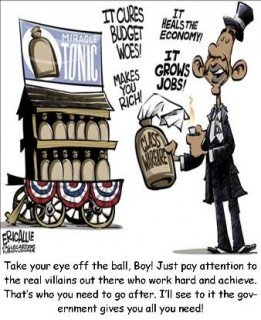 $1,500,000,000,000.00 debt have the vision and foresight to get us out of the mess we are in. This is absurd. We have Federal Departments that cannot even apply acceptable accounting standard to audit where the money has gone. As an example, the Department of Defense can't seem to account for billions of dollars; the GAO reports there are hundreds of redundant and overlapping social programs (costing us billions), and to add insult to injury, Congress turned the job over to a "select committee" to come up with the plan which was doomed to fail from the start. They don't even have a clue, and with both houses of Congress stumbling around, it's like they are all dolts (IQ of a rock). We are no closer now to solving our nation's problems than we were a year ago.
The second question addresses the unemployment rate that reportedly "dropped to 8.6%". RIGHT! If you want to believe those numbers and that unique application of fuzzy math, then you would also believe the fastest way to improve the health figures is to simply exterminate all people who are sick…that's the fastest way to raise the percentage of healthy individuals in this country.
When people reach the end of unemployment insurance, they are dropped from the roles of the unemployed. When they stop looking for work and go onto the public welfare rolls, they are no longer counted as unemployed. When a worker finds temporary seasonal work, even at minimum wage, they are no longer counted. The real unemployment rate as calculated by numerous groups is somewhere in the area of 16.6%. And talk about 100% BS, is using the phrase "jobs gained OR SAVED". How in God's name can anyone determine if a "job is saved"!
Monday I wrote about the Class Envy War, with documented figures as to who we consider wealthy, who are the super-rich, and just how much money we are talking about here. I refer you to Monday's Article for a review of the facts.
The "Class Envy War" is a diversion to keep America from seeing the truth…I still say go ahead and confiscate all the wealth, property, and savings of everyone in this country who makes over $114,000 a year, put them in prison because they have obviously lied, cheated, and stolen every dime they have, and all you would end up with is $3,800,000,000,000. Looks like a lot of money I agree, but it doesn't even move the decimal point on the total national debt. And after doing all that, who will be left to provide the jobs?
I believe everyone needs to be held accountable for their own situation in life, and to those, due to no fault of their own; who seem to draw bad luck, bad health, or whatever, and need a helping hand, then I am usually at the front of the line to assist. Yes, there are those who do need help, but how does anyone justify those who stand around with their hands out looking for a "feebie". I say, "You are in the wrong country, Bud".
We have programs which the government likes to call "entitlements", because they want it to be seen that they are benevolent beyond your wildest imagination; they really care about you and are good guys (so be sure to vote for them on Election Day).
Real entitlements are Veterans Benefits. They are earned through service to country; Social Security-Medicare-Medicaid, which we have contributed into for years (though could easily be classified as a Ponzi Scheme); and unemployment insurance, which is covered via payroll and employer contributions. But welfare, Head Start, education, healthcare, and all the other BRIBES the government uses to purchase your vote, are NOT ENTITLEMENTS. I believe it is theft…stealing from some to giving to others.
Why does the public consider education an entitlement? My family was not wealthy. My father helped pay for my schooling, but I also had to use school loans (I wasn't fortunate enough to get scholarships). Nobody gave me anything but a high school education, yet nowhere can I find that falls under the purview of the Constitution. But as long as we have provided the basic educational skills for all kids in the country for centuries, it is what it is.
It's too bad places like Detroit, have a such a dismal high school graduation rate on education and a stellar performance on enrolling people onto the welfare rolls while their city crumbles around them.
Today Americans feel education is an entitlement, which then would naturally lead to believing that healthcare should also be given to everyone. What will be next…a job? A car? A home? free food? There is no end to what people want for free. We have seen examples all over the world for centuries with countries that have tried to GIVE people everything…it is called by different names…Communism, Marxism, Socialism, and other names, which can only be told in failure. We are seeing it now across Europe, and to a degree in the United States, where any such system sooner or later, runs out of money.
Perhaps this is why the answers to the last two question above can be answered by saying the approval rating of the those in power, The President and the Congress, at are all time lows. They are about one notch below whale excrement, which we know is on the bottom of the ocean. They cannot be truthful with the country, cannot make hard decisions, will not take any position which is not politically correct, and are only interested in self-enrichment and being re-elected. Yet this time next year, while I am sure there will be some change, we'll be asking the same questions I asked today, and wondering why.
Following his service in the Marine Corps Ed Mattson built a diverse career in business in both sales/marketing and management. He is a medical research specialist and published author. His latest book is Down on Main Street: Searching for American Exceptionalism
Ed is currently Development Director of the National Guard Bureau of International Affairs-State Partnership Program, Fundraising Coordinator for the Warrior2Citizen Project, and Managing Partner of Center-Point Consultants in North Carolina.
Mr. Mattson is a noted speaker and has addressed more than 3000 audiences in 42 states and 5 foreign countries. He has been awarded the Order of the Sword by American Cancer Society, is a Rotarian Paul Harris Fellow and appeared on more than 15 radio and television talk-shows.
ATTENTION READERS
Due to the nature of independent content, VT cannot guarantee content validity.
We ask you to
Read Our Content Policy
so a clear comprehension of VT's independent non-censored media is understood and given its proper place in the world of news, opinion and media.
All content is owned by author exclusively. Expressed opinions are NOT necessarily the views of VT, other authors, affiliates, advertisers, sponsors, partners or technicians. Some content may be satirical in nature. All images within are full responsibility of author and NOT VT.
About VT
-
Read Full Policy Notice
-
Comment Policy