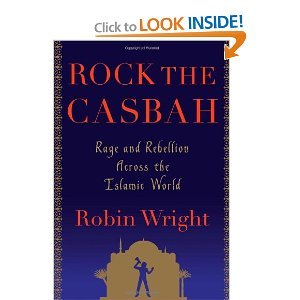 A decade after the 9/11 attacks, this groundbreaking book by a preeminent reporter takes readers deep into the struggle within the Muslim world where a growing movement defies and challenges extremism and repudiates Osama bin Laden, his deviant doctrine, and his violent disciples.
Robin Wright, an acclaimed foreign correspondent and television commentator, has witnessed the angry birth, violent rise, and globalization of Islamic militancy for almost four decades. In her recent reporting, she discovers a stunning new trend spreading within the Muslim world—the rejection of Islamic extremists. This is a historic evolution, slow to take off but now reaching critical mass. This trend is increasingly visible as clerics publicly repudiate Osama bin Laden, Muslim comedians ridicule militancy altogether, young Muslims rap against guns and bombs, women scholars launch liberation movements using the Koran, Pakistani villagers resist Taliban intrusions, and former Egyptian jihadis debate and then denounce violence.
This new jihad, which Wright describes in its many manifestations, has various goals. For some Muslims, it's about reforming the faith. For others, it's about reforming political systems. For all, it is about achieving basic rights—on their own terms, not Western ones. What is at its heart is the rejection of venomous ideologies, suicide bombs, plane hijackings, hostage-takings, and mass violence.
Muslims, Wright demonstrates, are doing what the West cannot—confronting extremism on its own terms and rescuing the faith from a virulent minority and changing history.
Praise for Rock the Casbah
"[Wright] provides invaluable context for what she rightly terms 'the epic convulsion across the Islamic world' by listening to voices we don't usually hear….Anyone seeking deeper understanding of the Arab Spring needs to read Wright's formidably well-informed book ….Wright's richly textured portrait of ancient cultures in the throes of wrenching but liberating transformation makes it quite clear that Muslims themselves will decide their future."
— Los Angeles Times
"…Wright is an expert on the subject and this book is an accessible and riveting account for readers looking to learn more about the post-9/11 Islamic world."
—Publishers Weekly
"…Wright is one of the most capable observers of the Middle East….her chronicles of counter-jihad, anti-militancy, and women's mobilization are a timely contribution."
—Huffington Post
About the Author
Robin Wright has reported from more than a 140 countries on six continents for The Washington Post, The Los Angeles Times, The New Yorker, The New York Times Magazine, TIME magazine, The Sunday Times of London, The Atlantic Monthly, Foreign Affairs, Foreign Policy, the International Herald Tribune and others. Her foreign tours include the Middle East, Europe, Africa, and Asia.
Wright has been a fellow at the U.S. Institute of Peace, Woodrow Wilson International Center for Scholars, Brookings Institution, Carnegie Endowment for International Peace Yale, Duke, Stanford, University of California at Santa Barbara, and University of Southern California.
Among many awards, she won the U.N. Correspondents Association Gold Medal for coverage of foreign affairs, the National Magazine Award, and the Overseas Press Club Award for "best reporting in any medium requiring exceptional courage and initia­tive." The American Academy of Diplomacy selected her as the journalist of the year in 2004. She is also the recipient of a John D. and Catherine T. Foundation grant.
Her books include Rock the Casbah, Dreams and Shadows: The Future of the Middle East, The Last Great Revolution: Turmoil and Transformation in Iran, Sacred Rage: The Wrath of Militant Islam, Flashpoints: Promise and Peril in a New World, and In the Name of God: The Khomeini Decade.
She is a frequent television commentator on foreign affairs. She has appeared on Meet the Press, This Week, Face the Nation, Charlie Rose, Larry King, all the major morning and evening newscasts on NBC, ABC, CBS, PBS, CNN and MSNBC.
ATTENTION READERS
Due to the nature of independent content, VT cannot guarantee content validity.
We ask you to
Read Our Content Policy
so a clear comprehension of VT's independent non-censored media is understood and given its proper place in the world of news, opinion and media.
All content is owned by author exclusively. Expressed opinions are NOT necessarily the views of VT, other authors, affiliates, advertisers, sponsors, partners or technicians. Some content may be satirical in nature. All images within are full responsibility of author and NOT VT.
About VT
-
Read Full Policy Notice
-
Comment Policy