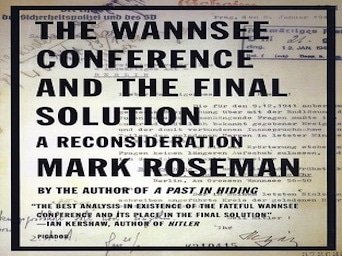 Last week, as Jewish Lobbies continue to invest enormous efforts in dictating and imposing a rigid and unquestionable Holocaust narrative, Israeli Haaretz published a short, succinct and courageous report challenging the validity of the Wannsee Conference as proof of the Nazi 'final solution'.
Just ahead of Holocaust Memorial Day, the Israeli paper reported that Dr. Norbert Kampe (63), director of the "Wannsee Conference" Memorial Centre in Berlin, has challenged some of the most widely-accepted historical 'facts' associated with the conference and its meaning.
Jewish Holocaust scholars have always insisted that the master plan for the Nazi Judeocide was conceived at the Wannsee Conference but Dr. Kampe is quoted as saying that the conference dealt only with "operational matters" instead of being a platform of any form of "decision making". To prove his point, Kampe pointed to the fact that Hitler and his ministers were not present at the conference. Furthermore, he says, "At the time, January 1942, there was no organized plan for extermination camps."
And yet, Haaretz admits, "Make no mistake. Kampe is not anti-Semitic. Certainly not a Holocaust denier. On the contrary. As expected of a professional historian, he studied countless relevant texts, documents and testimonies on the particular event…His conclusion is the direct outcome of an educated analysis of written material in his possession."
So courageously, a Hebrew paper praises Kampe and his "fascinating historical lesson" and also acknowledges that the Israeli Ministry of Education lacks the capacity to engage in any form of informed Holocaust debate. Haaretz clearly admits that
"to this day no one knows with complete certainty and confidence what exactly happened on 20 January 1942, in this pretty villa in the wealthy suburb of Berlin."
Only one copy of the Wansee Conference protocol, found in 1947, survived the war, others having been deliberately destroyed by the Nazis in an effort to conceal evidence. This protocol is the only authentic documentation as to what happened in Wannsee and one of the few that made explicit use of the term "final solution". However, Haaretz concedes that, like any historical document, the Wannsee document should be read carefully. The words "death" or "murder" do not appear in the conference protocol. Instead, it refers to "natural diminution", "appropriate treatment", "other solution options" and "different forms of solutions." In fact, the only explicit references in the document deal with deportation rather than extermination. Even the famous table attached to the protocol that counts the Jews in each occupied country, does not state that those Jews are destined to be destroyed.
Just a few days ahead of Holocaust Memorial Day, a Hebrew paper found the courage to admit that "decades of Holocaust research could not find a clear and explicit command made by high-level Nazi officials to engage in systematic mass extermination of Jews."
According to the Israeli paper, the Nazis disguised their true intentions in some "ambiguous orders and "secret codes", which were supposed to lead officers to interpret and to react upon what they believed to be Hitler's will.
The moral here is simple. Once again we learn that some Israelis are far ahead of the Western press and academia in their criticism of Jewish ideology in general and the Zionist Holocaust narrative in particular.
Gilad Atzmon is an Israeli-born British jazz saxophonist, novelist, political activist and writer.
Atzmon's album Exile was BBC jazz album of the year in 2003. Playing over 100 dates a year,[4] he has been called "surely the hardest-gigging man in British jazz." His albums, of which he has recorded nine to date, often explore the music of the Middle East and political themes. He has described himself as a "devoted political artist." He supports the Palestinian right of return and the one-state solution in the Israeli-Palestinian conflict.
His criticisms of Zionism, Jewish identity, and Judaism, as well as his controversial views on The Holocaust and Jewish history have led to allegations of antisemitism from both Zionists and anti-Zionists. A profile in The Guardian in 2009 which described Atzmon as "one of London's finest saxophonists" stated: "It is Atzmon's blunt anti-Zionism rather than his music that has given him an international profile, particularly in the Arab world, where his essays are widely read."
His new book The Wandering Who? is now availble at Amazon.com
ATTENTION READERS
We See The World From All Sides and Want YOU To Be Fully Informed
In fact, intentional disinformation is a disgraceful scourge in media today. So to assuage any possible errant incorrect information posted herein, we strongly encourage you to seek corroboration from other non-VT sources before forming an educated opinion.
About VT
-
Policies & Disclosures
-
Comment Policy
Due to the nature of uncensored content posted by VT's fully independent international writers, VT cannot guarantee absolute validity. All content is owned by the author exclusively. Expressed opinions are NOT necessarily the views of VT, other authors, affiliates, advertisers, sponsors, partners, or technicians. Some content may be satirical in nature. All images are the full responsibility of the article author and NOT VT.