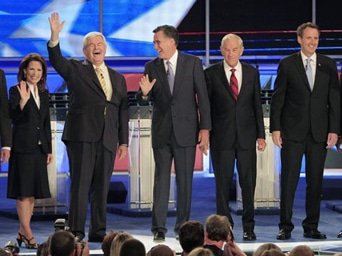 by Tom Valentine
In psychology, Stockholm Syndrome is an apparently paradoxical psychological phenomenon in which hostages express empathy and have positive feelings towards their captors, sometimes to the point of defending them.
The Federal government has been so lousy, and unconstitutional during the past decades of war and debt it is amazing that so few observe and object.
We are especially reminded of the lemming-like behavior when well-dressed, middle class, educated Americans attend the charades called "debates" played for all to see (and cringe) over our television sets.
I have already written about how the South Carolina audience actually booed the Golden Rule when Ron Paul cited it as a pillar of foreign policy.
These "shameless Republican" voters on TV, proud to be called Christian Zionists, (oxymorons) actually crucify the Prince of Peace all over again with their thoughtless cheers for more bombs and drones and shattered veterans (so they can tie a yellow ribbon on them, making themselves feel "American" for public consumption).
Allow me to puke.
Which is worse, their unthinking religiosity, or their Stockholm syndrome stupidity when they actually cheer for the corrupt, lying Neocon Newt Gingrich, a pompous self-styled historian" Who proclaimed twice that "The Palestinians are a made-up people."
Well-read rational people know full well the history of Palestine, and the facts about "The Invention of the Jewish People. told in book form by Israeli Prof. Shlomo Sand, but never mentioned by media whores on television.
Bill Baker, wrote in "Theft of a nation":
"A cursory examination of ancient Palestinian history shows it is apparent that the ancestors of the Palestinian Arabs of today (those still alive in the face of Israeli genocide never mentioned by the whores) were indeed living in Palestine at the same time as the ancestors of the Semitic Jews. The biblical record affirms that the Arabs and Jews were first cousins, being descendants of one common ancestor, Abraham, by his three wives Sarah, Hagar and Ketura."
Israelites were not called Jews in ancient times, they were Habirus or Hebrew tribes which once made war against the Canaanites and Philistines (Original Palestinian tribes).
Israeli propaganda has dominated America since before that nation was carved from Palestine, or the dawn of moviemaking; if one cannot see that fact, one is blind and deaf, or else a victim of Stockholm's famous syndrome.
The most powerful emotion for controlling people is fear. This is why our media hype phony "terrorist" scare stories, even when they are unbelievably silly. Our dictatorial Feds, for example, loudly killed the already dead Osama bin Laden.
How do they get away with this?
Americans apparently fear the loss of money and property more than they fear God, so why did it take so long for them to grasp the criminal control of all our money—The federal reserve private banker scam? Which dramatically exposed itself by crashing our economy over our pitiful heads.
And, still, the television pundits drone on and on as if the core problem is not obvious. Only a captive audience can be this ridiculously stupid—tea party my ass.
Republicans hate taxes, democrats covet the revenue. Both are selfish and have no awe of God; which is the correct way to look at the aphorism, that the fear of God is the beginning of wisdom.
There is no wisdom among them. (I quote myself.)
A rational person would not discard rationality in finding faith in Jesus Christ. But churches today are peopled by irrational "believers" who desire power over others in a fanciful rapture scenario that defies logic and Holy Writ. It is these lemmings most eager to bomb and kill in Jesus' name that earn my wrath, and who are the front row of rushing lemmings cheering for the likes of Newt, Mitt, and Santorum, while hissing at Ron Paul, though their kids fervently support him.
Oxymorons all.
The jailers of these partisan hostages are the media whores whose insane bias is as bad as the inmates in the asylum.
These slobbering whores, eager to tar Ron Paul with a phony race card constantly drone on about newsletters under his imprimatur about 20 years ago. Why, I wonder don't they play clips from his remarkable speech to the House back in 2003 where he blitzed the assholes called Neocons for what they were doing to destroy America.
The full transcript of the great speech is archived at Lewrockwell.com. Also, to have some fun watch this short clip from a popular TV show of past years: The West Wing taken from a Gilad Atzmon column.
Tom Valentine (born August 20, 1935, same day as Ron Paul) is a businessman, writer, commentator and radio host with an anti-establishment perspective. He worked with Radio Free America from 1988 to 2004. He tends to align with issues from left and right ends of the political spectrum, as well as libertarianism. His main journalistic interests have been unorthodox health care methods and conspiracy theories. He is a believer in many alternatives as cancer cures, and believes that soy products are unhealthy for human consumption. All of his views are at odds with the mainstream medical community.
ATTENTION READERS
We See The World From All Sides and Want YOU To Be Fully Informed
In fact, intentional disinformation is a disgraceful scourge in media today. So to assuage any possible errant incorrect information posted herein, we strongly encourage you to seek corroboration from other non-VT sources before forming an educated opinion.
About VT
-
Policies & Disclosures
-
Comment Policy
Due to the nature of uncensored content posted by VT's fully independent international writers, VT cannot guarantee absolute validity. All content is owned by the author exclusively. Expressed opinions are NOT necessarily the views of VT, other authors, affiliates, advertisers, sponsors, partners, or technicians. Some content may be satirical in nature. All images are the full responsibility of the article author and NOT VT.