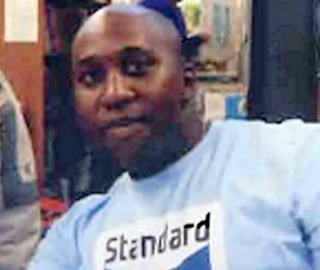 Unarmed "Perfect Marine," Nursing Student Gunned Down by Rogue, Racist Cops from Right Wing Community
"They would take their Bibles and walk around the track in the morning," Cox said. He said Loggins' wife usually accompanied them but is pregnant and was unable to go. "She's just so pregnant now, she stopped going," (Major) Cox said. Cox said Loggins volunteered with a Big Brothers group and at nursing homes, and was close to earning a bachelor's degree in nursing…
Gordon Duff, Senior Editor
Police officials reported that Marine Sergeant Manuel Loggins Jr. was shot by one or more of 4 officers while unarmed, returning to his vehicle.  The reason deputies give is that they felt threatened when a single unarmed man approached a car. 
His small children watched in horror as their father was brutally murdered.
Marines at Camp Pendleton have other questions.  "Will the officers involved get the lethal injection they have earned or will this be covered up like so many other crimes against Marines."
Loggins was finishing his nursing degree and was a regular volunteer at nursing homes and a big brother volunteer.  His 14 year record in the Marine Corps was spotless, continual "good conduct medals," top proficiency and conduct and awards for achievement.
From Christopher Goffard of the Los Angeles Times:
Amormino (police spokesman who debriefed the officers) said he did not know why the deputy felt threatened, or how many shots were fired, or whether Loggins was armed.

Marine sources said Loggins was not in possession of a weapon.

Loggins was taken to Mission Hospital, where he died. Major Christopher Cox said Loggins had been scheduled to work at 7:30 that morning at the base, where he managed the in-bound and out-bound cargo. Cox, who was Loggins' supervisor, said the 31-year-old Marine was a devout Christian who often took his daughters to the San Clemente High track for what he called "prayer walks."

"They would take their Bibles and walk around the track in the morning," Cox said. He said Loggins' wife usually accompanied them but is pregnant and was unable to go. "She's just so pregnant now, she stopped going," Cox said. Cox said Loggins volunteered with a Big Brothers group and at nursing homes, and was close to earning a bachelor's degree in nursing.

"He was a mentor, somewhat of a father figure, to a number of the Marines," Cox said. "He was very soft-spoken, very nonconfrontational — very, very respectful. He was just the epitome of respect.". Cox said he and other Marines were trying to make sense of the shooting and were frustrated with the lack of information.

"I've got some Marines that are very upset," he said.

The deputy who shot him was placed on administrative leave, which is routine. His name has not been released.
Loggins has no history of mental treatment, is not a combat vet but rather supervises freight loading for the corps and was soon to be available for officers candidate school and a full commission.
As for police officers, unnamed, untested, we know nothing.  All we know is that an officer "lost it" and murdered a Marine, an act of panic, seeing a black man get too close to a very expensive vehicle in an area where racial tensions run high and police are traditionally not answerable for actions against minorities.
The many thousands of Marines in Camp Pendleton, one of the largest military bases in the world, where Loggins was headquartered, have a long history of issues with Orange County, a community that deeply resents its Marine population.  During the Vietnam War, it was not uncommon for Orange County residents to throw cans and bottles out their car windows and shout insults and uniformed Marines soon to deploy to Vietnam.
World War II vets talked about it, I saw it myself and was a victim more than once.
Thus, a murdered Marine and a cop with an unlikely story is equally unlikely to bring about any real investigation.  "Marine shot for trying to protect his daughters."  This is where this is going, it was Loggins who had reason to be afraid, not for himself but for his family.  Loggins has an impeccable repuation as police knew, their computers told them that in 5 seconds.
Loggins has no computer to tell him about local police, long known for their  affiliation with drug gangs.
That was considered a reason to use deadly force on an unarmed hero.  This is an old story, too often involving veterans, inexperienced police or as in this case, in Orange County, a very "non white unfriendly" region.
Loggins was at a school track with his two daughters who witnessed the killing.  He goes there with them every morning for bible reading sessions.
Police claim he disobeyed their orders.
Police have told two stories, one that they had chased the SUV and it "broke through a locked fence," one that has been open every other day as required.  That version has Loggins outside his SUV and refusing police orders.
The second version police have given says that a patrol car pulled behind the high priced Yukon SUV containing Loggins and his two daughters.   It all gets very sketchy from then on, police "orders" not heard, not obeyed and, more appropriately, no evidence of "probable cause" for police to have approached the hero Marine with a long record of public service, a continual community volunteer and excellent citizen.
Loggins bullet riddled body was checked, no drugs or alcohol.  All that was found were two terrified children and a blood soaked bible.  There were no weapons on Loggins, none seen, none in the car.
No one searched police for drugs, no one tested them for drugs or alcohol, nobody got to interview their families, their names weren't even released.
The police involved remain unnamed, untested and their reputations are secret.  They may well have been both drunk or drugged, as is often the case on morning shifts, a touch of "meth" to take the edge off a morning, something likely to lead to panic and gunfire, in this case, cold blooded murder.
Typically, police "score" drugs off hookers who give them "freebie sex" and supply them with what they need to get through the day, uppers, downers, ecstacy, "oxy" or what is required.   The reason you see this on TV, this kind of police behavior, working with drug gangs and prostitutes, is because discipline is almost non-existent in most departments.  Drug tests are routinely falsified and special crews shake down small time  dealers and get payoffs from larger ones.
This is one of those departments with Los Angeles being actually worse.
Fellow Marines and Loggin's commanding officer find the police story inconsistent with the "picture perfect" Marine they know.
Normally, when 4 police come on an unarmed black man, he is usually tased, then kicked for awhile and arrested for "resisting arrest, drunk and disorderly, vagrancy and possession of whatever police have in the trunk of their vehicles for such an occasion."
A typical crime in Orange County is DWB, called "driving while black."  In this case, however, the sober, fit Marine would obviously have made short work of the 4 deputies who saw the only option they had as using deadly force without reason.
One deputy, unnamed as usual, is on paid administrative leave.
He and others belong in cells.
Dashcam video of the incident has mysteriously disappeared as has CCTV from the school.  Radio of the event has been withheld from the public also.
It is expected that Federal law enforcement officials will investigate this incident, technically a possible act of domestic terrorism and covered by provisions of the Patriot Acts and other exceptional regulations that overrule any of the usual police protections of "their own."
Police involved have no right to counsel and may be interrogated in any country in the world, held indefinately, induced to confess and are subject to military tribunal.
We have a plane bound for Bulgaria on the tarmac at Ontario airport right now, ready to assure the freedom and safety of Americans and, on this rare occasion, protect Americans from a very real domestic terrorist organization.
Welcome to "our world!"
Gordon Duff posted articles on VT from 2008 to 2022. He is a Marine combat veteran of the Vietnam War. A disabled veteran, he worked on veterans and POW issues for decades.
Gordon is an accredited diplomat and is generally accepted as one of the top global intelligence specialists. He manages the world's largest private intelligence organization and regularly consults with governments challenged by security issues.
Duff has traveled extensively, is published around the world, and is a regular guest on TV and radio in more than "several" countries. He is also a trained chef, wine enthusiast, avid motorcyclist, and gunsmith specializing in historical weapons and restoration. Business experience and interests are in energy and defense technology.
ATTENTION READERS
We See The World From All Sides and Want YOU To Be Fully Informed
In fact, intentional disinformation is a disgraceful scourge in media today. So to assuage any possible errant incorrect information posted herein, we strongly encourage you to seek corroboration from other non-VT sources before forming an educated opinion.
About VT
-
Policies & Disclosures
-
Comment Policy
Due to the nature of uncensored content posted by VT's fully independent international writers, VT cannot guarantee absolute validity. All content is owned by the author exclusively. Expressed opinions are NOT necessarily the views of VT, other authors, affiliates, advertisers, sponsors, partners, or technicians. Some content may be satirical in nature. All images are the full responsibility of the article author and NOT VT.