"On the Egyptian military's priority list, nothing comes before crushing the revolution, not even the USA and its $1.3 billion annual aid.
 "Egypt's Step Backward" is Mr. Thomas Friedman's latest pieces on post-Mubarak Egypt.  Published in the New York Times on Feb. 21, Mr. Friedman gives his precise perspective on the current political scene in Egypt, but I wished he had scratched the surface harder and digged deeper.
Mubarak's era, as brutal and autocratic as it has been, was much easier to read and predict than this foggy and volatile transitional period the Egyptians are currently enduring through. Therefore, I would like to throw in few clarifications on the discussed issue, as a native observer of Egypt's political street.
This whole soap opera about Egypt NGOs and the crackdown on pro-democracy workers, including American and European staffers is but a clever move in a long series of actions in a cunning scheme to counteract the revolutionary tide on the Egyptian street and save the day for a faltering regime.
It has nothing to do with the absurd allegations of a foreign agenda playing out in Tahrir square"Mossad & CIA steering the Egyptian revolution" that the Egyptian state media and regrettably some of the foreign media have been raving about.
Those allegations, while being carelessly peddled and obscenely detached from reality, are so insulting to the struggle of pro-democracy activists and to the lives that were sacrificed during the past year.
What Mr. Friedman didn't mention, though I'm sure he is aware of, is the fact that Egypt was, and still is, a police state.
Over the last 4 decades the infamous state police apparatus has swelled and mushroomed, due to an exceedingly overdose of totalitarianism and corruption, into something more powerful than politicians, the judiciary system and even the army.
The mighty security apparatus had the power to oversee all of the country's internal affairs except, of course, for the military's economic empire.
Any enterprise, local or foreign, once flagged by the apparatus for any fake security concerns, which was often the case, its operations were immediately put to a halt and the people behind it somehow pursued with well knit legal traps.
Maybe Mubarak has been ousted but the president was not the regime, the state military/police apparatus is.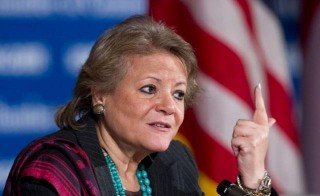 As much as I can understand why Mr. Friedman is picking on Egypt's minister of planning and international cooperation, Fayza Abul Naga, whose testimony against democracy workers has bolstered the fake case before the Supreme Court, but I'm afraid there's a lot more to this than the buried grudge of this old Mubarak's loyalist.
Abul Naga is just a pawn in this post-Mubarak political game, she didn't file the case against democracy workers on her own account. She was told to frame the US for the illegal funding of pro-democracy organizations and for sustaining the state of chaos in the country as well. she was told to stick Israel and the US in the testimony to make it look like a case of foreign meddling in the Egyptian sovereignty.
After a year of endless and deadly confrontations with  pro-democracy protesters the police have reached this conclusion " the only way to stop protesters from going back to Tahrir square is to do away, once and for all, with the pro-democracy activists, no matter who they are, Egyptians or even foreigners, and no matter what kind of strings are attached"
With Mohamed El-Baradei out of the way, the presidential race has narrowed down to a number of candidates/puppets who are likely to do business with the military behind closed doors. And those who remain loyal to the revolution and defiant to the military/police authority are currently being bullied by the state security thugs (not the CIA/Mossad agents)
As the military/state security commanders are bracing for the final battle of reinstating and securing the old regime nothing comes, on their priority list, before crushing the revolution, not even the USA and its $1.3 billion annual aid which the top brass know damn well that it is nothing more than a concealed bribe for playing friends with Tel Aviv. And therefore they are not really worried over the American threats to withhold aid payment.
This is not about national Egyptian dignity nor the American/Egyptian relations, this is all about saving the sinking ship of Egypt's oligarchs, Mr. Friedman.
SADLY, the transitional government in Egypt today appears determined to shoot itself in both feet. On Sunday, it will put on trial 43 people, including at least 16 American citizens, for allegedly bringing unregistered funds into Egypt to promote democracy without a license.

Egypt has every right to control international organizations operating within its borders.

But the truth is that when these democracy groups filed their registration papers years ago under the autocracy of Hosni Mubarak, they were informed that the papers were in order and that approval was pending.

The fact that now — after Mubarak has been deposed by a revolution — these groups are being threatened with jail terms for promoting democracy without a license is a disturbing sign. It tells you how incomplete the "revolution" in Egypt has been and how vigorously the counter-revolutionary forces are fighting back.

This sordid business makes one weep and wonder how Egypt will ever turn the corner. Egypt is running out of foreign reserves, its currency is falling, inflation is rising and unemployment is rampant.

Yet the priority of a few retrograde Mubarak holdovers is to put on trial staffers from the National Democratic Institute and the International Republican Institute, which are allied with the two main United States political parties, as well as from Freedom House and some European groups.

Their crime was trying to teach Egypt's young democrats how to monitor elections and start parties to engage in the democratic processes that the Egyptian army set up after Mubarak's fall. Thousands of Egyptians had participated in their seminars in recent years.

What is this really about? This case has been trumped up by Egypt's Minister of Planning and International Cooperation Fayza Abul Naga, an old Mubarak crony.

Abul Naga personifies the worst tendency in Egypt over the last 50 years — the tendency that helps to explain why Egypt has fallen so far behind its peers: South Korea, Taiwan, Malaysia, Brazil, India and China.

It is the tendency to look for dignity in all the wrong places — to look for dignity not by building up the capacity of Egypt's talented young people so they can thrive in the 21st century — with better schools, better institutions, export industries and more accountable government.

No, it is the tendency to go for dignity on the cheap "by standing up to the foreigners".  That is Fayza's game.

As a former Mubarak adviser put it to me: "Abul Naga is where she is today because for six years she was resisting the economic and political reforms" in alliance with the military. "Both she and the military were against opening up the Egyptian economy."

Both she and the military, having opposed the revolution, are now looking to save themselves by playing the nationalist card.

Egypt today has only two predators: poverty and illiteracy. After 30 years of Mubarak rule and some US$50 billion (RM300 billion) in US aid, 33 per cent of men and 56 per cent of women in Egypt still can't read or write.

That is a travesty. But that apparently does not keep Fayza up at night.

What is her priority? Is it to end illiteracy? Is it to articulate a new vision about how Egypt can engage with the world and thrive in the 21st century? Is it to create a positive climate for foreign investors to create jobs desperately needed by young Egyptians?

No, it's to fall back on that golden oldie — that all of Egypt's problems are the fault of outsiders who want to destabilise Egypt.

So let's jail some Western democracy consultants. That will restore Egypt's dignity.

The New York Times reported from Cairo that the prosecutor's dossier assembled against the democracy workers — bolstered by Fayza's testimony — accused these democracy groups of working "in coordination with the CIA," serving "US and Israeli interests" and inciting "religious tensions between Muslims and Copts".

Their goal, according to the dossier, was: "Bringing down the ruling regime in Egypt, no matter what it is", while "pandering to the US Congress, Jewish lobbyists and American public opinion".

Amazing. What Fayza is saying to all those young Egyptians who marched, protested and died in Tahrir Square in order to gain a voice in their own future is: "You were just the instruments of the CIA, the US Congress, Israel and the Jewish lobby. They are the real forces behind the Egyptian revolution — not brave Egyptians with a will of their own."

Not surprisingly, some members of the US Congress are talking about cutting off the US$1.3 billion in aid the US gives Egypt's army if these Americans are thrown in prison. Hold off on that.

We have to be patient and see this for what, one hopes, it really is: Fayza's last dance.

It is elements of the old regime playing the last cards they have to both undermine the true democratic forces in Egypt and to save themselves by posing as protectors of Egypt's honour.

Egyptians deserve better than this crowd, which is squandering Egypt's dwindling resources at a critical time and diverting attention from the real challenge facing the country: giving Egypt's young people what they so clearly hunger for — a real voice in their own future and the educational tools they need to succeed in the modern world.

That's where lasting dignity comes from. NYT

For more articles by Dr. Ashraf Ezzat visit his website
Ashraf Ezzat is an Egyptian born in Cairo and based in Alexandria. He graduated from the faculty of Medicine at Alexandria University.
Keen not to be entirely consumed by the medical profession, Dr. Ezzat invests a lot of his time in research and writing. History of the ancient Near East and of Ancient Egypt has long been an area of special interest to him.
In his writings, he approaches ancient history not as some tales from the remote times but as a causative factor in our existing life; and to him, it's as relevant and vibrant as the current moment.
In his research and writings, Dr. Ezzat is always on a quest trying to find out why the ancient wisdom had been obstructed and ancient spirituality diminished whereas the Judeo-Christian teachings and faith took hold and prospered.
Dr. Ezzat has written extensively in Arabic tackling many issues and topics in the field of Egyptology and comparative religion. He is the author of Egypt knew no Pharaohs nor Israelites.
He writes regularly at many well-known online websites such as Dissident Voice and What Really Happened.
Dr. Ezzat is also an independent filmmaker. His debut film was back in 2011 The Annals of Egypt Revolution and in 2012 he made Tale of Osiris a short animation for children.
In 2013 his short The Pyramids: story of creation was screened at many international film festivals in Europe. And he is working now on his first documentary "Egypt knew no Pharaohs nor Israelites".
ATTENTION READERS
We See The World From All Sides and Want YOU To Be Fully Informed
In fact, intentional disinformation is a disgraceful scourge in media today. So to assuage any possible errant incorrect information posted herein, we strongly encourage you to seek corroboration from other non-VT sources before forming educated opinion. In addition, to get a clear comprehension of VT's independent non-censored media, please read our
Policies and Disclosures
.
Due to the nature of uncensored content posted by VT's fully independent international writers, VT cannot guarantee absolute validity. All content is owned by the author exclusively. Expressed opinions are NOT necessarily the views of VT, other authors, affiliates, advertisers, sponsors, partners, or technicians. Some content may be satirical in nature. All images are the full responsibility of the article author and NOT VT.
About VT
-
Comment Policy