When Western Nations Begin To Believe Their Own Propaganda Elementary Principles of Supply and Demand Get Overlooked
by Joshua Blakeney
SOURCE: http://www.presstv.ir/detail/228345.html
A Canadian journalist, addressing the latest threats of sanctions against Iran's oil sector, says that the United States and some European nations seem to be 'ignorant of the basic principles of supply and demand.'
Press TV has interviewed writer and journalist, Joshua Blakeney, on his view on the recent hike in fuel prices.
Below is an approximate transcription of the interview:
[youtube 5shMFdxbLeQ&list]
Brent Budowsky, a columnist at The Hill Newspaper in Washington, Manouchehr Takin, with the Centre for Global Energy Studies from London and Joshua Blakeney, graduate student at the University of Lethbridge from Calgary, Alberta Discuss the Sanctions on Iran in Relation to the Politics and Economics of Big Oil on Press TV
Press TV: The US has said that in order to stop the possibility of Iran militarizing its nuclear program, sanctions need to be imposed and hence has asked both Europe and China to readjust their oil purchases, amongst some of the countries. Is that logical asking them in essence to embargo themselves?
Blakeney: No, it's ridiculous and ludicrous. I mean these nations [the US and EU] are constantly championing and extolling the virtues of free-market capitalist economics. These governments in Europe and the United States seem astoundedly ignorant of the basic principles of supply and demand.
There's a huge demand for Iranian oil and when the US and Europe decide to act in such a hostile way against their national interests and impose sanctions against Iran, Iran will just circumvent them and sell their oil to other consumers on the market.
China is still trading with Iran. India is willing to purchase Iranian oil and even more peripheral countries like Tajikistan are now purchasing Iranian oil. The days where the United States and European countries can push around the indigenous people of Middle East are over.
As I have said on your show previously, we're living in a multi-polar world, not a uni-polar world now, which I think is really a good thing. We are seeing this expressing itself in Iran's ability to weather the sanctions being imposed on it.
Vitol, the world's most significant oil trader has warned of the negative impartations for Western oil companies over these crazed Middle East policies which, as we know, is emerging from the Israeli hard-right. In the 1980's the Likud Party in Israel formulated the Sharon Doctrine of destabilizing the Middle East, which was a tectonic shift from the traditional U.S. Middle East policy of propping up Middle East leaders and purchasing their oil.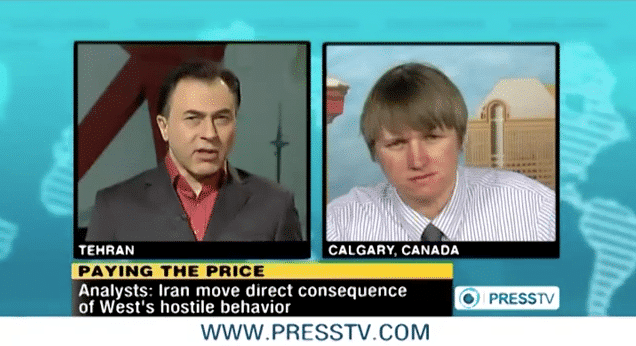 So this destabilization policy, that we are seeing in Syria, is not working with Iran, because Iran is able to defend itself, and is able to stand up to those global hegemons and trade with other countries.
Indeed the EU sanctions were only supposed to be instigated or initiated from July 1, 2012. Yet, Iran says it is not going to trade with 6 EU nation states, so if anything, it's Iran who is upping the ante, because Iran knows that actually they don't need to be bossed around anymore by the European states and the US.
It's interesting that you should mention the quality of oil, because I'm here in Calgary where there's very dirty Tar Sands Oil, and we're beginning to see the US shift from purchasing cleaner crude oil to these dirty Tar Sands. Interestingly, in Canada many pro-Israel lobbyists are highly supportive of this project which is environmentally detrimental, because they want to see the US not be reliant on Middle East oil, and Europeans not to be reliant on Middle East oil, and instead purchase this dirty oil from Canada. So this is the reality of the day and I am quite pleased to see that Iran is able to weather this storm.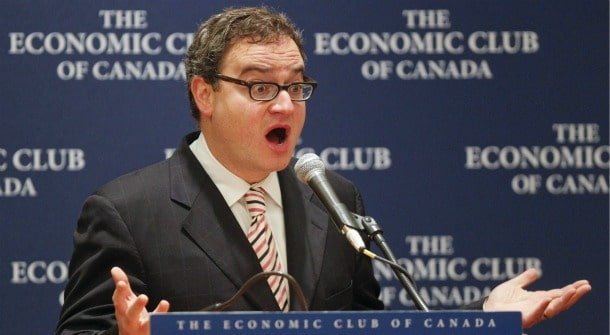 Press TV: Mr. Takin talked about how the market should be the one to be dictating the amount of oil that each country needs. So when I asked him about the winners and losers, he said it was the average people, the consumers, whether in the US or the European countries that are the losers, because they are the ones that are paying the high prices.
Why is it then that the US led the sanctions, which started this leading to Iran's decision? Do you think that that was a right move in a sense, or as a political tool in order for them to have this exerted on Iran in terms of what they deem the militarization of its nuclear program?
Blakeney: It's completely irrational. If the US government or British government or European governments were actually interested in their people, they would obviously want to do commercial dealings with Iran. They would have no interest in being hostile towards a prominent country in the world like Iran. But I think it's important what the other guest mentioned, about the OPEC oil embargo in 1973. This was an important historical event that we have to understand in order to understand what is going on today.
In 1973, the Arab states and the Persian state were able to show the world that they were able to actually have some sway over the US government and this was of course in relation to Israel and the Yom Kippur war at that time. I think that what happened in 1973, was a rude awakening for the Israeli government, and I think since then we've seen a policy where Israel has tried to do their very best to de-fund Middle East regimes and weaken and take funds away from Middle East governments so they don't have the ability to be emboldened and stand up for themselves.
This is highly ironic
So I think, as your guest suggested, this is actually jeopardizing US oil interests significantly, and US oil companies are increasingly upset with what their government is doing which does lead us to the Israeli elephant in the room. The pro-Israeli lobby has been lobbying for a policy for the last 20 or 30 years, which actually runs against the traditional US-Middle East interests. Suncor, a prominent oil company based here in Calgary just withdrew from Syria. How is this destabilization of the Middle East benefiting oil companies? Clearly, it is not.
So I think that we can't really understand what's going on in terms of the oil market, unless we understand that this is not actually being motivated by oil companies primarily. This is primarily being motivated by crazed ethnic-nationalist state in the Middle East that is acting like any nationalist ethnic state in a highly irrational and unenlightened manner and I think that's where politics meets economics. I am not myself a champion of free-market economics, I am for state-owned oil companies. But certainly, this is running against the traditional policy that these governments nominally support, which is free-market economics. This is state intervention in the market, which is quite ironic when we have the whole Cold War of the US telling us that the government is the problem and free-market capitalism is the most optimum way to run economic affairs in the world. This is highly ironic.
Related article:
ATTENTION READERS
We See The World From All Sides and Want YOU To Be Fully Informed
In fact, intentional disinformation is a disgraceful scourge in media today. So to assuage any possible errant incorrect information posted herein, we strongly encourage you to seek corroboration from other non-VT sources before forming an educated opinion.
About VT
-
Policies & Disclosures
-
Comment Policy
Due to the nature of uncensored content posted by VT's fully independent international writers, VT cannot guarantee absolute validity. All content is owned by the author exclusively. Expressed opinions are NOT necessarily the views of VT, other authors, affiliates, advertisers, sponsors, partners, or technicians. Some content may be satirical in nature. All images are the full responsibility of the article author and NOT VT.