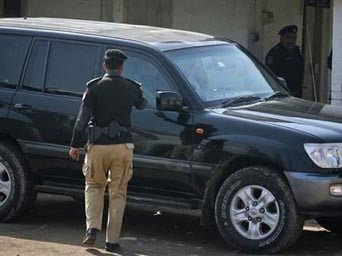 Is US Foreign Policy that hard to sell that their "diplomats" need weapons to persuade or enforce it?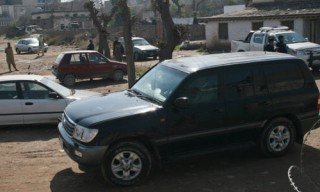 The CIA has a multitude of Ray Davises on the books and in the closets, and as long as they are not caught with smoking guns in hand and dead Pakistanis at their feet, they are impervious to and immune from Law of any sort except their own.
"A US embassy employee was released after being held for questioning in Pakistan on Tuesday when airport security officials discovered bullets in his luggage. The American was about to fly from the city of Peshawar to the capital Islamabad when he was taken into police custody, Tahir Ayub, a senior police superintendent, said."
There is a subtle question here which rises when you ponder, just what kind of "diplomacy" it is that the USA is engaging in which requires that US Diplomatic Officers, those who qualify for "Diplomatic Immunity,"  to carry arms such as this man and Ray Davis did?
Is US Foreign Policy that hard to sell that their "diplomats" need weapons to persuade or enforce it?
I would think that this might be something which the American public might not know about, and perhaps ought to know about.
Things like this used to be regarded as "News."
Pakistan would do well to take a lesson from Egypt and apply Pakistani law to lawbreakers in Pakistan and clean house.
Either that, or refuse to grant "Diplomatic Immunity" to men who carry guns. "A true Diplomat" has no need or use for a gun, by definition of the term.
They might ask themselves what would happen to a Pakistani "Diplomat" or a Pakistani hit man, if he were discovered with a pistol and ammunition in New York or Washington, DC?
It is not wise to grant legal immunity to assassins and allow them to run rampant and unimpeded in your own country.  They tend to blow up things!
There is little doubt that Seal Team Six could not have done the bin Laden hit (or whomever it was who took those bullets) without the Intel and oversight of men like Ray who were on the ground, feeding information and setting the scene…. I do not necessarily mean to imply that it was they who have actually been dong it (they have to maintain deniability in the actual hands on operations… that is where Ray screwed up and had to shoot his way out of a situation which got beyond his control and went bad), but who provides the logistic, motivation and support, as well as the target lists… those who arrange, plan, pay and make things happen behind the BANG of these "suicide and car bombs"  throughout Pakistan and the Middle East. .
That is the business of Ray Davis and those "diplomats" who carry guns, money and explosive materials.
---
Pakistan frees US Embassy employee after bullets found in luggage
American released in Peshawar after being questioned following discovery of bullets by airport security staff.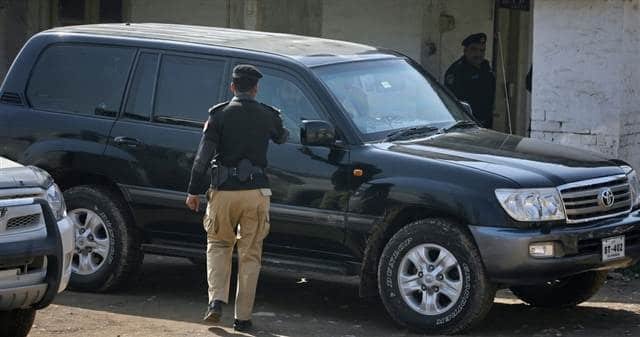 PESHAWAR, Pakistan  — A U.S. Embassy employee was released after being held for questioning in Pakistan on Tuesday when airport security officials discovered bullets in his luggage, police said.
The American was about to to fly from the northwestern city of Peshawar to the capital Islamabad when he was taken into custody, said Tahir Ayub, a senior police superintendent.
He was released after four hours when officials from the U.S. consulate in Peshawar produced documents to show the man worked at the consulate.
"We have been directed to release him as he had diplomatic immunity," Ayub told NBC News.
"He's been released to the consulate," a U.S. official in Islamabad said. "He's at the consulate now."
The American is an embassy employee usually based in Islamabad but was temporarily assigned to the Peshawar consulate, the official said.
'Diplomatic status'

Police officers had earlier said they would hold the man until his identity had been verified by the foreign office in Islamabad and a U.S. official in the capital had said the embassy was looking into the details of the reports.
"He has diplomatic status," the official said. "We're in contact with Pakistani authorities on the details on the case."
Ayub said a pistol and 12 magazine rounds had been recovered from the man's luggage.
However, police officer Dost Mohammad Khan told The Associated Press that 13 bullets were found in the man's luggage ahead of a flight to Islamabad. It was not clear why the bullets were there.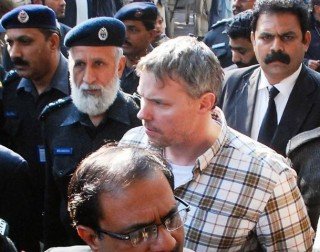 The detention was likely to revive memories of Raymond Davis, an American CIA contractor who shot and killed two Pakistanis in the eastern city of Lahore in January 2011.
A third Pakistani died when he was hit by an embassy vehicle racing to extract Davis from the scene where an angry mob had gathered.
Compensation payment

After initial confusion, the U.S. embassy in Islamabad said Davis had diplomatic immunity, which Pakistan refused to recognize. Davis spent almost two months in jail before being released after the payment of compensation to the families of the two men killed.
The incident was a major blow to the relationship between the United States and Pakistan, a key ally in the war on terror.
Ties were just beginning to thaw when U.S. commandos killed al-Qaida leader Osama bin Laden in a Pakistani military town on May 2 in a secret raid which infuriated Islamabad.
The unilateral American raid that killed bin Laden led to a fresh wave of suspicion against Western diplomats by the Pakistani security establishment, which was apparently stung by the realization that the CIA agents were operating in the country without its knowledge.
NBC News' Mushtaq Yusufzai, Reuters and The Associated Press contributed to this report.
Other sources:
Debbie Menon is an independent writer based in Dubai. Her main focus are the US-Mid- East Conflicts. Her writing has been featured in many print and online publications.
Her writing reflects the incredible resilience, almost superhuman steadfastness of the occupied and oppressed Palestinians, who are now facing the prospect of a final round of ethnic cleansing. She is committed to exposing Israel's Lobbies' control of 'U.S. Middle East Policy. Control' which amounts to treason by the Zionist lobbies in America and its stooges in Congress, and that guarantees there can never be a peaceful resolution of the Israeli-Palestinian conflict, only catastrophe for all, in the region and the world.
Her mission is to inform and educate internet viewers seeking unfiltered information about real events on issues of the US/Middle East conflicts that are unreported, underreported, or distorted in the American media. PS: For those of her detractors that think she is being selective and even "one-sided," tough, that is the point of her work, to present an alternative view and interpretation of the US-Israel-Middle East conflict, that has been completely ignored in mainstream discourse.
The purpose is to look at the current reality from a different and critical perspective, not to simply rehash the pro-US/Israel perspective, smoke and mirrors that has been allowed to utterly and completely dominate Mainstream discourse.
ATTENTION READERS
We See The World From All Sides and Want YOU To Be Fully Informed
In fact, intentional disinformation is a disgraceful scourge in media today. So to assuage any possible errant incorrect information posted herein, we strongly encourage you to seek corroboration from other non-VT sources before forming educated opinion. In addition, to get a clear comprehension of VT's independent non-censored media, please read our
Policies and Disclosures
.
Due to the nature of uncensored content posted by VT's fully independent international writers, VT cannot guarantee absolute validity. All content is owned by the author exclusively. Expressed opinions are NOT necessarily the views of VT, other authors, affiliates, advertisers, sponsors, partners, or technicians. Some content may be satirical in nature. All images are the full responsibility of the article author and NOT VT.
About VT
-
Comment Policy