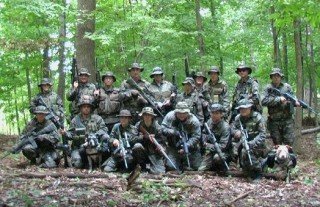 Good Versus Evil in a Battle of Life and Death
I have called America a "police state."  Many of my friends are police, FBI, intelligence officers and worse. 
A normal call for me is from a government to help train counter-terrorism forces, root out corruption in police and courts and, when very lucky, to finance a power plant. 
I am waiting on a license and collateral guarantees to provide electricity to those who have suffered decades without it.  It would be honest work, something we are told every day Americans shun, that we would rather stand on a street corner selling drugs.
Funny thing, of course, those promulgating this baloney, were they to die this second, would probably never be missed, not just friendless, but petty psychopaths and predators, hated and despised.  What they have in common is the belief that the American people wish to be under their dictatorial rule.
This is why I think about revolution.  Thus, I would, unlike them, travel to the ends of the earth to work as so many other Americans have although not always under the best circumstances as the Raymond Davis incident reminds us.
If I could help, paid millions, paid nothing, it really doesn't matter, I would feel useful.  I sit here knowing where my next meal will come from, knowing I can drive the Benz or one of the BMWs.  I could credit myself with a lifetime of hard work, natural gifts or the intercession of some superior being.
Around me, 50 million Americans are homeless, living in travel trailers, in tents…500,000 young veterans, too many with families, have applied for 100% disability compensation.
All have supportable medical diagnoses of total disability.   Their "paperwork" will remain in limbo for years, until they kill themselves, perhaps their families too.  For the best of them, luck, as it has for me, will intercede.
I am lucky.  Those around me, family, friends, suffer and die while I go on.  This is what "luck" has come to mean in America.
Everything is luck with some exception.  This is what I want to talk about.
Some people make their own luck.  They come in many varieties of predator.  Some rob banks and gas stations, steal cars, break into homes.  Eventually they go to prison.
[youtube 56waL367xbY]
Others have more choices.  They live in business, politics, where I come from, at least part of my life anyway.
I still have those I knew years ago who criticize me for giving employees of my defense contracting firm health insurance.  I could have paid the entire amount to myself as a bonus, millions a year.
I did the whole thing, paying decent wages, decent working conditions, paid vacations, company Christmas parties.  We were raking in money, I certainly was and I had pride in hiring the handicapped, giving opportunities to others who, in turn, were making me wealthy.
I was a capitalist, or so I thought.  Now I realize that, in actuality, my version of management ethic is technically Fascism.
Yes, I made money on defense, helped organize a PAC and lobbied for government contracts.  I believed in small government, in hard work, in paying bills, in delivering quality products that protected America, that saved lives. Now I know I was an idiot.
Let's take a second to talk about revolution.  This is what the Hutaree milita is accused of, planning a revolution.
The case is, for the most part silly and unfounded but as we watched the Detroit "crotch bomber" get 5 life terms in prison though easily proven to have been duped by intelligence agencies, proof endlessly overwhelming.
I tend to keep a careful watch whenever "revolution" or "terrorism" is mentioned.  9/11 made me a skeptic.
The lead photo  is the Hutaree militia.  We don't share politics. Many if not most of this group will die in prison.  We will explain more about them and their bizarre trial which is going on now, but I want to touch on a couple of key points:
The political beliefs of the Hutarees is "mainstream Republican"
Their religious cult is exactly the same one President Bush and Vice President Cheney belong to, the Hutarees are "Dominionists"
We will eventually learn that this organization was actually created by the government because they needed a domestic enemy to justify otherwise useless and certainly illegal laws recently passed that supersede constitutional rights
The area the Hutarees come from is poor, now at least, without hope, once a region of small but successful farms, of powerful industries, of hope, a land both fertile spirit and endeavor. Years of "overgovernment" killed that as it has killed all of America.
I feel helpless to change any of this and am unlikely to be seen in what to me is the Marine "camo" of my youth, the uniform of my service in Vietnam.
I remember when I would drive to Lansing and sit in the governor's office with him.  We would go out to lunch.
I had rich friends and seemed "electable."  There are few real elections, politicians are "selected," not "elected."
The idea was for me to take a Congressional seat where I could be another "armed forces" voice.  I wasn't that stupid, I knew I was being groomed because it was believed I would do what I was told.
I refused a seat in Congress which another friend took.  He appointed Eric Prinz to Annapolis and did what he was told, for awhile at least.
Then they replaced him. President Reagan appointed him as UN ambassador.
Today, he is waiting to go to federal prison.  His crime, technically "obstruction of justice," is that he, as with so many others, earned the retaliation of a police state by telling the truth when he had been ordered to lie.
Truth tellers, government insiders believed to be loyal, meaning they were willing to do anything, no matter how evil, if ordered, prosper while those who chose an honest path are destined to suffer.  Over the years I have know so many of them.
Then there are the others.  During Reagan's era, a shadow government was formed that never really protected America, never fought communism, in fact, they did nothing but steal and run drugs.
Some paraded in front of congress in Marine "dress blues," while others received presidential pardons, more than you would ever guess.  More slipped under the radar, never caught.
Now they may not own the world but many of them certainly run it. They all belong in prison minimally.
This is why I think about revolution.  We the people, the ones who were going to form a "more perfect union," have proven powerless to deal with these predators.
Talk to your children.  If you are reading this, you have internet.  For others, if they are lucky, they will get see this in print, dropped off at a campground or a tent city in the forest or under a bridge.
Perhaps they are raising their children in an abandoned factory, using buckets as toilets, walking blocks to a gas station to get water in plastic jugs. With luck, you may find a job near a bus line and you won't be killed for the change in your pocket.
The aboriginal Americans 5000 years ago had a more advanced society, more social cohesion, more conscience and were better able to deliver needed human services.
We are back to the stone age, for 50 million "invisible poor" at least.  You see, for every person with a sign, "will work for food" along the road, on the way into the shopping mall, there are a thousand others, spending their days, looking for help from a social network in tatters or seeking employment.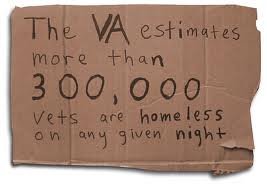 Problem is, where I am, Northwest Ohio, minimum wage jobs that it is impossible to get to in cars that don't run, public transportation that doesn't exist, using gasoline nobody can afford to feed children destined to grow up in anger, poverty and want, those jobs are not the answer.
They don't even exist.  There hasn't been a "help wanted" sign in front of a fast food restaurant in 3 years.
The woman that searches my shopping cart as I leave my local membership club store may be 80.
Last week, I was at a large department store/grocery chain.  I seldom shop there as food prices have gone up so much I find it impossible to buy anything.  I go to producers now, or to the military commissary or wholesalers.
At the front of the store was a group of women, employees, watching customers move toward the exit.  One woman hurried past me.  The women watching looked at each other and the leader said, "There goes another one."
Then one of the employees began running behind her, seizing the customer, a shoplifter, outside the door.  It make you wonder.  Was this a common thief, stealing items of value to resell on Ebay or was it a mother stealing food for a child.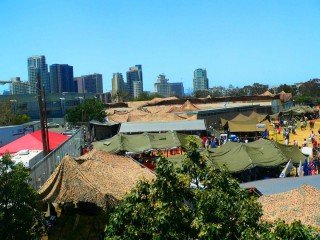 I will never know, I only looked away.
After all, food for the starving is supposed to be supplied by the government, through food stamps or welfare that hasn't existed for the last 15 years.
All of that you hear politicians talk about is gone.
I even helped draft some of the legislation believing I would never see an America with millions of children growing up in tents, sleeping under piles of blankets in freezing weather, out in the open, children with no food.
This is America after all, and these things don't happen here.  Had you wondered?
We have 50 million home foreclosed on, unemployment rates that we know are lies, gross understatements of fact.  Hadn't you wondered where the people had gone to?
When they left, the mom and dad, the children no longer in school, the jobs lost to "economic disaster tied to Bush policies," where do you think they went?
Then I listen to presidential hopeful, drowning in mob money, Newt Gingrich or sociopath and maniac Rick Santorum or Mitt Romney with his billions of laundered bucks in offshore banks talk about how lazy Americans are.
That there has not been a revolution, 500,000 veterans rising up, the 50 million homeless with starving children, the disenfranchised, the heavily armed millions who see a government out of control, that nothing has happened while the wealthiest nation in the history of the world has become a nation of hopelessness and starvation, what does it say about the kind of people we are.
President Obama talks about taking care of those in need yet the agricultural commodity programs of the 1950s and 60s are no longer there.
We used to give surplus food to the poor, after all, we pay billions to store it, we have enough to feed the planet for decades.
We have limestone caverns, miles long, filed with just powdered milk and cheese.  Building them cost hundreds of millions.  They exist to hide food to keep prices up.
Here is my question to all of you:
Can you continue to live in a country where children live in snow covered tents and go hungry? How long will you be silent?
Today, the "monsters," the GOP candidates in the Michigan primary search for votes.
Each has made their mark, insulting the character of the American people, telling us how lazy and worthless we all are, how we should clean their toilets or simply starve and die because those to finance or bribe them have stolen America's wealth, shipped her jobs overseas and destroyed her government.
Then I think, it was President Kennedy that was murdered.  Can there be more possible proof that there is no g-d?
When Gingrich, Romney and Santorum are struck by lightning, expect me to light a candle.
Then we have the other question.  Are there so many Republicans in congress that President Obama would let children starve to death?  Can't we just arrest all of them for torture or war crimes?  International lawyers tell me we can, could have done it any time, not everyone but most of them.
Would that let us feed children, get their teeth fixed, clean up our streets and turn America back into the nation it should be?
Perhaps we could get the CIA to stop importing drugs, get the banks to stop laundering the money, get the politicians to stop accepting "cartel" donations and empty our prisons of the 15 million Americans guilty of using or selling our own governments narcotics.
Anyone want to dispute this last statement?  Want to ignore it?  Chances are you already have.
What will happen, of course, is that the thieves will eventually reach nearly all of us.
Governor Snyder of Michigan, elected by "senior citizens" fearful of evil black people passed a bill that now taxes pensions.
The fearful idiots living on next to nothing now have even less than that, fear and ignorance. Kasich of Ohio and Walker of Wisconsin are worse.
It isn't just the state governments but drug money and organized crime has bought state and local governments across America.  They have learned that stealing in just Washington isn't enough.  You can steal everywhere, from every school or police department, you can tax everything and everyone.
When governments like Republican Snyder of Michigan tax, then they can spend.  When they spend, the money goes to their friends, those who own and operate them.
This is the nature of organized crime, the real government of the United States.
Try talking about fighting back.  Then you will be a "terrorist" and your best friend will turn out to be an FBI informant.  Helicopters will come, a SWAT team will knock down your door, you will become a "lone gunman" or a member of a "milita" and your church will be called a "cult."
You will die in prison.  Ask the Hutarees of Adrian, Michigan.
Editing:  Jim W. Dean
Gordon Duff posted articles on VT from 2008 to 2022. He is a Marine combat veteran of the Vietnam War. A disabled veteran, he worked on veterans and POW issues for decades.
Gordon is an accredited diplomat and is generally accepted as one of the top global intelligence specialists. He manages the world's largest private intelligence organization and regularly consults with governments challenged by security issues.
Duff has traveled extensively, is published around the world, and is a regular guest on TV and radio in more than "several" countries. He is also a trained chef, wine enthusiast, avid motorcyclist, and gunsmith specializing in historical weapons and restoration. Business experience and interests are in energy and defense technology.
ATTENTION READERS
We See The World From All Sides and Want YOU To Be Fully Informed
In fact, intentional disinformation is a disgraceful scourge in media today. So to assuage any possible errant incorrect information posted herein, we strongly encourage you to seek corroboration from other non-VT sources before forming an educated opinion.
About VT
-
Policies & Disclosures
-
Comment Policy
Due to the nature of uncensored content posted by VT's fully independent international writers, VT cannot guarantee absolute validity. All content is owned by the author exclusively. Expressed opinions are NOT necessarily the views of VT, other authors, affiliates, advertisers, sponsors, partners, or technicians. Some content may be satirical in nature. All images are the full responsibility of the article author and NOT VT.