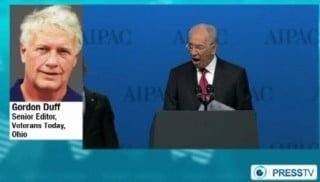 'Obama needs AIPAC money for reelection'
Press TV US Desk
[youtube VJD0DCkxdQo]
Second video on US military capabilities in the Persian Gulf.
[youtube x5CkadTcgSM]
A noteworthy editor says US President Barack Obama turns to the Israeli lobby in order to win support for his upcoming presidential reelection bid.
Press TV has conducted an interview with Gordon Duff, senior editor of Veterans Today, to further discuss the issue.
The following is a transcription of the interview.
Press TV: Tell me your take on US President Barack Obama's address to AIPAC.
Duff: Normally we take these things with very little seriousness. AIPAC was exposed for the dozenth time last week in a civil trial against one of its own members, Steve Rosen, as a spy organization spying against the United States and selling American weapons secrets to China and Russia.
As far as for the president's speech, the only things to be listened to is that he told AIPAC what they wanted to hear in exchange for as much election year support as imagined. This is a very important thing for him this year. He will need as much money as he could.
When he ended saying he preferred diplomacy, the truth is that relations between Obama and Netanyahu are horrific. He and President of France Sarkozy had an off-on microphone moment insulting Netanyahu several weeks ago. Obama has been quoted from White House insiders and US news insulting Israel in the most obscene imaginable terms during the last week.
US military chief General Dempsey recently returned from Israel where he had informed them that the US has no intention of supporting them and ordered Israel to stand down.
The news that, of course, that the media's hearing is utterly false, but it pretty much always is.
Press TV: Now, let's look at what you said. You're saying that this is just for an election, it's an election year. But in general, what does that say? This is not a group that represents the interests of Americans. It is a group that represents, basically, a foreign country. What does this mean as far as American domestic and foreign policy that when a president of the United States has to say that, basically, they're loyal to Israel in order to get elected.
Duff: The problem is that AIPAC has tremendous influence with American Jews. 78 percent of American Jews, in the last election, supported President Obama. They are much of the money behind the progressive or liberal movements in the US. Politics trumps everything.
Not only does the president have to win the election, but he had lost one of the houses in the Congress which has destroyed his potential agenda. His healthcare program is being threatened. Our program to demilitarize is being threatened. Our debt situation is utterly out of hand, and so is the strong tax reform program.
And those programs require broad support among Jewish Americans and, frankly, in order to get support in those programs he will tell anyone anything they need to hear. The only things that ever matter are what people hear quietly.
What's told in public, we call it politics here – we let it go in one ear and out the other, if we have good sense.
———————————-
'US military too weak to invade Iran'
Interview with Gordon Duff, with Veterans Today
Tue, 06 Mar 2012 16:28:40 GMT
US president Barack Obama has insisted on his country's unbreakable ties with Israel.
Speaking to reporters alongside Israeli Prime Minister Benjamin Netanyahu in Washington on Monday, Obama said the US is committed to the security of Israel and that the two sides' militaries and intelligence agencies have close consultations on matters related to their foreign policies.
Obama said his discussions with Netanyahu will focus on Iran's nuclear energy program, adding that his administration is keeping all options on the table for dealing with Iran.
Tehran strongly rejects the allegations. The Islamic Republic stresses that its nuclear energy program is purely civilian.
Press TV talks with Gordon Duff, with Veterans Today from Ohio, to shed more light on the issue. What follows is a transcript of the interview:
Press TV: Barack Obama has told Benjamin Netanyahu that "The bond between our two countries is unbreakable. The United States will always have Israel's back when it comes to Israel's security". Many in the US and beyond believe that Israel has become a liability for Washington rather than an asset. What do you think?
Duff: Well, it is almost obligatory for any American president who goes to an AIPAC meeting or who meets with an Israeli Prime Minister to use those exact same words. More realistically, the choice America has been given by Turkey, whether Turkey is a more valuable strategic partner sitting over the Bosporus, controlling the Black Sea, or Israel where we have no bases and frankly we have several major airbases in Turkey.
The message that was not transmitted to the world is that the US is seeking a diplomatic solution and another message that was not transmitted is that the rise in the price of oil that this crisis has caused is enriching a lot of people who have been manipulating the oil markets and has been damaging the economies in the West almost irreparably and is far more serious than any war could be.
We do not see a war coming. What we are seeing is suffering at the gas pump.
Press TV: In a part of his speech at AIPAC on Sunday, Obama touted what he has done in support of Israel. Let me just read you a section of what he said: "When the Goldstone report unfairly singled out Israel for criticism, we challenged it. When Israel was isolated in the aftermath of the flotilla incident, we supported them. When the Durban conference was commemorated, we boycotted it, and we will always reject the notion that Zionism is racism".
Are these the kind of things that Obama should be proud of admitting or ashamed of?
Duff: I believe there are things he should be ashamed of. I also believe though that –I am being perhaps overly forgiving– he is running against a cast of Republican candidates for president that are a hundred times where all but Ron Paul have sworn to invade Iran whether the US is capable or not and it is my assessment that the US is not militarily capable of a war against Iran.
So whatever he says to stay in office is for Iran, is for the world going to be the best thing because he is running against people who are far more extreme and hover reprehensible the thing he has said have been who go far beyond this. Crazy rhetoric in the United States has become the norm. It is not worth listening to. We certainly do not listen to it here. We have begun to think that it is funny.
ATTENTION READERS
Due to the nature of independent content, VT cannot guarantee content validity.
We ask you to
Read Our Content Policy
so a clear comprehension of VT's independent non-censored media is understood and given its proper place in the world of news, opinion and media.
All content is owned by author exclusively. Expressed opinions are NOT necessarily the views of VT, other authors, affiliates, advertisers, sponsors, partners or technicians. Some content may be satirical in nature. All images within are full responsibility of author and NOT VT.
About VT
-
Read Full Policy Notice
-
Comment Policy