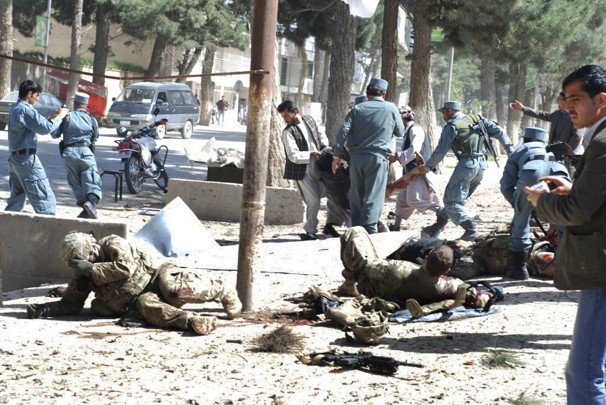 Is Afghanistan a House of Cards, Just Waiting to Fall?
The wave of coordinated attacks unleashed by the Taliban militants in Afghanistan on Sunday targeting Parliament and eastern cities gives a grim realization that Western backed Afghan President Mr. Karzai's staked peace deal efforts with the Taliban aren't working.
But the real question is whether the fragile empire that Mr. Hamid Karzai has built will stay seamed together when international troops begin to leave Afghanistan in 2014 – or will it be swept aside by dangerous political fractures opened up by his efforts to negotiate peace with the Taliban?
Evidently, Mr. Karzai's pursuit of peace was, from the outside, driven by political pragmatism, not high principle.
From 2006, the Taliban began a relentless assassination campaign targeting traditional tribal leaders in the Kandahar region (Mr. Karzai's traditional power-base).
The campaign, which is estimated to have claimed over 150 lives, ensured that Mr. Karzai's efforts to reach out to Alokozai Pashtun leaders would collapse; that his prestige among his own Popalzai clan was diminished; and evidently caused his controversial half-brother, Ahamad Wali Karzai, to be killed last summer.
Although vote rigged, the 2009 elections made evident that Hamid Karzai had little support among southern Afghanistan's ethnic Pasthuns. His victory against key rival Abdullah Abdullah was secured because of support from ethnic minorities; those grouped around the warlords akin to Haji Muhammad Mhaqiq, and those loyal to Abdul Rashid Dostum.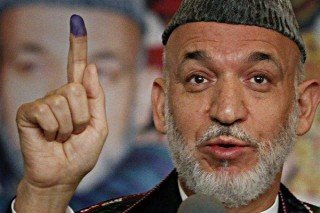 In a desperate effort to rebuild his political foundations, Mr. Karzai turned to the networks of Mr. Rabbani's Jamaiat-e-Islami – the centerpiece of the Islamist movement; which, from the 1970's dethroned Afghanistan's traditional elite; and now, the son of slain Rabbani, Salahuddin Rabbani is in the driver seat to weld the fruitless peace process.
Mr. Karzai also sought help from Gubuddin Hekmayar's Hezb-e-Islami, a party which though still ostensibly insurgent, has proxies in the political system.
Inside the Kabul palace—as it became clear western forces would draw down in 2014 — figures considered close to Pakistan acquired critical importance; among them, his chief of staff Abdul Karim Khurram.
From 2010, Mr. Karzai initiated an ever-more desperate search for peace with the Taliban and alienating large swathes of the opposition. Even though Pakistan proved unwilling, or unable, to rein in Taliban operating from its soil, Mr. Karzai continued to reach out; hoping a deal could be struck.
In 2010, the very same warlord Mr. Muhaqiq reneged on his earlier support, warning: "the new political path that Karzai has chosen will not only destroy him, it will destroy the country", and "It's a kind of suicide." Those are words Mr. Karzai ought to be carefully considering now.
The recent attacks were a great embarrassment for the Afghan government, despite the allegation that they were directed by the Pakistani intelligence apparatus; which like Mr. Karzai's usual blame game on others, particularly NATO, was not accepted by the majority in the wake of the incident.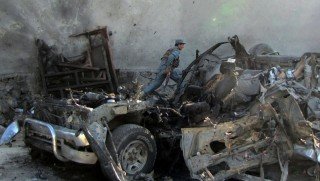 Having recently praised the direction of Special Forces night raids away from US control, the infiltration of fighters equipped with rocket-propelled grenades, suicide vests and machine guns inside Kabul's secured green zone must obviously count as a major security lapse.
In fact, it will be a moment of re-evaluation for representatives of Afghanistan's ethnic minorities who have been in talks to build a united front ahead of the 2014 elections—hoping to create a broad coalition that could include leaders from the south, like United States-based scholar Ali Ahmad Jalali and even a royalist Hamayoon Shah Asifi.
In the last ten years, many more people in Afghanistan have developed deep interests in the need for keeping the peace. There are businessman and contractors with stakes in the system; young people who have invested in their education; even orphanages who already face charity contribution hurdles; and the list goes on for many whose businesses will be disrupted by ongoing war.
The question, though, is how to create and maintain a security apparatus for a fragile country; and not allowing it to slip back into repeated mayhem?
It is clear that the same Taliban that Mr. Karzai hoped to make peace with has no intention of accepting any kind of deal that Afghanistan's political system, as a whole, could live with.
In addition, a path to peace cannot be achieved when a government has not gained the allegiance of its people; nor can peace be attained with a group that has brutalized women and minorities in the past.
The world knows that the Taliban have no intention of relinquishing its Islamo-fascist mentality.
Does Mr. Karzai have a plan "B" despite all that has recently happened? If not, he has become certain of one thing for sure: Pakistan alone has held the key to peace in Afghanistan?
He should consider salvaging the first Afghan President Mohammad Daud Khan's policy to unite the Pashtuns by vigorously opposing Pakistan's de-Pashtunization of Pasthuns That should be the key to long lasting peace for Afghanistan.
Khalil Nouri is the cofounder of New World Strategies Coalition, a native think tank for nonmilitary solution studies for Afghanistan, and member of Afghanistan Study Group.
Editing: Jim W. Dean

Khalil Nouri was born in an Afghan political family. His father, uncles, and cousins were all career diplomats in the Afghan government. His father was also amongst the very first in 1944 to open and work in the Afghan Embassy in Washington D.C., and subsequently his diplomatic career was in Moscow, Pakistan, London and Indonesia. Throughout all this time, since 1960's, Khalil grew to be exposed in Afghan politics and foreign policy. During the past 35 years he has been closely following the dreadful situation in Afghanistan. His years of self- contemplation of complex Afghan political strife and also his recognized tribal roots gave him the upper edge to understand the exact symptoms of the grim situation in Afghanistan. In that regards, he sees himself being part of the solution for a stable and a prosperous Afghanistan, similar to the one he once knew. One of his major duties at the beginning of Operation Enduring Freedom in Afghanistan in 2002 was advisory role to LTG Franklin Hegenbeck. He has worked closely with the Afghan tribes and his tribal exposure is well tailored for unobstructed cross-cultural boundaries within all Afghan ethnicities. He takes pride in his family lineage specifically with the last name "Nouri" surnamed from his great-grandfather "Nour Mohammad Khan" uncle to King Nader-Shah and governor of Kandahar in 1830, who signed the British defeat and exit conformity leaving the last Afghan territory in second Anglo-Afghan war. Khalil is a guest columnist for Seattle Times, McClatchy News Tribune, Laguna Journal, Canada Free Press, Salem News, Opinion Maker and a staff writer for Veterans Today. He is the cofounder of NWSC Inc. (New World Strategies Coalition Inc.) a center for Integrative-Studies and a center for Integrative-Action that consists of 24- nonmilitary solution for Afghanistan. The function of the Integrative-Studies division (a native Afghan think tank) is to create ideas and then evolve them into concepts that can be turned over to the Integrative-Action division for implementation. Khalil has been a Boeing Engineer in Commercial Airplane Group since 1990, he moved to the United States in 1974. He has a Bachelor of Science degree in Mechanical Engineering, and currently enrolled in Masters of Science program in Diplomacy / Foreign Policy.
ATTENTION READERS
We See The World From All Sides and Want YOU To Be Fully Informed
In fact, intentional disinformation is a disgraceful scourge in media today. So to assuage any possible errant incorrect information posted herein, we strongly encourage you to seek corroboration from other non-VT sources before forming educated opinion. In addition, to get a clear comprehension of VT's independent non-censored media, please read our
Policies and Disclosures
.
Due to the nature of uncensored content posted by VT's fully independent international writers, VT cannot guarantee absolute validity. All content is owned by the author exclusively. Expressed opinions are NOT necessarily the views of VT, other authors, affiliates, advertisers, sponsors, partners, or technicians. Some content may be satirical in nature. All images are the full responsibility of the article author and NOT VT.
About VT
-
Comment Policy