Fear is pain arising from the anticipation of evil. –Aristotle
I don't believe in conspiracy theories. However I do believe in conspiracies.
All that's necessary is to have two or more conspirators conspiring to do something–anything–together.
This includes every imaginable conspiracy, from a couple of kids conspiring to tease other kids, to thieves planning a robbery, to countries creating coalitions against other countries.
Usually conspiracies come out of situations where the facts are known to few and the conspirators remain hidden.
Presently there's a conspiracy among those creating propaganda for bombing Iran. These war hawk politicians in both the U S and Israel use misinterpreted intelligence and incredulous rationales to argue that Iran should be bombed because they are working toward developing nuclear power.
It's not enough that Iran doesn't have nuclear weapons. According to Israeli hawks, Iran must not be allowed to work in the direction of developing nuclear weapons.
That argument is currently too weak to garner enough support from the American public to go into another costly war, primarily because it doesn't create enough fear.
A conspirator who wanted to see that ingredient added would find a way to create fear in the American public.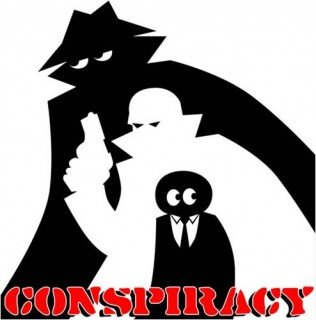 Old tricks like those employed to create fear leading to the Iraq war won't work. No one will easily buy the argument that another Islamic country has WMDs.
Even if fear for Israel is strong enough to make an argument for them, the stock of Israeli nuclear weapons convinces anyone with half a brain that they can defend themselves.
On the other hand, something going on in America can provide enough fear by Americans to support another war.
One only needs to follow closely the fear inspiring attacks on Islam picking up steam in America.
Combine the building fear of Islam in the US with the propaganda about Iran as a potential nuclear power and the conspiracy is almost complete.
Fear!
Governments plant fear!
During the Vietnam War, the U S government implanted fear of communism in the public minds.
Terrorist fears don't have to be toward the same thing. While fear of communism remained even after the McCarthy era in America, it has been possible to plant new fears.
After 9/11, American fear shifted to Islam. Though politicians have generally been careful to distinguish between all Muslims and "radical" Islamists, the American public has associated Islam with terrorists.
One politician recently planted the distinction in American minds by saying, "While not all Muslims are terrorists, all terrorists are Muslims."
This sick, totally untrue, comment has appeared on numerous websites, blogs and videos. Repeated enough times, people begin to automatically ascribe truth to their brainwashing.
Political scientist John Mueller argued that once instilled, fear of terrorism remains in large percentages of populations.
"Even if fears of terrorism do begin to decline," says Mueller, "they can probably be very substantially rejiggered if a lone fanatical nut somewhere shoots up a bus, bank, or beauty salon while shouting "God is great!"
According to Arsalan Iftikhar (international human rights lawyer and Contributing Editor for Islamica magazine) Anti-Muslim sentiment in America has surged.
"A 2010 Washington Post-ABC News public opinion poll found that "roughly half the country (49 percent) holds an unfavourable view of Islam, compared with 37 percent who have a favourable view.
"That is a 10% rise from a similar poll taken in October 2002, just a little more than a year removed from the attacks of 9/11."
It's never too soon to expose the conspirators responsible for feeding and stimulating fear of Arabs and Islam.
ATTENTION READERS
Due to the nature of independent content, VT cannot guarantee content validity.
We ask you to
Read Our Content Policy
so a clear comprehension of VT's independent non-censored media is understood and given its proper place in the world of news, opinion and media.
All content is owned by author exclusively. Expressed opinions are NOT necessarily the views of VT, other authors, affiliates, advertisers, sponsors, partners or technicians. Some content may be satirical in nature. All images within are full responsibility of author and NOT VT.
About VT
-
Read Full Policy Notice
-
Comment Policy