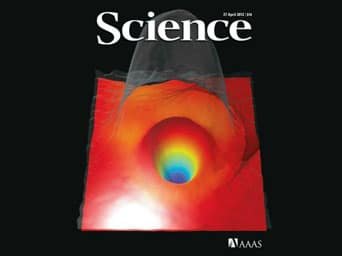 Science is the journal of the American Academy for the advancement of Science. It is peer-reviewed, hence it is 'authentic,' and ranks second to the London published Nature, as a general scientific source. Both are published as slick magazines weekly.
The 27 April issue of Science, in the very last of the technical reports section a paper is presented under the heading: "Analytic Thinking Promotes Religious Disbelief."
This accepted, peer-reviewed report is a prime example of what it is about the established "scientific community" that spawned my disrespect decades ago, and formed my prejudice against "scientism."
Of course, I am well aware that psychology is not even close to "hard" science, and that is not at issue here. Scientism twists 'hard' data into agenda for profit such as vaccination pushing.
In this example the entire issue is badly presented and irrelevant. One wonders why it was published. You decide—and be 'analytical.'
You readers are far more adept at Internet searches than I am. You can likely find the report at sciencemag. org—I have subscribed to the magazine for 20 years; And I perused them all.
The following is the 'abstract' (summary) of the report: (cannot help myself; my comments are in parentheses)
"Scientific interest in the cognitive underpinnings of religious belief has grown in recent years. (probably because of the notoriety of the Oxymoronic Republicans) However, to date little experimental research has focused on the cognitive processes that may promote religious disbelief. (but not belief)? The present studies (plural) apply a dual-process model of cognitive processing to this problem, testing the hypothesis that analytic processing promotes religious disbelief.
Individual differences in the tendency to analytically override initially flawed institutions in reasoning were associated with increased religious disbelief. ('flawed institutions' are not defined nor clearly explained in the report). Four additional experiments provided evidence of causation, (took a lot of faith to see this stuff as evidence) as subtle manipulations known to trigger analytic processing also encouraged religious disbelief.
Combined, these studies indicate that analytic processing is one factor, presumably among several, that promotes religious disbelief. Although these findings do not speak directly to conversations about the inherent rationality, value or truth of religious beliefs, ( of course not) they illuminate one cognitive factor that may influence such discussions. (that was feeble as a disclaimer, which all such reports feature. However, at least this one omitted the standard pitch that more research funding is needed.)
Interested disbelievers are welcome to probe the report, analytically, and get back to me.
Meanwhile, here is a true tale from my own background—enjoy.
I'll call her Ms A, she wore her long sandy blonde hair in two braids down to the middle of her back. We never saw her with any makeup, she was plain but not the least unpleasant to look at.. She seldom smiled and seemed overly timid. My circle of friends, the presumed 'popular clique' knew her as a "holy roller,' or Pentecostal church member.
She was teased as much for being oblivious to the real world, as she was for knee length stockings and 'funny shoes.' The big thing was her absolute trust in her God. Several of us swapped stories about how we prevented her from walking into traffic, as she strode around carrying her books, seeming in a trance. When we stopped her and scolded that she should watch where she was going. Her standard rejoinder was that Jesus watched over her, and when any of us warned her, avoiding a thunk, she explained that it was Jesus working on us in her behalf.
She drove us nuts, but didn't seem to give a rat's ass. Some of us guys and one "loose" girl visited her church once out of curiosity; We all were taken aback by the screeching and hand-waving, so we ducked out, giggling.
How could anyone believe this crap? We agreed (Of course, I said much the same after attending mass at our Mission church and watched my baseball teammates get in line to munch a cracker in Latin.
I was an imitator of my father, a skeptical deist. And my mother hated Catholics because they mercilessly persecuted anyone who had divorced parents. (you see, shaped thinking is mostly a matter of personal experiences).
A fitting end to this story came at our 25th class reunion. Ms, A showed up with an athletic husband, and pictures of three robust looking kids, She was a knockout, and fun. We had to ask," what the bleep happened to the bleeping church mouse nutcase?"
Long story short: Turned out that the beloved pastor got caught with his pants down and the hypocrisy of it all jarred her awake in time to find a life.
How analytically processed was that?
Tom Valentine (born August 20, 1935, same day as Ron Paul) is a businessman, writer, commentator and radio host with an anti-establishment perspective. He worked with Radio Free America from 1988 to 2004. He tends to align with issues from left and right ends of the political spectrum, as well as libertarianism. His main journalistic interests have been unorthodox health care methods and conspiracy theories. He is a believer in many alternatives as cancer cures, and believes that soy products are unhealthy for human consumption. All of his views are at odds with the mainstream medical community.
ATTENTION READERS
We See The World From All Sides and Want YOU To Be Fully Informed
In fact, intentional disinformation is a disgraceful scourge in media today. So to assuage any possible errant incorrect information posted herein, we strongly encourage you to seek corroboration from other non-VT sources before forming an educated opinion.
About VT
-
Policies & Disclosures
-
Comment Policy
Due to the nature of uncensored content posted by VT's fully independent international writers, VT cannot guarantee absolute validity. All content is owned by the author exclusively. Expressed opinions are NOT necessarily the views of VT, other authors, affiliates, advertisers, sponsors, partners, or technicians. Some content may be satirical in nature. All images are the full responsibility of the article author and NOT VT.