A Look at America Through Bruce Springsteen's Born in the USA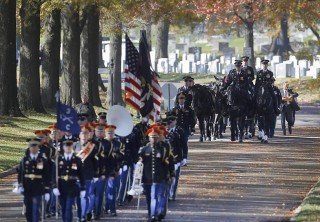 Bruce Springsteen is a cultural icon, a one of a kind who has not, and never will be copied. Those of us who were blessed to take the whole ride with him know how lucky we were.
Much of the world knows this, too. As I did my usual hunt for the 'best of' YouTube Springsteen clips I watched a good number of overseas ones.
Bruce would say hello and do the first song countdown in the native language, but the rest was all American apple pie. The foreign crowds were just like the Americans in their response to the him and the music.
I still can't get over how incredible it is to still see him filling stadiums in foreign countries to listen to  an entire concert in English.
Obviously the man had a gift for writing songs and music that not only touched universal themes, but became a part of them. It is the rare artistic talent that can imprint themselves on you with a gift that lasts a lifetime.
It's almost like he had learned some kind of physics secret about harmonic vibrations and brain waves that would cut through not only language barriers but cultural ones, also.
He has helped save some of America's reputation. How? Well, we have debased elites who feel America's gift to the world is to spread a form of culture through forward deployment of God only knows how many military bases now…north of 500. And that does not count the secret underground ones.
But when Springsteen goes out he carries none of that stain with him. When you read his lyrics carefully, the hard truth is always right there…and the only sugar added is that 'I made it, I survived, but have not forgotten those the did not, and will not.'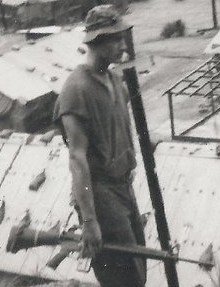 I picked Born in the USA for the lead off video today not just because it is just a classic great song, but because it is not really a patriotic song at all in the traditional sense.
It's a spotlight and a challenge song to make America better, including fighting the system to do it. Political criticism can be very patriotic, despite being condemned by some for being anti-patriotic.
The song walks a tightrope between the greatness and the harsh realities of America. It is a mirror held to our collective faces. It asks, "How long are you going to let this go on?"
Gordon Duff is the only person here at VT who has endured more bayonet charges than he can remember during his visit to Vietnam in 1969. His retrospection of these events has an analogy to Springsteen's message in Born in the USA.
In Gordon's case, he is and always will be proud to be a Marine.
But if you asked him what did he while he was in Vietnam he might tell you with his truth scalpel that he killed impoverished, illiterate, oriental agricultural workers who were deemed a national security threat to the United States.
And why?…so a lot of politically connected and corrupt defense companies could make a fortune. There is no pride in the delivery, only the truth.
Author and fellow Marine William Manchester touched on this mental juggling art in his Goodbye Darkness, literally a personal exorcism book he wrote to purge his own WWII demons. I highly recommend it, only $12 now, and simply riveting.
He quotes F. Scott Fitzgerald's test for a first rate intelligence: 'The ability to hold two opposed ideas in the mind at the same time, and still retain the ability to function." Gordon can also hold forth on this magic trick, also.

But now it's time for some music, a great classic for the day, and to see if we can all get our arms around the Fitzgerald intelligence test thing. The lyrics will follow, and then on to the flip side of the 4th of July.
[youtube uHc9PE-Fftc] – Born in the USA -521K
Born down in a dead man town 

The first kick I took was when I hit the ground 

You end up like a dog that's been beat too much 

Till you spend half your life just covering up 

… Born in the u.s.a., I was born in the u.s.a. 

I was born in the u.s.a., born in the u.s.a. …

 Got in a little hometown jam 

So they put a rifle in my hand 

Sent me off to a foreign land 

To go and kill the yellow man 

… Born in the U.S.A… 

Come back home to the refinery 

Hiring man said son if it was up to me 

Went down to see my v.a. man 

He said son, don't you understand 

I had a brother at Khe Sahn 

Fighting off the Viet Cong 

They're still there, he's all gone 

He had a woman he loved in Saigon 

I got a picture of him in her arms now 

Down in the shadow of the penitentiary 

Out by the gas fires of the refinery 

I'm ten years burning down the road 

Nowhere to run aint got nowhere to go 

…Born in the u.s.a., I was born in the u.s.a. 

Born in the u.s.a., I'm a long gone daddy in the u.s.a. 

Born in the u.s.a., born in the u.s.a. 

Born in the u.s.a., I'm a cool rocking daddy in the u.s.a.
____________________
Fourth of July… A Dual Anniversary for a Win and A Loss
Vicksburg – A freshly killed Confederate artillery man
For those of us with Revolutionary War, Confederate and lots of Federal ancestor veterans, Independence Day is an F. Scott Fitzgerald Day for us with the juggling we have to do.
Forgotten by most is that today is also the anniversary of the surrender of Vicksburg, the beginning for the end of the CSA exercising the Constitutional right of secession.
It was decided by force of arms in a war waged so brutally that all of Europe was aghast that if such a thing could happen in America then what awaited Europe? The answer of course was the French Revolution and all of it's horrors on civilians.
The following list is just the Culpepper branch of my CSA ancestors who were paroled at Vicksburg:
Culpepper, A J, Pvt, 40th AL INF C

Culpepper, Ambrose (#2326), Pvt, 40th AL INF C

Culpepper, H (Harbin B., #2330), Cpl, 40th AL INF B

Culpepper, Harden (#2331), Pvt, 40th AL INF C

Culpepper, Mat (#2329), Pvt, 40th AL INF C

Culpepper, M J, Pvt, 40th AL INF C

Culpepper, P T, Pvt, 40th AL INF C

Culpepper, William, Pvt, 40th AL INF G

Not included in this list is Milburn Culpepper, KIA, Vicksburg.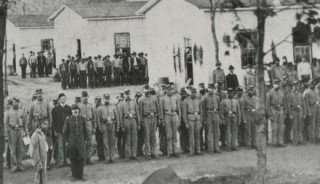 Of course, after a furlough trip home they all reenlisted, but not all make it back home again.
William died at Rock Island Prison, succumbing to the horrible conditions and the Yankee policy of dead Confederate PoWs could not be exchanged nor could those with their health destroyed be anything other than a burden on the South if released.
Over ten years ago I did one of my early 'best of' TV shows with George Levy, author of  To Die in Chicago, an expose' on the Yankee Death camp in Chicago, Camp Douglas. During five years of research he found the documentary proof, one example being when the death count started getting real high…they just stopped counting.
Circling back to William Manchester reveals a more famous Confederate family. His Marine father was seriously wounded in WWI in the Battle of the Argonne with a nasty shoulder wound.
An incompetent doctor relegated him to the death tent where it refused to die for five days and was only saved by orderlies who found him when collecting bodies to bury. A Red Cross hustler had even tried to sell him free cigarettes and gave him nothing when learning he had no money.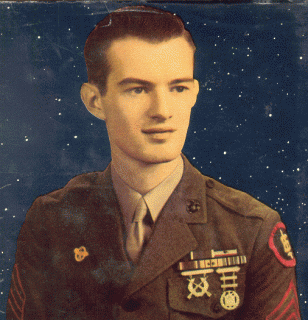 While his father to be was convalescing in Norfolk Naval Hospital, fate would bestow upon him a Southern tradition of the chaperoned daughters of all the best families.
They were following in the footsteps of their Civil War era grandmothers with volunteer hospital duty for wounded soldiers. Manchester's wound had rendered an arm  useless for the rest of his life.
But it was his good fortune to be tended to by the shy, beautiful, 20 year old Sallie Thompson whose father was a nephew of Stonewall Jackson and whose mother a Wilkerson blue blood.
When she was only three the family was kicked out of their house by a McClellan staff officer who wanted it for his headquarters.
Years later he came calling with an apology and strawberries, and was told where he could put the berries.
Sallie's Aunt Phoebe had watched out of her bedroom window one morning as the Merrimac and Monitor battled it out all day and changed naval warfare forever. It was the biggest event of her life.
Young Miss Sallie even had J.E.B. Stuart's widow as her Sunday School teacher for many years, where lessons would include stories of Stuart's famous raids against the Yankees.
During the War the city of Norfolk was virtually empty of military age men. Men even up into their 50's were off fighting with Lee. Gettysburg was particularly unkind for them in Pickett's Charge, leaving a city of widows, many of whom would wear black and hate Yankees for the rest of their lives.
But the beautiful Miss Sallie Thompson married the disabled William Manchester WWI veteran, who after many years of struggle became a famous social worker. The Southern Blue Bloods accepted the charming young man despite his Massachusetts lineage, as all men wounded in combat had always been a dual aristocracy in the South.
Nine months later the newlyweds would produce a future American fighting man and author, one who hated violence so much that he refused to punch other boys back as a boy and suffered endless bullying for it. Later he would become a Marine like his father, squad leader to a bunch of Ivy League officer candidate school washout and attitude problems.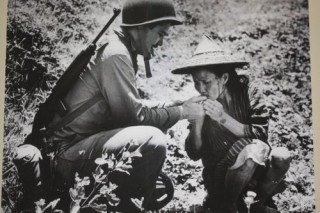 And one day like his father, he would find himself lying wounded among dead Marines in pieces all around him from an air burst artillery shell on Okinawa which he had survived by by a fluke, having tripped and fallen into a shell hole just before it exploded.
I will end my 4th of July tapestry with some Americana that might have missed many of you. They do not teach stuff like this in school due to the political correctness scourge that swept the country like a plague
Manchester described how Confederate men did not carry bitter war burdens around with them, nor did they discuss much of the war with their children.
When Miss Sallie's grand aunt Margaret Wilkerson heard of the disaster of Pickett's charge at Gettysburg on July 3rd, 1863, she rushed to the battlefield in a buggy through all the confusion. With a family slave holding a lamp light they spent a gruesome evening turning over ghastly corpses looking for her husband John.
The angels on her shoulders must have led her to him out of all the thousands on the field, but she soon lost him to his wounds.
These women were different from the surviving veterans as they were the ones who passed their fervor and bitterness onto their children, grand and great grandchildren children.   But their motivation was not solely due for the deaths of their men folk, and the official 'total war' Union policy.

They saved a special hatred for the crimes committed upon the Southern women by low lifes in the Union army unhappy with their being drafted as cannon fodder into Lincoln's war, and wanting to take pleasure wherever they could find it. Not only the women, but the young girls were abuse.
The rapes of the Southern women really never made it into the history books as such incidents were a stain on the family, that such a thing was allowed to happen to their women. When the babies came, and more than a few mulattoes, they were birthed while 'away visiting relatives'.
This unfortunate legacy was even carried over into my own life when out of the blue one day as a young teen my mother sternly demonstrated with a big kitchen knife what she would do to me if' "If I ever ruined a girl." It scared the hell out of me, so I ran out and bought a condom the next week!!!
Springsteen has a running away theme that threads some of hit most passionate songs. One of my favorites, which I will close with, is Born to Run.  It is pure genius song writing and national treasure, particularly for we children on the 60's passing through at that time.
No HD acoustic version was to be found but this 240p has clean audio. The rare treat on this cut has Bruce sharing how he wrote the song 15 years ago before this performance. Here is a previews, words of wisdom, and Springsteen universal truths.
"I realized that in the end, I guess that individual freedom, when it's not connected to some sort of community…or friend, or to the world outside, ends up being pretty meaningless…This song is about two people trying to find their way home…It had kept me good company on my search, and I hope it does on your."…Bruce Springsteen, Los Angeles Sports Arena, April 27th, 1988
We thank you for getting connected with VT, and we will continue the journey and hopefully find our way back home, too.
[youtube tX7plqUfm94]  Born to run-240
Jim W. Dean was an active editor on VT from 2010-2022.  He was involved in operations, development, and writing, plus an active schedule of TV and radio interviews.
ATTENTION READERS
We See The World From All Sides and Want YOU To Be Fully Informed
In fact, intentional disinformation is a disgraceful scourge in media today. So to assuage any possible errant incorrect information posted herein, we strongly encourage you to seek corroboration from other non-VT sources before forming an educated opinion.
About VT
-
Policies & Disclosures
-
Comment Policy
Due to the nature of uncensored content posted by VT's fully independent international writers, VT cannot guarantee absolute validity. All content is owned by the author exclusively. Expressed opinions are NOT necessarily the views of VT, other authors, affiliates, advertisers, sponsors, partners, or technicians. Some content may be satirical in nature. All images are the full responsibility of the article author and NOT VT.