More on the Raytheon/Beechcraft King Air 200 incident at the Olympics.  The aircraft was operated by ASL of Liege, Belgium.  
It is still unclear what she was doing – although she seems to have been fitted with a UHF aerial, so she MIGHT have been re-transmitting TV signals, although it seems a very odd way of doing it (why not just use a satellite van, like everybody else?).  
The other published explanation – camera plane – makes even less sense.  
The aircraft does not appear to have been fitted with camera ports, and is pressurized, so any cameraman would have to record through windows.  There are good reasons why tv stations usually use unpressurized helos for this work.
The claimed 'total electrical failure' seems unlikely.  As an aircraft engineer has pointed out to me this was probably intended to be a reference to a failure of the AC supply.  
The King Air also has a 28-volt DC supply, using a NiCad battery on most models (you can get differences of course between different types of King Air).
Most of the instruments in the King Air are fed off the AC supply, so the reference to flying to Cambridge Airport using a compass and maps would make sense, if she were on battery power.
There are however TWO independent sources of AC supply in the King Air, so we are talking a rare double failure, subject to the next point, about the inverter switch.
The only comparable incident any one could tell me about was the tragic crash of Super King Air 200 N81PF at Strasbourg Colorado on 27th January 2001, killing 8 members of the Oklahoma State University basketball team.
Having suffered a double AC supply failure the aircraft plunged out of control some 20,000 feet into terrain, with the nose 80 degrees down at one point.  That is quite a steep dive!
This incident was already on my radar, as the German DVD had sabotaged a number of aircraft carrying British or American sports teams over the years, an issue I deal with in Spyhunter.
The NTSB could not find the cause of the electrical failure, nor does their typically thin report (with respect) explain how losing the AC-instruments could cause an experienced pilot in command to lose situational awareness so completely, when he still had his pressure instruments.
Another gaping hole in the report is the failure to explain how the three items of equipment which could have led to a double ac supply failure, including the inverter switch, went walkies from the wreckage.
Tampering with the inverter switch is one possible explanation for a double AC failure.
The inverter by the way converts DC power from the engine-driven generators to AC.   The NTSB  speculated that the PIC might have forgotten to switch inverters, but frankly the idea that an experienced pilot did not know what all those knobs and switches were for is fanciful.
Just about the first thing you do before flying a type for the first time is to study the instrument panel.   Aircraft do come with instruction booklets!
I would like to know more about this incident.
By the way the only reason I do not acknowledge experts who have given me technical assistance is because they do want to be acknowledged publicly.  I don't blame them!  Being out in public means taking flak.  That's what I'm here for.
Nice to see Romney's gaffe-prone overseas tour over.  It's cost enough votes already.  He seems not to have noticed that the Cold War ended in 1991. Possibly he has not heard of China, the only explanation I can think of for his remarkable assertion that Russia is America's most dangerous geopolitical rival.
____________________
 Michael Shrimpton Update: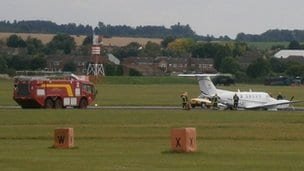 Fair comment on the 'terrorist' reference in the headline, but folk will have to address their complaints to the editor! I don't write the headlines, just the articles.
The incident has now been confirmed. The aircraft in question crash-landed at Cambridge Airport, her undercarriage collapsing.
That in itself is cause for comment, as the undercarriage failure does not appear to be related to the failure of both AC supplies.
The KingAir, as I understand it, has a gravity drop system for the gear if it fails to deploy, which is independent of the AC supply. Multiple failure modes are unusual and can be a sign of sabotage.
It would only have taken a minute or two for the trolls who suggested I made the entire incident up to check their facts, but I accept that fact-checking is not an habitual occupation for Internet trolls.
There is no evidence at this time to support a suggestion of terrorism – the aircraft may indeed have been involved in counter-terrorism. ASL are apparently licensed to transport nuclear material (not in a KingAir surely?) so presumably have a good relationship with the authorities.
Along with the handover by the police of the keys to Wembley Stadium, laundered in the usual way as 'losing them,' this was an unusual incident, which is why it caught my attention. The published explanations as to what the aircraft was up to and why she crashed are not especially convincing.
Watch this space, although it is unlikely the AAIB report will be terribly illuminating. The AAIB still think the fuel froze on that 777 which went in at Heathrow in January '07 and are clinging to the metal fatigue theory to explain the loss of Comets Yoke Peter and Yoke Yoke in 1954.
Given the past threats to the London Olympics security specialists are on the alert for anomalies.
DENVER
As I predicted there has been a concerted effort to push insanity, very obviously by people who have not studied the M'Naughten Rules. No effort has been made to investigate who helped the shooter (whose ID is now in dispute given the facial recognition problem) inside the Aurora movie-theater or who planted the explosives. As with Oslo it's wall to wall insanity, with the media, FBI and police working on an unproven lone gunman assumption.
What we are looking for – and what we are not getting – is a credible explanation of how the shooter got into the theater and hard evidence of where he acquired his explosives expertise. Judging by Oslo these questions aren't even going to be addressed and the shooter will get away with his life, undeservedly so in my view.
The stark failure with respect of the FBI to get to grips with the case puts innocent life at risk, just as the Norwegian Government and police encouraged the Denver mass-shooting with their crass lone gunman assumption, and the failure of the Cumbria Police and MI5 to properly investigate Cumbria in turn encouraged Oslo. Denver looks more and more like an Oslo-style DVD operation. These mass shooting incidents will continue every year or two until someone shows the guts and the forensic skill to investigate one properly.
Editing:  Jim W. Dean
Michael Shrimpton was a barrister from his call to the Bar in London in 1983 until being disbarred in 2019 over a fraudulently obtained conviction. He is a specialist in National Security and Constitutional Law, Strategic Intelligence and Counter-terrorism. He is a former Adjunct Professor of Intelligence Studies at the American Military University.
Read Articles from Michael Shrimpton;
ATTENTION READERS
We See The World From All Sides and Want YOU To Be Fully Informed
In fact, intentional disinformation is a disgraceful scourge in media today. So to assuage any possible errant incorrect information posted herein, we strongly encourage you to seek corroboration from other non-VT sources before forming an educated opinion.
About VT
-
Policies & Disclosures
-
Comment Policy
Due to the nature of uncensored content posted by VT's fully independent international writers, VT cannot guarantee absolute validity. All content is owned by the author exclusively. Expressed opinions are NOT necessarily the views of VT, other authors, affiliates, advertisers, sponsors, partners, or technicians. Some content may be satirical in nature. All images are the full responsibility of the article author and NOT VT.