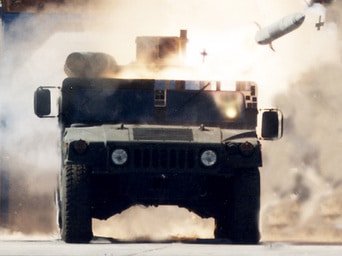 How Idiots Sell The Wrong Conspiracies
… by  Gordon Duff, Senior Editor
Late in Vietnam, the US developed the TOW missile.  This thing is easy to carry, half a million of them are around, my mother had one in her garage, they cost nothing and nothing can get away from them. 
Yet, they are outdated by decades and no one has seen one in Syria though you can buy them on the streets of Pakistan easier than tea.
[youtube QUMxZ34Ptco]
This is old tech, like your granny would use, and you see it taking out what would be a current Syrian main battle tank, the Russian T-72, which it turns into shreds.
Defending against this is nearly impossible but not one has been found though thousands are loose in the Middle East, with every country, including Iran.  Turkey has things decades beyond as does Hezbollah.
Here is a slightly newer, 24 year old "fire and forget" Javelin missile.  I really enjoy these.  They can take down attack helicopters by the droves and do it with NO risk to the operator.
The CIA would be giving them out like candy but nothing like this has been seen either.
[youtube u-dOJG4kXMA]
Here is the Russian version that Hezbollah used on the poor Israelis, the Koronet.  You will have to excuse this one.  This the Russian sales video.
The great part is the music, the theme from the movie "Exodus" being played while demonstrating a weapon that knocked out more Israeli helicopters and tanks than anything else.
The Russians, a delightful people, culturally clueless, have no idea what  a social smackdown this is:
[youtube TlFraXbz6C0]
This last one is the Starstreak by Thales Corporation.  It is a "fire and forget" system with onboard laser targeting which shoots down helicopters, as you will see, blows up tanks and can take care of nasty fighter planes.
I think they make this in Northern Ireland behind the Jameson distillery.
[youtube 8sB4UEfELr4]
The CIA used to give out Stinger missiles but the man who ran that program, Osama bin Laden, died of kidney disease in 2001.
He returned his last 116 Stinger missiles to the CIA in Peshawar over a cup of tea and a small suitcase of cash. Why is this video only 12 seconds?
[youtube YbmiAq7pXQE]
SYRIA
Now, I am not calling every activist or reporter or "led around by the nose" peacenik a moron but the weapons we are seeing in Syria all seem to be from the "heavy weapons locker" of local police stations.
The other thing I am noticing is that photos being represented as current, date to the 1973 war and depict Soviet T55 tanks that were destroyed by Israel (or American fighter planes off carriers in the Mediterranean more likely.)
Someone needs to remind "journalists" that Kodak doesn't make Ektachrome film anymore.
The point is simple.  Shoulder held weapons, some wire guided, some as simple as RPG 7's and some as complicated as things shown above would have destroyed the entire Syrian army in a few hours.
If I can point toward a tank or helicopter 5 miles away, not even "lock on" and have the missile acquire the target, track it, defeat all countermeasures and show a 100% capability of destruction with no risk to me, why not use it?
And if I have the richest nations in the world and the biggest arms dealers handing out weapons like they were nothing, then why are we seeing tanks and not burning hulks, helicopter parts and the Syrian army burned to cinders?
If someone is handing out weapons meant to defeat Syrian army units, something I have no small expertise in explaining or doing, there is no evidence of this.
Sixty countries build these things, Japan, Ireland, I even think there is a missile from Canada that only destroys igloos.
Here are some assumptions:
There is NO foreign effort, US, Israel or otherwise to damage Syrian military capabilities. 
Israel and Saudi Arabia are playing a game here, figure it out.
If Turkey is so angry at Israel and so intent on saving Gaza, what are they doing parading around Syria's northern border?  Is it just possible they aren't who they claim to be? (duh)
There obviously are very large forces inside Syria that hate the Assads.  There have been since 1971.  The Russian and Chinese veto in the UN will assure they lose and tens of thousands will die.
If the UN let the west fight Syria, their air defense system would have eaten NATO alive.  Thus, Russia and China let the US, Britian and France walk away from a bombing campaign they would LOSE.  (The Fix was in.)
Is Turkey Israel's enemy?  NO.
Is Syria Israel's enemy?  NO
Is Saudi Arabia Israel's ally?  YES
Is Russia Israel's ally?  YES
Is Russia Syria's ally?  YES
What does this tell you? The answer is simple. Everyone is lying.
[youtube dT2PO3q1uBM]
This is a "detuned"version of the system Syria is using.  Their system works past 185 kilometers and is effective against Cruise type, ICBMs and all aircraft.
Don't expect to see someone bombing Syria really soon.  Now you know why Syria and Israel have secret meetings all the time.
Editing:  Jim W. Dean
Gordon Duff posted articles on VT from 2008 to 2022. He is a Marine combat veteran of the Vietnam War. A disabled veteran, he worked on veterans and POW issues for decades.
Gordon is an accredited diplomat and is generally accepted as one of the top global intelligence specialists. He manages the world's largest private intelligence organization and regularly consults with governments challenged by security issues.
Duff has traveled extensively, is published around the world, and is a regular guest on TV and radio in more than "several" countries. He is also a trained chef, wine enthusiast, avid motorcyclist, and gunsmith specializing in historical weapons and restoration. Business experience and interests are in energy and defense technology.
ATTENTION READERS
We See The World From All Sides and Want YOU To Be Fully Informed
In fact, intentional disinformation is a disgraceful scourge in media today. So to assuage any possible errant incorrect information posted herein, we strongly encourage you to seek corroboration from other non-VT sources before forming an educated opinion.
About VT
-
Policies & Disclosures
-
Comment Policy
Due to the nature of uncensored content posted by VT's fully independent international writers, VT cannot guarantee absolute validity. All content is owned by the author exclusively. Expressed opinions are NOT necessarily the views of VT, other authors, affiliates, advertisers, sponsors, partners, or technicians. Some content may be satirical in nature. All images are the full responsibility of the article author and NOT VT.