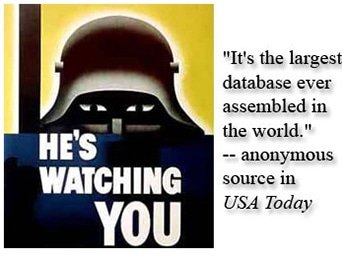 Holmes in Aurora, Illegal Surveillance, More
There are two consecutive disinformation operations, out of many dozen, that have caught my attention.  One is the "Holmes" shooting at the movie theatre in Aurora, Colorado and the other is the Sikh Temple shooting in Wisconsin.
I have remained silent on these, especially Aurora, while claims of secret "Libor" testimony and "gun seizure" emails have "muddied the waters" and misled anyone who would follow the flood of real facts that show these events, as with almost all similar, to be something other than random.
I believe in random mass murder, I believe in insanity and I am, more and more, beginning to believe in pure evil.
What I also believe is that an organization, unnamed, as I don't know who they are or what their agenda is, one that can easily derail any police investigation or order a "stand down" to any behavior analytical system, exists.
There is a TV show called "Person of Interest" about a computer system that can predict human behavior based on algorithms that identify people and vehicles and discern patterns of behavioral probability that one of more of the nearly million things any American may do that is technically a "felony" might happen.
[youtube 68xN_BNYhc4]
The "cover and deception" for illegal and draconian supervision of Americans always involves imaginary terrorism that so often becomes real when individuals tied to Army psychiatric units tend to "go crazy" and kill people.
Each episode, as with Aurora, has witnesses identify multiple shooters, like in the Breivik/Norway incident and most others and, as with Lee Oswald, the one caught is drugged or suffering from what I would diagnose as an induced psychosis.  I am not entirely inexperienced at this as some who recently had the chance to go "head to head" with me found.
In fact, this is exactly what I do for a living along with a group of military intelligence, FBI, SAS and other professionals on several continents.
Is this unique?
Not hardly!  This is a normal job for someone with the training and background about 40% of those at VT or affiliated defense contracting firms.
"Psyops" began long before Vietnam or Central America or Angola or a dozen other places we won't name but many of us spent over several hundred combined years, some as enemies, later friends, learning our craft.
Now we are seeing it used against the United States and, in some of the cases, in manners inconsistent with geopolitical or military necessity and rationality.
I am speaking for more than a few when I say we are clearly discerning an "operational hand" at work, one characterized by psychosis and delusion, one with little or no grasp of professionalism.
America is suffering from a malignancy that will require radical solutions, surgery, even amputation.
I am reminded of the words of General Norman Schwartzkopf at a press conference prior to the outbreak of full-scale fighting in Operation Desert Storm:
[youtube 7BaSwaBPg6M]
It doesn't take a genius to see that Schwartzkopf has been replaced by the Marx Brothers.
Yesterday, the CATO Institute complained because I used a few lines of quote from one of their writers, a talented young man, which was reprinted in Iran.
I would remind them, were there a real threat, who the hell do they think would protect them?
This is the problem, the manufactured threat and the mass murders we are seeing.
[youtube SlBys93yzLY]
As I tend to address things to co-workers and professionals, we will avoid admitting that some manufactured crises are part of a larger globalist agenda that may actually tend to secure both the dollar and American security.
Those of us not brain dead stumble over these operations, note them, and move on.
We also stumble over things that, when looked at through chaos theory, tend to destabilize, threaten uncontrollable circumstances and are wildly irresponsible.
The patterns of domestic surveillance, electoral irregularities in the US, the movement of too many naval resources to the Persian Gulf, these are mistakes and Panetta and Petraeus should see that and discuss with the president how things can go wrong.
What is obvious is that we are moving away from war over Iran but are not moving toward a solution of the diplomatic problem, primarily because any initiative during an election year would be seen as weakness.
If Iran, a nation where I am read, were to make such an initiative, a powerful one, publicly, through a respected third party, it would be an excellent move.
The time is now.
Nixon did it with China.  America needs to do the same, with Iran reaching out, a bi-partisan America.  I have no idea how to talk to Netanyahu about this but, if needed, I will meet with him myself as we seem to have close friends in common.  I find that quite amusing actually.
This is not a time for winning or losing, but a time for "pulling back from the brink," seemingly a brink few seem to understand.
There is another brink, one here in America.  We have gone too far in splitting our country apart, taking freedoms, impoverishing half our nation, gutting our middle class, it has to stop.
I couldn't be more disappointed with Washington.
Yesterday, I was contacted by a minor functionary at the Cato Institute because Press TV carried a quote of mine from a David Rittgers, former US Special Forces.  I can't help it, I was impressed with what he had figured out and I am no fan of the CATO Institute, a group obsessed with pulling in cash from the insurance lobby.
Whether it were Ron Paul or Rittgers or anyone, the task being restoring democracy, getting rid of Homeland Security, erasing unconstitutional laws and making America one nation again is the only task for most Americans.
The electoral process is, as currently functioning, very unAmerican and very destructive.  It has placed money and power over truth, honor and justice and has turned America into a place increasingly bleak, increasingly dangerous and increasingly unsurvivable.
No more police pretending to be army, no more cameras, no more tapped phones and internet, no more massive databases that predict the next time we will have to go to the bathroom.
We are surrounded by Orwellian types who are flaming morons and they have the power and are gaining control.
Either we, the people, take our nation back or something bad is going to happen and the Orwellian types and their computers and cameras may not like it.
Gordon Duff posted articles on VT from 2008 to 2022. He is a Marine combat veteran of the Vietnam War. A disabled veteran, he worked on veterans and POW issues for decades.
Gordon is an accredited diplomat and is generally accepted as one of the top global intelligence specialists. He manages the world's largest private intelligence organization and regularly consults with governments challenged by security issues.
Duff has traveled extensively, is published around the world, and is a regular guest on TV and radio in more than "several" countries. He is also a trained chef, wine enthusiast, avid motorcyclist, and gunsmith specializing in historical weapons and restoration. Business experience and interests are in energy and defense technology.
ATTENTION READERS
Due to the nature of independent content, VT cannot guarantee content validity.
We ask you to
Read Our Content Policy
so a clear comprehension of VT's independent non-censored media is understood and given its proper place in the world of news, opinion and media.
All content is owned by author exclusively. Expressed opinions are NOT necessarily the views of VT, other authors, affiliates, advertisers, sponsors, partners or technicians. Some content may be satirical in nature. All images within are full responsibility of author and NOT VT.
About VT
-
Read Full Policy Notice
-
Comment Policy