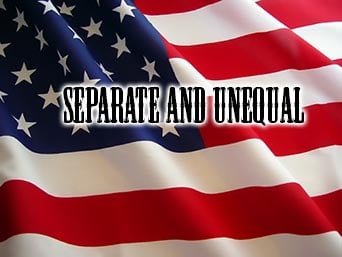 America was and for a long times is a two nations, separate and unequal. The US Supreme Court did rule in Brown vs. Board of Education that 'separate" even if "equal" is unconstitutional. However, the US Constitution, the Supreme Court, the two party systems, and the political and economic system failed to make this nation a one nation indivisible with liberty and justice for all.
Yes, candidate Mitt Romney is right about certain people who think they are entitled to government hand out and benefits, but he got it wrong, both wrong on the percentage and on who are these 47%.
As I see it, Mitt could be right when he claims that certain people think they are entitled to government hand out and in this case it is not the 47% (Obama voters) but the 1% who are the biggest recipient of government benefits and entitlements, receiving tax breaks and incentives far outweigh the benefits individuals receive.
Mitt Romney 1 % is entitled to tax breaks that we 47% are not entitled to. Many millionaires and multi-national corporations hardly pay any taxes while receiving tax incentives. Congress both Republicans and Democrats do keep writing tax codes that benefits corporations and high net individuals giving them tax breaks and incentives that average Americans are not entitled to. Worst yet they get these tax breaks and incentives for putting people out of jobs and exporting productions over seas. Complicated Tax Codes that takes experienced and highly paid lawyers and tax accountants to figure out how these individuals and corporations can cheat the government out of taxes.
Over the year a more ideologically driven Republican Party (thanks to the likes of Edelson and Kotch Brothers) emerged more and more like the KKK with its economic and social agenda directed toward the majority of Americans, and no thanks to a boneless, indifferent Democratic Party that lost the will and the vision to represent the majority hard working America. We are two nations separate and unequal.
To see what I am talking about, we all should take a short drive or even a walk in our cities and towns and see the two America's I am talking about, America that is separate and unequal. Separate and unequal in housing, in public schools, schools, in jobs, in opportunities, certainly in education, more troubling is the two party system that is taking the country to ruins.
Just look at the neighborhoods and see the difference. Just look at the schools and see the bigger difference, just look at the bus lines and see the difference, look at the housings in the suburb and in the rundown downtown and in the old neighborhood.
We are a nation of have and have not. A nation where the 1% think that the 99% are there to serve their interests, with CEO earning more than the entire payroll of the hundreds if not thousands who do the work and are at the production line.
I could never forget the shock of seeing the two America as I rode the train from Chicago to Ft. Polk, Louisiana on my way to basic training. I thought Gary, Indiana was bad but I could never imagined that America of "Payton Place" could be so run down with tin roof shacks doting the landscape in Mississippi and Louisiana. Not much change as I traveled today to South and North Carolina, to Tennessee and Georgia even West Virginian and Florida. Not much change in these small towns and in big cities. In fact they became much worst place to live with no jobs and no factories only hamburger joints, KFC and the ever-present Wall Mart.
Here in the Washington DC, the nation capital, things are changing, with rich developers buying Black owned run down properties and homes replacing them with high end condos selling and renting them to highly paid white kids and chasing these poor Blacks out into the wilderness looking for a place they hardly could afford.
Washington is a city with Black majority does not offer its citizens highly paid jobs with most working in food service industries at a minimum wage and as security guard even if a Black is sitting in the Oval Office. Nothing has changed for the majority of Americans, Blacks, White and Hispanic. The gab between the have and the have not has widened over the years and it is unlikely it will ever become narrower.
This election is very important not only for this nation but for the world. Even though I am very disappointed with Barack Obama as a president, he failed to deliver the CHANGE he promised and he failed to take on a Republican Party and administration that delivered the country in financial and economic ruins and he failed to bring the useless worthless, financially corrupting wars in Iraq and Afghanistan to a quick end. True he did inherit a nation in ruins, but he should and could have with some courage delivered a fatal blow to the Republicans and he failed to do that. I guess he did not have what it takes to take the Republicans on.
Well, we shall see if Mitt Romney is wrong about the 47% of Americans who feels they are entitled to government benefits.
Well, Mitt Romney as a member of the 47% and a tax payer paying an average of $40,000 in annual taxes, you bet I am entitled to every benefit this government offer, and I have no sense of shame or regret. I do pay for these benefits, not you nor your rich friends who fleece the treasury and corporation are doing me a favor, it is my money and I am entitled to it.
Sami, a Palestinian-American and a US Army Veteran (66-68), recipient of the "soldier of the month award and leadership award from the 6th Army NCO Academy, is an international legal and business consultant with over 40 years of international experience, in construction, hospitality services, conservation, and defense, in the Middle East, Europe, and North Africa. Sami is a holder of BA, MPA in Public and Environmental Affairs, Jurist Doctor from Indiana University. While at IU he was elected class president, student government president and chairman of the Indiana Students Association,
Active in peace movement as a co-author of the pre-amble for the One State for All of its people and voluntary service program SalamNation. A frequent contributor on national and international affairs. He resides in the United States.
ATTENTION READERS
Due to the nature of independent content, VT cannot guarantee content validity.
We ask you to
Read Our Content Policy
so a clear comprehension of VT's independent non-censored media is understood and given its proper place in the world of news, opinion and media.
All content is owned by author exclusively. Expressed opinions are NOT necessarily the views of VT, other authors, affiliates, advertisers, sponsors, partners or technicians. Some content may be satirical in nature. All images within are full responsibility of author and NOT VT.
About VT
-
Read Full Policy Notice
-
Comment Policy