I ain't no academic terrorism-expert prostitute. I give it away for free here at VT.
Truth is, I gave up about $2 million in projected lifetime earnings at the University of Wisconsin (and/or elsewhere in the US academy) by refusing to "service" the official story of 9/11. Meanwhile, gainfully-employed "terror experts" like Patrick Clawson say pretty much the same thing I've been saying: The traditional way to take the US to war is to murder a bunch of innocent Americans in a false-flag attack.  The difference is that Clawson is okay with that.
I wonder if he'd volunteer to be among the murdered? If not, I volunteer him.
Anyway, here is Elias Davidsson's new article on academic terror prostitution. May my former colleagues, the whores at the U. of Wisconsin and the other Bordellos of Higher Learning, read it and take a few pointers.
Disclaimer: While I agree with Elias that comparing non-9/11-truther academics to prostitutes is an insult to prostitutes, obviously Elias is less than serious when he calls prostitution an honorable occupation. When guys say that, I'll believe them as long as that's the kind of work they honestly want their kids and/or wives to go into.
-KB
Academic prostitution in the fiel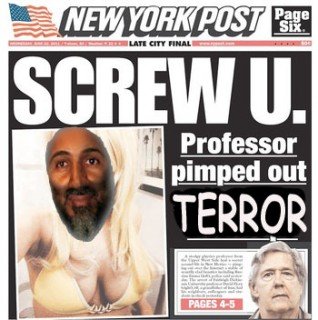 d of terrorism studies
by Elias Davidsson
The expression "academic prostitution" appears abusive.  It either conveys an apparently arbitrary disrespect to certain academics by comparing them to prostitutes, or conversely appears to equate sexual prostitution, – an honorable, if hazardous, occupation – with intellectual prostitution, a definitely dishonorable one.

There is no dispute that even those who honestly earn their academic titles can produce shoddy scholarship, rely on dubious sources or draw spurious conclusions.  And even the best scholarship can be used or abused by the powerful for improper purposes.  Deficient scholarship or the abuse of good scholarship by third parties do not automatically transform the author into an academic prostitute.
What distinguishes the academic prostitute from the bad scholar are two main characteristics:  He/she must be somehow aware and reckless about the deficient quality of his/her products; and his/her motivation for producing the so-called expertise must be other than the quest for truth. The usual motivation for academic prostitutes is either the quest for fame or for financial gain, or both.  It is not always easy to distinguish the academic prostitute from one who genuinely believes in what he/she writes and unwittingly provides ammunition to powerful interests.  Academic prostitutes are often skillful in hiding their motives or garbing them in commendable clothes.  Yet, clues do exist.
While academic prostitutes are found in all fields of sciences, we submit that some fields virtually teem with such species, particularly those fields that directly serve the interests of powerful social agents: Political science, law, economics and communications. Since the decision was made by the governments of the most powerful states to elevate the myth of Islamic terrorism to the level of a serious threat to international peace and security, producing spin about terrorism has become a flourishing and rewarding industry.  As "Islamic terrorism" is essentially a racist myth, the maintenance of that myth in the minds of populations requires the constant production and dissemination of ideological junk. That's where the terrorism experts come into the picture.  Their precise role is to produce this junk.
Among the primary clues that give away a terror expert as an academic prostitute are the following:
(a) Did the expert acknowledge or remain oblivious to state terrorism, as the most devastating form of terrorism, including that pursued under the by now innocuous name of war?
(b) Did the expert acknowledge or remain oblivious to the evidence that the attacks of September 11, 2001 were most probably planned and executed under the authority of the U.S. Government?
While ordinary citizens, who do not claim expertise in the field of terrorism, may be genuinely oblivious to the nature of state terrorism and to clues about probable U.S. Government responsibility for 9/11, such presumption of ignorance does not extend to terror "experts".  It requires a fair amount of cynicism for a person even modestly acquainted with the field of terrorism, to ignore the devastating nature of state terrorism and disregard the mountain of evidence pointing to U.S. Government responsibility for 9/11.
Further clues that reveal "terror experts" as academic prostitutes can be found in their credentials. Those whose works are regularly published in mainstream newspapers or have been acting as consultants to the most powerful governments, may be presumed academic prostitutes, admittedl a rebuttable presumption.
Classifying a person as an academic prostitute is not a self-righteous act or a method to avoid dealing with an opponent's arguments. It serves a specific public utility: It constitutes a warning to the consumer to remain particularly vigilant towards the alleged expert's product. More generally, such classification seeks to provide a public warning to those tempted to cut corners in academic research in order to please those in power.
Dr. Kevin Barrett, a Ph.D. Arabist-Islamologist is one of America's best-known critics of the War on Terror.
He is the host of TRUTH JIHAD RADIO; a hard driving weekly radio show funded by listener donations at Patreon.com and FALSE FLAG WEEKLY NEWS (FFWN); an audio-video show produced by Tony Hall, Allan Reese, and Kevin himself. FFWN is funded through FundRazr.
He also has appeared many times on Fox, CNN, PBS, and other broadcast outlets, and has inspired feature stories and op-eds in the New York Times, the Christian Science Monitor, the Chicago Tribune, and other leading publications.
Dr. Barrett has taught at colleges and universities in San Francisco, Paris, and Wisconsin; where he ran for Congress in 2008. He currently works as a nonprofit organizer, author, and talk radio host.
ATTENTION READERS
Due to the nature of independent content, VT cannot guarantee content validity.
We ask you to
Read Our Content Policy
so a clear comprehension of VT's independent non-censored media is understood and given its proper place in the world of news, opinion and media.
All content is owned by author exclusively. Expressed opinions are NOT necessarily the views of VT, other authors, affiliates, advertisers, sponsors, partners or technicians. Some content may be satirical in nature. All images within are full responsibility of author and NOT VT.
About VT
-
Read Full Policy Notice
-
Comment Policy