Last week I announced we had finally completed http://www.yourmilitaryvoter.us website. This was a year-long undertaking to get to know the candidates running for national office and the governors who run the individual states. As we raced the calendar to have the site ready before the election, our constant battles with the stability of the software caused many sleepless nights.
In the process of developing a website that we could post data from all over the Internet and categorize it by state, senate seat, and house district so that visitors could find the most important information about those running for office amounted to 55MB of information. This posed challenges we had not anticipated and finally resorted to just furnishing website links to sites where readers could read the information they were looking for, rather than trying to encapsulated such information into an easy-to-read format. Had we chosen to provide all the details from the links themselves, our site would have been several hundred megabyte in size making it too cumbersome to function efficiently.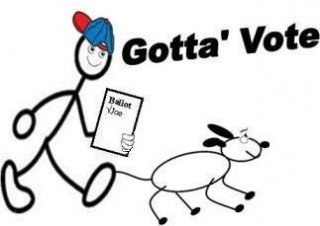 Because there was so much information on the Internet and from party headquarters, we essentially had to focus on a handful of really good voter information websites and narrow our resources to about a dozen. The challengers proved to be the most difficult to document as some offices had as many as ten candidates running against an incumbent. Most of these candidates were not candidates running under parties your father would have recognized. We identified more than 50 different political parties; platforms from just a handful of the better know political parties, and single agenda party websites that are taking advantage of one of America's most cherished freedoms…the right to run for office. Honestly some will never be taken seriously, and some were downright scary in their beliefs.
In the process of building this site it became an education in US history, sourcing information on candidates and parties that are running on ideas close to the mainstream, but many with ideas well beyond mainstream thought. We are probably one of the only countries on earth that actually has political parties with candidates that represent policies and ideas which our country went to war over, had to defeat in the era of the cold war, or whose policies have been challenged by freedom loving Americans since our inception. Parties like:
The American Nazi Party
The Communist Party USA
The Nationalist Socialist Party (for white supremacy)
United fascist Union (promoting the ideologies of Benito Mussolini and Saddam Hussein)
Workers Socialists Party (promoting communal ownership of America)
Socialist Action Party (the teachings of Karl Marx, Lenin, and Trotsky)
Socialists Equality Party
…Yet we allow them to participate in our democratic process, something of which we would most likely not be able to do if we were to adopt their political philosophies.
Never in my voting years have I studied politics like this past year. It is ironic that the 2012 election has brought our country to that proverbial "fork in the road" which Yogi Berra spoke about. Our nation is as divided as never before. Political rhetoric, name calling, outright falsehoods, and innuendos are enough to start a bar fight in many towns, but it has become clear that we are on the precipice of becoming a debtor nation like much of Western Europe and where many countries are collapsing under the fiscal weight of promises made to their citizen which can no longer be financially sustained, and in a free America which has become a beacon of opportunity and hope for the rest of the world.
Yes…this is serious business, and in this era where 50% of our citizens don't vote; where the "man-on-the-street" interviews reveal a large percentage of our population cannot even name one Supreme Court Justice, can't name the Vice President, the Speaker of the House, or what state is due north of South Dakota, and where the majority cannot name their state's Senators or their Congressional Representative, we are a nation in trouble.
We have schools that do not teach and cannot discipline, and we have a government, going on four years, which cannot even develop an annual budget for our country. In addition, we have a country with enough reserve petroleum energy to power America for centuries to come yet we are told we must continue buying petroleum from countries that hate us borrowing from China to do so. This is impoverishing future generations of our children and grandchildren with debt they simply cannot pay. And finally, we have 24 million people unemployed when the answer is to turn on our own energy exploration and turn the US into the world's largest energy provider.
Most of our youth have no idea what lies ahead for them. They giggle, laugh, and tweet-on, impervious to what is awaiting them when they graduate from high school. We as parents have protected them from reality, allowing them to believe Friday night high school football and the latest rap and hip-hop music, are the most important things in life. Most schools are not teaching the economic perils we face as a nation, nor really preparing them for the cold cruel life after graduation where many will be cast to their fate seeking jobs where none are available, and where a college degree may not be worth the paper it is written on…and Nero fiddled while Rome burned.
All great societies in history have disappeared, not usually at the hands of some other great society, but by collapsing from within. Are we going to allow that to happen in America, or are we going to face our country's challenges with renewed vigor, engage in the philosophies and practices which made America the envy of the rest of the world. The choice has never been more clear and reflecting back on Yogi's thoughts about being at "the fork-in-the-road", are we going to just do a coin toss, or are we going to choose the right path by clear thought and assessment? It is time we follow Kennedy's seemingly forgotten words, "Ask not what your country can do for you, but what you can do for your country".
Following his service in the Marine Corps Ed Mattson built a diverse career in business in both sales/marketing and management. He is a medical research specialist and published author. His latest book is Down on Main Street: Searching for American Exceptionalism
Ed is currently Development Director of the National Guard Bureau of International Affairs-State Partnership Program, Fundraising Coordinator for the Warrior2Citizen Project, and Managing Partner of Center-Point Consultants in North Carolina.
Mr. Mattson is a noted speaker and has addressed more than 3000 audiences in 42 states and 5 foreign countries. He has been awarded the Order of the Sword by American Cancer Society, is a Rotarian Paul Harris Fellow and appeared on more than 15 radio and television talk-shows.
ATTENTION READERS
We See The World From All Sides and Want YOU To Be Fully Informed
In fact, intentional disinformation is a disgraceful scourge in media today. So to assuage any possible errant incorrect information posted herein, we strongly encourage you to seek corroboration from other non-VT sources before forming an educated opinion.
About VT
-
Policies & Disclosures
-
Comment Policy
Due to the nature of uncensored content posted by VT's fully independent international writers, VT cannot guarantee absolute validity. All content is owned by the author exclusively. Expressed opinions are NOT necessarily the views of VT, other authors, affiliates, advertisers, sponsors, partners, or technicians. Some content may be satirical in nature. All images are the full responsibility of the article author and NOT VT.