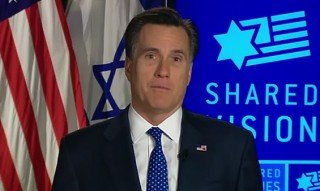 by Ralph Forbes (featured guest, along with Bev Harris of BlackBoxVoting, on the Kevin Barrett show election day special, this coming Tuesday, Nov. 6th,  11 a.m., NoLiesRadio.org, archived here)
Mitt Romney, Benyamin Netanyahu—and the enigmatic Orit Gadiesh (pronounced o-REET GUH-deesh)—crossed paths circa 1973 when Bill Bain and 6 partners left BCG (Boston Consulting Group) to form Bain and Company. In 1984 Bain, Romney and two other partners form Bain Capital, which amoeba-like, split off from the parent company. They were separate—yet somewhat incestuous. It started with $37 million—but within a year business Romney's Bain Capital was about to go out of business—until Mitt teamed up with Leo Kahn and Thomas G. Stemberg and started Staples. Romney gained total control via the management company, Bain Capital Inc.—but the evidence shows that Mossad was the secret controlling partner.
Bill Bain and partners created an employee stock ownership plan—then took $200 million out of it for themselves—nearly drowning the firm in debt. Romney took over as CEO of Bain & Company from January 1991 to December 1992 ousting Bain and the other founding partners—who returned at least $130 million to the company. In November 1993—after Orit Gadiesh was appointed Chairman of the Board—Romney took a leave of absence for his unsuccessful 1994 run for the U.S. Senate seat from Massachusetts. Mitt returned the day after he lost the election in November 1994.
Orit Gadiesh who—like Netanyahu, implicated in a smuggling ring stealing America's nuclear weaponry—has deep connections with Mossad and military intelligence. "Coincidently" she joined Bain & Co. in 1977. She was born in Israel in 1951—the daughter of Israeli Brigadier General Falk Gadiesh, who reorganized the Israeli army in the early 1950s—she spoke Hebrew and had to learn English to attend Harvard.
The 6 feet tall Gadiesh, who is known for sporting purple hair, long red finger nails, flamboyant jewelry and short black mini-skirts, was 26 when she joined Romney and cohorts. Before that Gadiesh's résumé starts as an assistant to Ezer Weizman, the deputy chief of staff, who later became president of Israel.  She also worked in the war room, a bunker where Gen. Moshe Dayan—who ruthlessly ordered the sneak attack on the U.S.S. Liberty—killing and maiming defenseless American sailors and Marines—was in charge.
Fortune and Forbes Magazine routinely name Gadiesh one of "The 100 Most Powerful Women in the World." She attributes this to her training in military intelligence.
By 1992, she was Bain Capital's* managing director under CEO Mitt Romney. By 1993, Romney put her in charge of Bain & Co. Gadiesh was also a key member of his transition team when he became governor of Massachusetts in November 2002. She is a dual citizen who says, "I also care a lot about Israel . . . We had a team from Bain and Company working on this [peace plan for Israel] as well, pro bono, obviously. It was exciting."
In 2007, just before his first run for President, Mitt Romney made a campaign speech to the "Herzliya Conference on Israeli Security." This was not Romney's first pandering to Mossad. Some speculate he sold his soul to the devil in return for worldly profits as long ago as 1976—if not before.
In December, 2011, Romney said, if elected President, he would not make any significant policy decisions about Israel without consulting Netanyahu. ". . . I'd get on the phone to my friend Bibi Netanyahu and say: 'Would it help if I say this? What would you like me to do?'"
Martin S. Indyk, the United States ambassador to Israel in the Clinton administration, said Romney's statement implied that he would "subcontract Middle East policy to Israel."
Homeland Security torments routinely grandmothers and baby girls without any reason—so when there is so much overwhelming evidence—and space limits us to present only the tip of the iceberg—to cause irreparable damage to the American people—why shouldn't Congress, the DoJ, FBI and everyone charged with protecting the Constitution and the lives, liberties and prosperity of every American, to mark Bain, Mossad, Romney, Orit Gadiesh, et al, on their highest priority, sina qua non, existential exigent circumstances investigations?
There is lots of suggestive evidence that Ms. Gadiesh is a sayanim. Romney is certainly a Zionist zealot. *
Who should Mossad award the medal too, Netanyahu—or Gadiesh?
– 30 –
* —almost certainly a Noahide, a Noachite (an extreme shabbez (shabbos) goy) who like Senator Elbert Thomas, Democrat of Utah, who conspired with Benzion Netanyahu (Bibi's father) and Hillel Kook in the 1930s and 40s to deliver the constitutional government of the United States of America into the hands of the anti-Christ Zionists.
Mitt Romney, Benjamin Netanyahu and Israeli intelligence crossed paths in 1976. It was on the 16th-floor offices of the Boston Consulting Group (BCG), where they both were corporate advisers. Within a year 7 former partners of BCG left to form Bain & Co. in 1977.
* Bain & Co. and Bain Capital, etc. are supposedly "separate corporate entities."
Gadiesh is also on the board of directors of the Peres Center for Peace, headed by Lt. General Amnon Lipkin-Shahak, a former chief of staff of the Israeli military. The executive board includes such luminaries as Mossadnik Avner Azulay, managing director of the Marc Rich (pardoned by Clinton) Foundation. Who says Republicans and Democrats can't work together?
Dr. Kevin Barrett, a Ph.D. Arabist-Islamologist is one of America's best-known critics of the War on Terror.
He is the host of TRUTH JIHAD RADIO; a hard driving weekly radio show funded by listener donations at Patreon.com and FALSE FLAG WEEKLY NEWS (FFWN); an audio-video show produced by Tony Hall, Allan Reese, and Kevin himself. FFWN is funded through FundRazr.
He also has appeared many times on Fox, CNN, PBS, and other broadcast outlets, and has inspired feature stories and op-eds in the New York Times, the Christian Science Monitor, the Chicago Tribune, and other leading publications.
Dr. Barrett has taught at colleges and universities in San Francisco, Paris, and Wisconsin; where he ran for Congress in 2008. He currently works as a nonprofit organizer, author, and talk radio host.
ATTENTION READERS
We See The World From All Sides and Want YOU To Be Fully Informed
In fact, intentional disinformation is a disgraceful scourge in media today. So to assuage any possible errant incorrect information posted herein, we strongly encourage you to seek corroboration from other non-VT sources before forming educated opinion. In addition, to get a clear comprehension of VT's independent non-censored media, please read our
Policies and Disclosures
.
Due to the nature of uncensored content posted by VT's fully independent international writers, VT cannot guarantee absolute validity. All content is owned by the author exclusively. Expressed opinions are NOT necessarily the views of VT, other authors, affiliates, advertisers, sponsors, partners, or technicians. Some content may be satirical in nature. All images are the full responsibility of the article author and NOT VT.
About VT
-
Comment Policy