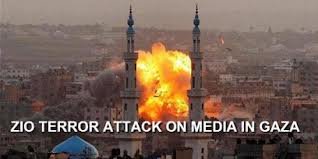 If you're a journalist, and you report something Israel doesn't like – such as the truth – Israel will try to blow you up.
Another sweet, loveable Zionist policy is their love of "wildly disproportionate retaliation." The Old Testament talks about an eye for an eye. Israel wants a hundred eyes for an eye.
In the spirit of Jonathan Swift, I modestly propose the following question: What would happen if anti-Zionists behaved like Zionists? What if anti-Zionists decided to target Zionist journalists using the massively disproportionate retaliation – the hundred-eyes-for-an-eye policy – favored by Zionists?
Specifically, what if anti-Zionists decided to kill fifty Zionist journalists for every journalist killed by the Zionists; to wound fifty Zionist journalists for every journalist wounded by the Zionists; and to bomb fifty buildings full of Zionist journalists for every journalistic building bombed by the Zionists?
It's not like there aren't a whole lot of fat, juicy soft targets out there. Almost every journalistic outlet in the US, and most journalistic outlets in Europe, are dominated by Zionist Jews, as former NY Times writer Philip Weiss, himself Jewish, admits. Weiss even admits that the Zionist Jews who dominate US media are working overtime as cheerleaders for their beloved Israel.
I guess that explains the nonstop genocidal Zio-brainwashing pouring out of every corporate media outlet in the land, 24/7/365.
Using the same cold, hard, borderline-psychopathic logic of the Zionists, one might say: these "enemy journalists" are legitimate targets.
Heck, the Zionist Jews dominate corporate media so completely, you could pretty much randomly blow up media buildings, and randomly fire at mainstream journalists, and be reasonably sure you were targeting Zionist war criminals or their accomplices.
Using the "hundred eyes for an eye approach," payback for Israel's bombing of the media building in Gaza would be simple and straightforward: Just bomb the New York Times building, the Washington Post building, the BBC building, and the headquarters of the top 47 other major newspapers and networks.
All of these outlets are so extreme in their rabid propagandizing for Israel, they make the Israeli paper Ha'aretz seem almost pro-Palestinian.
That means that the American journalists propagandizing for Israel, and the outlets that employ them, are "enemy combatants." And we all know what it's okay to do to enemy combatants.
Since Shakespeare suggested killing all the lawyers, I don't see why killing all the journalists would be going too far.
Some will quibble, saying "an eye for an eye eventually leaves everyone blind."
But a hundred eyes for an eye gets there a whole lot faster.
Too bad we don't all think like Zionists; if we did, the world would have gone blind a long time ago, and we wouldn't have to see all these horrors perpetrated on innocents.
Dr. Kevin Barrett, a Ph.D. Arabist-Islamologist is one of America's best-known critics of the War on Terror.
He is the host of TRUTH JIHAD RADIO; a hard driving weekly radio show funded by listener donations at Patreon.com and FALSE FLAG WEEKLY NEWS (FFWN); an audio-video show produced by Tony Hall, Allan Reese, and Kevin himself. FFWN is funded through FundRazr.
He also has appeared many times on Fox, CNN, PBS, and other broadcast outlets, and has inspired feature stories and op-eds in the New York Times, the Christian Science Monitor, the Chicago Tribune, and other leading publications.
Dr. Barrett has taught at colleges and universities in San Francisco, Paris, and Wisconsin; where he ran for Congress in 2008. He currently works as a nonprofit organizer, author, and talk radio host.
ATTENTION READERS
We See The World From All Sides and Want YOU To Be Fully Informed
In fact, intentional disinformation is a disgraceful scourge in media today. So to assuage any possible errant incorrect information posted herein, we strongly encourage you to seek corroboration from other non-VT sources before forming an educated opinion.
About VT
-
Policies & Disclosures
-
Comment Policy
Due to the nature of uncensored content posted by VT's fully independent international writers, VT cannot guarantee absolute validity. All content is owned by the author exclusively. Expressed opinions are NOT necessarily the views of VT, other authors, affiliates, advertisers, sponsors, partners, or technicians. Some content may be satirical in nature. All images are the full responsibility of the article author and NOT VT.