SIAL  World's Largest Food Show Paris, France
SIAL , the world's largest food show for professionals comes to France once every two years.  This year it was held from October 21-25 at the Parc d'Expositions in Villepinte near Paris.
VT Paris Bureau journalists Didier Lambert, Gennady Sevastanov and I went to see what was new and meet the contacts we made two years ago. We found several interesting developments and learned about the new food trends. This year attendance increased 10.2% compared with 2010.
There were 150,192 professionals of whom 62.8% were international visitors from 200 countries. 76% of the visitors came to discover new products. Sial has food areas divided by halls. In Halls 1 ,2, 3 and 4there were national pavillons.
Hall 5 featured fruits and vegetables, jams and jellies, groceries and seafood; In Hall 6 there was meat and tripe and cold cults; Hall 7 featured drinks; Hall 8 had biological products. There are also conferences and food demonstrations.
We enjoyed the hospitality offered by the organizers in providing a press room with refreshments and computers.
This year SIAL TV was direct on You Tube.
The stands gave out free samples encouraging visitors to taste their delicious food. Countries showed off their culinary skills.  A lady from Switzerland made fondue and a lady from Silver Hill Foods, an Irish company, cooked delicious duck.  Also there was great ham from Spain, cheese from various countries, beef from Argentina and USA. There was Le Palais de Thai which featured loose and pre-packaged tea.
My friend, Dr. Gupta, from Luca wines invited us to taste his wine in the APEDA booth in the Indian pavilion.   We  liked  Luca  brand unique  great mango, lychee and rosé wine. The mango wine was fruity had the taste of fine mangos.The lychée wine was delicious.  Both wines have the Luca slogan ¨nectar of the tropics."  These fruit wines can be enjoyed as with appetizers  and also particularly  with  Asian food. We found the sparkling She Edible rosé wine unique and very fresh tasting.
The bottle comes with a sign"  fresh, bubbly, exciting, intriguing, mysterious, seductive, sparkling  TAKE  ME HOME TONIGHT" which one female visitor to the booth wanted to wear. We all laughed. We thought the rosé wine could be served by itself  and would go well salads and seafood.
There was also grape wine from Grover Wines  served by Sumit Jaiswal who told visitors about the wine and his trips to their countries  and the famous Kingfisher beer. Mr. Kumir from APEDA did a good job organizing the booth.  Magandeep Singh,a sommelier, was very cordial to the visitors.  Across from the booth serving wine was a booth serving curried rice. It was very spicy and went well with both the Indian wines and the beer.
Erwin Weber whom I met at SIAL 2010 invited me to visit him at his booth. He works for Distlleries La Huertana and showed me their great line of flavored vodka, rum and other spirits. I tasted the apricot vodka and liked it very much. It is one of his new products. He used to sell wine and told me that he sells wine to a lady in Massachusetts.
I told him I have been calling a lady in Massachusetts who rarely returns my calls. As soon as I said this I realized that Robin Weber has the same last name as Erwin. She is his sister-in-law. I called Robin and she told me that she helps veterans. She worked for EMC for fifteen years. Her boss, Ltc. Vincent Perrone is a retired CEO of Veterans Inc www.veteransinc. org .
They helped over 50,000 veterans since 1991.
There was entertainment from different countries. We enjoyed seeing the mariachis from Mexico perform in the Mexican section.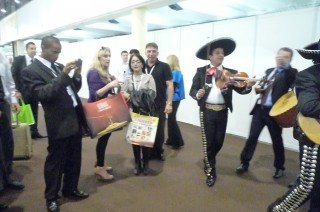 Innovation was key and 18 products received awards.  People want convenience, healthy food and they want enjoyment from the food.  The trends today are value for money. In today's economy people are looking for economic packing meaning large packages for them to save money. They also like food with a few  pure, natural ingredients.
The idea of being able to do your own cooking fast and easily is appealing. The products were  that were presented for awards were unique including a liquid salt spray, a kit that enables people to prepare tarts and a lobster oil to season foods with. I even saw an instant guacamole mix – just add water! The last day of SIAL people get free food from the booths when the companies do not want to take it with them. People come with large shopping trolleys and also bring cars and mini-vans to take the food home.
We came with a mini van and got lots of cheese samples, ham and some baked goods.  The Red Cross had 200 volunteers taking food from the booths to give to the needy. All the people that we spoke to said they were happy with SIAL 2012. It fulfilled their objectives of meeting the food producers they knew and other ones and finding new trends.  The visitors enjoyed their time at SIAL and felt it was worthwhile.
Jane Rosenstein is a U.S. citizen living in Paris, France. She is a professional translator/interpreter. She is the owner of The International Connection which does international marketing consultation including sales of wine, interpretation, and translation.
She enjoys the cultural life that living in Paris offers and has talents in organizing events. She speaks English, French, and Spanish. She has a B.S. degree in mathematics from the University of Pittsburgh and an M.B.A. degree from Georgia State University in Atlanta, GA.
ATTENTION READERS
Due to the nature of independent content, VT cannot guarantee content validity.
We ask you to
Read Our Content Policy
so a clear comprehension of VT's independent non-censored media is understood and given its proper place in the world of news, opinion and media.
All content is owned by author exclusively. Expressed opinions are NOT necessarily the views of VT, other authors, affiliates, advertisers, sponsors, partners or technicians. Some content may be satirical in nature. All images within are full responsibility of author and NOT VT.
About VT
-
Read Full Policy Notice
-
Comment Policy