DISCLOSURE: VT condemns the horrific tragedy committed by the NAZI Party against Jewish Citizens of Europe during Word War II known as the "Holocaust". VT condemns all racism, bigotry, hate speech, and violence. However, we are an open source uncensored journal and support the right of independent writers and commentors to express their voices; even if those voices are not mainstream as long as they do NOT openly call for violence. Please report any violations of comment policy to us immediately. Strong reader discretion is advised.
---
By Sir Vojislav Milosevic, Director, Center for Counter-terrorism
"The omission of Croatia from the conventional Holocaust studies is like a book whose first chapter is torn out"…Jonathan Steinberg, Professor of Modern European History, Harvard&Cambridge University
"Croatia is expected to join the EU in July 2013."
Nazi Cro. Ante Pavelic, 1941-1945, became a SIS (MI 6) member since 1926 in Melbury Road, London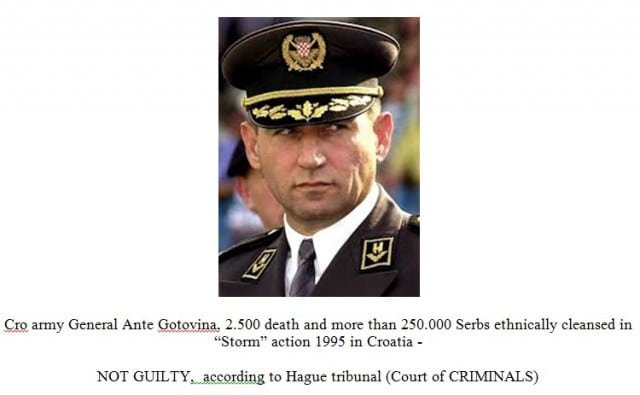 A former Croatian military commander went on trial for war crimes stemming from a 1995 operation against Croatian Serbs. General Ante Gotovina, 52, faces charges including murder, wanton destruction of cities, towns or villages, inhumane acts and plunder. He has pleaded not guilty to all charges. Investigators say he was one of the leaders of "Operation Storm," which aimed to "retake" the Krajina region of Croatia from the Serbs who lived there for centuries.
About 250,000 ethnic Serbs were driven from Croatia in 1995 and at least 2.500 were killed in a military offensive in Krajina known as Operation Storm.
General Ante Gotovina was assisted in creation of ethnic cleansing plans by George Tenet, who was appointed Deputy Director of CIA in July 1995. They worked together on that monster plan in one military camp in Zadar, Croatian Adriatic coast town. Tenet was officially appointed Director CIA on July 11, 1997, after a unanimous confirmation vote in Senate.
On May 7, 1999, during the illegitimate war against Serbia and Montenegro, US bombers struck the Chinese embassy in Belgrade with five JDAM precision guided bombs, killing three Chinese reporters and injuring 20 others. The USA CLAIMED the attack was accidental. In testimony before a congressional committee, Tenet later admitted the strike was the only one in campaign organized and directed by his agency – CIA!
The operation was planned to take the region from Serbs, and was ordered by Mr Tudjman, war criminal and President of Croatia. The Croatian leader died in 1999 while under investigation by The Hague tribunal.
The aftermath of the war is a key issue both in Croatia's domestic politics and its external relations.
The European Union made it clear to former Yugoslav republics that they will not be considered for membership until war criminals were brought to justice. It means that no Croats from Croatia (as opposed to Croats from Bosnia-Herzegovina) have been convicted by the UN's war crimes tribunal.
Meanwhile, Serbian President Tomislav Nikolic condemned the verdict as "political", saying it "will open old wounds".
"Karl-Hans Genscher wrote: Ustashe were pushing sizzling needles under one's nails and putting salt into open wounds. They mutilated and crippled all body parts. They enjoyed the most of cut off victim's nose and ears while she is still alive, as well as gouging her eyes out. The Italians have photographed one ustashe who had a necklace made of tongues and human eyes around the neck.
This is how famous Italian writer Curzio Malaparte described his meeting with Ante Pavelic in his book "Kaputt": While he spoke (Pavelic, ustashe leader) I gazed at a wicker basket on the Poglavnik's (Fuhrer's) desk. The lid was raised. "Are they Dalmatian oysters" I asked Poglavnik. Ante Pavelic said smiling, " It is a present from my loyal ustashes. Theese are 40 pounds of human eyes"
The pope Pius XII receives and Pavelic, giving him his blessings and rosaries as his present.
Jakob Altmeier: "World history remembered many of genocide and mass murderers. However, none of them was that fierce to ask to be served eyes of his victims in wicker baskets. That was the speciality of Pavelic and his ustashe."
Dr Herman Neubacher, Hitler's trustee for South-East Europe:"Croatian military campaing of exterminating Orthdox Serbs represents one of fiercest crimes in entire world history".
From Neubacher memoires "Special task in South-East Europe 1941-1945, report of one flying diplomat".
German commander for South-East Europe, General-Oberst Alexander von Lehr, believed that Croatians are not able to run the country by themselves. He asked for disband of ustashe government, and believed that ustashe massacres of Serbs strengthen the national liberation forces of Yugoslavia.
Glenst von Horstenau, Hitler's representative in Zagreb, shared the same view about Pavelic:"Falsehood and deceitfulness, are the main characteristics of this head of state that we insataled. Shave off all his head, give him the prisoner uniform, and you will have the example of the worst criminal.
Dr Herman Neubacher asked Hitler personally to get rid of Pavelic. He was unsuccessful. Source: U.S. military intelligence, interrogation in 1945.
JASENOVAC, Concentration death camp
Death camps opened in Jasenovac, Jadovno, Pag, Ogulin, Jastrbarsko, Koprivnica, Krapje, Zenica, Stara Gradiska, Djakovo, Lobor near by Tenja city.
Writer Genscher wrote:"The sons of St Francis the Assyrian, whose monasteries served as ustashe arsenals for a long time, were particulary rigorous in exterminating the Orthodox. Father Augustin Devola walked with the gun while wearing his mantle and telling people to kill the Orthodox.
Dr Ivo Guberina, a priest and the leader of Catholic Action and at the same time a chaplain of Pavelic's personal guard, wrote this on the 7th of July:"Croatia must cleanse its system in all ways possible, including by the sward."
Karl-Hans Genscher mentions priest Bozidar Bral, who took part in murdering 180 Serbs in Alipasin Most, and later danced a merry dance around the victims, with the ustashe. He often repeated:"When we finish slaughtering Serbs, we will settle the score with Moslems."
Priest Franjo Matica tells the Serbs:"God is in heaven, ustashe on Earth, Jasenovac in between, you took your pick."
During Grman-ustashe offensive on Mount Kozara, in late spring 1942, the gratest number of Serbs was deported to Jasenovac death camp. The operations were led by German army HQ and Kurt Waldheim was one of the officers.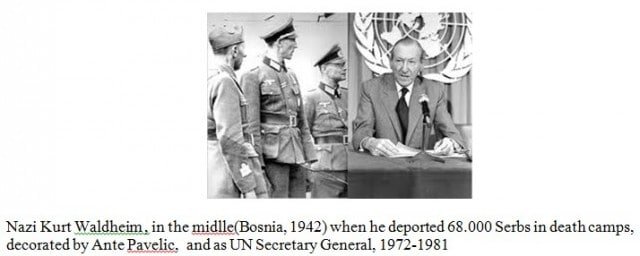 Andrija Artukovic, the butcher of Balkans, and other prominent leaders of "independent state of Croatia" were bragging to Hitler that they exterminated Jews better than he did, in "independent state of Croatia". Only in death camp Jasenovac, 35.000 Jews were eliminated. By thousands of men, wemen and children were killed on the spot. By order of General Stahl, 68.000 Serbs were deported to ustashe death camps.
Poglavnik Pavelic decorated general Stahl. On the same occasion, Kurt Waldheim receives an ustasha decoration.
Friar Miroslav Filipovic, a chaplain of Petricevac monastery, took an ustasha oath as early as 1940. He organized the massacres in Drakulic, Sagovo and Motike, villages around Banja Luka. He first killed the child od Djuro Glamocin, saying;"Ustashe, this is in the name of God". Then they murdered 1.500 men, women an children by axes and hoes.
A beast in human form, Francisan Miroslav Filipovic, a most blod-thirsty of all cutthroats, becomes the commander of Jasenovac death camp. He took part in mass murders of women and children, and nicknamed "Fra Satan". He used to pray to God after massacre, covered with blood. His fuhrer Ante Pavelic was giving confession every day, in his personal chapel. HE WAS A GOOD Catholic, unlike his bosses, Hitler and Mussolini, who were atheists.
Franciscan executioner Miroslav Filipovic-Majstorovic, had the support of other priests in Jasenovac death camp, namely priests Brkljacic, Matkovic, Matijevic, Brekalo, Pcelina, Vipovac, who competed in killing more Serbs. Only one Franciscan priest, Pero Brzica, slaughtered 1350 inmates during one night in Jasenovac death camp.
The account of this event was given by Zile Friganovic, who claimed that he was the bloodiest ustashe in Jasenovac:"Franciscans Pero Brzica, Ante Zrinusic-Sipka and me, made a bet on who will kill more inmates in one night. The slaughter began and after one hour I was well ahead of all the rest by the number of the slaughtered.
Some unusual delirium came over me that night, I felt like in seventh heaven. I never felt such bliss in my whole life. After several hours, I managed to kill 1.100 people, while others killed only 300-400 people. By chance, at the hight of my delirium, I took one glance on the side, and I saw one peasant man who was rather old.
He watched me slaughter my victims and witnessing them dying in pain, with some incomprehensible peace. His look struck me, I felt like I was petrified, and I lost the delirium feeling. I couldn't move couple of seconds. Then I approached him, and he told me that his name is Vukashin, from Klepci village near Capljina, and ustashe killed all his family. He was sent to Jasenovac death camp, for some forest works.
He was saying that with some inconceivable peace that struck me more than all horrifying cries around me. Suddenly, I got the flaming desire to break his peace and serenity by fiercest torture, and to restore my bliss in killing people by watching his pain. I singeled him out and sat him down on one stump. I ordered him to yell "Long live fuhrer Pavelic" or I will cut off his ear.
Vukashin was silent. I CUT OFF HIS EAR. He didn't say a word. I told him again, yell "Long live to fuhrer Pavelic" or I will cut off the other ear. He was silent again. I cut the other ear. "Yell "Long live Pavelic, or I will cut off your nose. When I ordered him to yell "long live Pavelic" for the fourth time or I will rip his heart out, he looked at me, as if he looked trough me into uncertainty, and said calmly and clearly:
"Just do your job, child".
These words of his made me go completely wild. I jumped at him, gouged out his eyes, rip his heart out, slashed his throat all the way from one ear to another, and pushed him into the whole by my legs. But, then somethingbroke inside of me, and I couldn't kill anyone else that night. Frnaciscan Pero Brzica won, by killing 1.350 camp inmates. I paid the agreed bet, without a word".
Director of Center for Counter Terrorism and World Peace (Centra za Anti-Terorizam i Svetski Mir). Milosevic graduated at the Faculty for Political Sciences in Belgrade in 1980 with postgraduate studies in Islamic fundamentalism. He has worked with UNESCO and UNCTAD, a journalist, counselor at the Protocol of the Federal Parliament, speaker, politician, and book author.
ATTENTION READERS
We See The World From All Sides and Want YOU To Be Fully Informed
In fact, intentional disinformation is a disgraceful scourge in media today. So to assuage any possible errant incorrect information posted herein, we strongly encourage you to seek corroboration from other non-VT sources before forming an educated opinion.
About VT
-
Policies & Disclosures
-
Comment Policy
Due to the nature of uncensored content posted by VT's fully independent international writers, VT cannot guarantee absolute validity. All content is owned by the author exclusively. Expressed opinions are NOT necessarily the views of VT, other authors, affiliates, advertisers, sponsors, partners, or technicians. Some content may be satirical in nature. All images are the full responsibility of the article author and NOT VT.