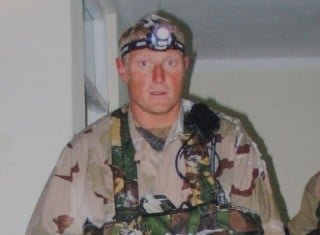 Justice for Sgt. Nightingale
—
By Michael Shrimpton
—
As most readers will know Sgt Nightingale of the SAS has now been freed.  He will be with his loving family for Christmas, which is great news.
His wife has shown great determination if I may say so and demonstrated that it's not just our military who have to be tough.  Military wives and families have to be tough as well.
The prosecution was an outrage.  It is not enough to reduce and suspend his sentence – he should be acquitted.   He was charged with the possession of a Glock semi-auto, a gift from the Iraqis, and some 300 rounds of ammo, most of which wouldn't fit the Glock.
Allegedly this was stored 'insecurely.'  Yeah, right.  Since when did was anything stored with the SAS stored insecurely?  I can just imagine a burglar trying to steal a weapon from the house of an SAS man.  They wouldn't need a stretcher, just a couple of bin bags.
The insurmountable problem for the prosecution was that Sgt. Nightingale suffered from provable memory loss following collapse and a coma on that 'fun' run.  Don't bother asking Michael go on a 132 mile fun run by the way!  I am happy perambulating.
It is a basic legal concept that possession involves knowledge of the thing possessed.  Problems arise in drugs cases where people agree to look after bags and don't look inside them.  In such a case you can be fixed with knowledge of the contents of the bag, i.e. the law imposes a duty on you to open a bag and check the contents.  That is not this case.
Bad lawyers (and there are plenty of those working on government rates) tend to equate physical and legal possession.  According to them, if someone, perhaps a Thames Valley
Police officer, to take a hypothetical example, slips a kee of cocaine into your bag at Heathrow Airport, you are then in possession of it and can go to prison.  No.
The House of Lords settled this question in two famous cases, called Sweet v Parsley and DPP v Warner.   In the former case, a sweet little old lady (she was Parsley, not Sweet!) let  a house to some uni students, who indulged in smoking some herbal substances that may not have been strictly legal.
According to the strict letter of the law she was guilty, as she was concerned in the management of premises where a spot of drug-taking was going on.  The only herbal substance she ever imbibed was tea, however.
The strict letter of the law was not the end of the story of course.  Aequum et bonum est lex legum.  That which is fair and just is the law of laws.  The law imported a requirement of mens rea – guilty knowledge.
There are some 'bag' cases involving firearms, where the Court of Appeal in England, with respect, has wobbled a bit, but they can be explained on the basis that you cannot just look after a bag for a bank-robber and claim you knew nothing about the sawn-off.
Let's hope the Courts Martial Appeals Court adopts an intellectually rigorous approach and quashes the convictions.
We still need to abolish the Service Prosecuting Authority, pull out of the European Convention on Human Rights and go back to having proper courts martial.
We also need to shake up the Royal Military Police.  That ridiculous prosecution of those marines, the one for murder without an autopsy (Dr. Quincy would never have approved!) still has not been dropped.
I am still angry about the attempted set-up of the US Marines at al-Haditha.  If you have friends in Marines Corps Intelligence Activity – good people – they may confirm to you, very quietly, that the civilians in that incident were murdered by al-Qaeda, long after the marines left town.  Once again there was no ballistics match, just an assertion that US ammo was used, which of course it would have to be, if you were Johnny Terrorist and you were in the business of smearing the US Marines Corps, one of the finest fighting forces in the world.
Michael Shrimpton was a barrister from his call to the Bar in London in 1983 until being disbarred in 2019 over a fraudulently obtained conviction. He is a specialist in National Security and Constitutional Law, Strategic Intelligence and Counter-terrorism. He is a former Adjunct Professor of Intelligence Studies at the American Military University.
Read Articles from Michael Shrimpton;
ATTENTION READERS
We See The World From All Sides and Want YOU To Be Fully Informed
In fact, intentional disinformation is a disgraceful scourge in media today. So to assuage any possible errant incorrect information posted herein, we strongly encourage you to seek corroboration from other non-VT sources before forming an educated opinion.
About VT
-
Policies & Disclosures
-
Comment Policy
Due to the nature of uncensored content posted by VT's fully independent international writers, VT cannot guarantee absolute validity. All content is owned by the author exclusively. Expressed opinions are NOT necessarily the views of VT, other authors, affiliates, advertisers, sponsors, partners, or technicians. Some content may be satirical in nature. All images are the full responsibility of the article author and NOT VT.