"The first casualty of war is truth." -Aeschylus
"The best jihad is a word of truth flung in the face of a tyrant." -The Prophet Muhammad, peace upon him.
A long line of military strategists, from Aeschylus in the west to Sun Tzu in the east, have concluded that all warfare is inevitably based on deception. More recently, contemporary thinkers such as Gwynne Dyer, whose book on war is one of the best introductions to the topic, have focused on the role of self-deception. Nobody who actually understands what war really is, Dwyer suggests, will ever willingly fight in one.
The central role of the lie in warfare was taken to a new level by the orches-traitors of the 9/11 inside job. But they wouldn't have succeeded without the self-deception of the masses in general, and the soldiers in particular. Polls showing that the vast majority of US soldiers in Iraq believed they were fighting to take revenge for 9/11 provide evidence of this extreme, psychotic  self-deception. After watching the three skyscrapers in New York being blown to smithereens by powerful explosives, the American people literally took leave of their senses, and have been living in a world of delusion ever since.
If a bunch of psychotics are trying to kill you based on a shared delusion, the best defense may be to disillusion them – in other words, to help them see the truth. Since all forms of tyranny and oppression are ultimately based on lies, "the best (defensive) jihad is a word of truth flung in the face of a tyrant."
The chief strategic purpose of 9/11 was to trick the US into destroying Israel's enemies in the Middle East. And Israel's biggest enemy – because it tells the truth about Zionism – is Iran.  That's why Iraq and Afghanistan were invaded: to surround Iran. The final act of the 9/11 wars was always supposed to be a US war on Iran for Israel.
The Iranians, who are said to have invented chess, have quite sensibly responded by creating international media channels that report the truth about these matters.
Here is my latest Press TV essay on the Iranian media's truth jihad:
And here is my latest appearance as a guest on Press TV, airing some unpleasant truths about Saudi Arabia and its relationship to the US and Israel.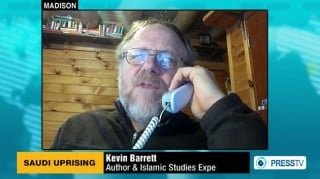 ATTENTION READERS
Due to the nature of independent content, VT cannot guarantee content validity.
We ask you to
Read Our Content Policy
so a clear comprehension of VT's independent non-censored media is understood and given its proper place in the world of news, opinion and media.
All content is owned by author exclusively. Expressed opinions are NOT necessarily the views of VT, other authors, affiliates, advertisers, sponsors, partners or technicians. Some content may be satirical in nature. All images within are full responsibility of author and NOT VT.
About VT
-
Read Full Policy Notice
-
Comment Policy