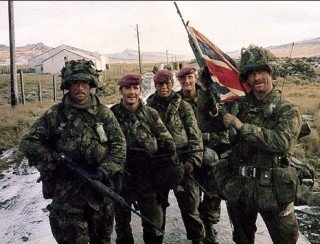 The Falklands and Some Other Stuff
By Michael Shrimpton
This week has seen one of the more monumental diplomatic gaffes of recent years.  Argentina's crass Foreign Minister Hector Timerman stated on a visit to London (of all places) that "The Falkland Islanders do not exist." 
This comes on top of a campaign of Argentine lies, designed to boost Argentina's threadbare claim to the islands, weaker than France's.  Johnny Argie has been claiming that Britain 'invaded' the islands in 1833, 'expelling' Argentine settlers.  There were of course no settlers and the islands had been British for decades before 1833.
It is not clear that Timerman was trying to do.  The best guess is that he was hoping to trigger a crisis in Anglo-Argentine relations.  If so, he succeeded.  Argentina's Embassy on Brook Street (it's just up from the US Embassy and handy for Claridges, one of the CIA's favoured watering hotels in London) may not be there for much longer.  It would make quite a nice base for a think tank.
The time has come to expel Argentina's ambassador.  The Falklands are being reinforced but we need more stuff down there and should start planning for a major war in the South Atlantic.  This will require a major boost for British naval aviation, and more Astute class SSNs.  This in turn will require cuts elsewhere, preferably in the bloated $300 billion plus a year welfare budget, abolition of the failed National Health Service and withdrawal from the EU.
Thanks mainly to the Foreign Office British policy in 1982 was in a state of utter confusion.  Number 10 thought we were at war, but the Foreign Office and the Cabinet Office blocked a formal declaration of war, generating spurious doubts about the legality of sinking the ARA General Belgrano.  The confusion was exacerbated by the 200 mile Maritime Total Exclusion Zone, which led non-lawyers and stupid people to think that hostilities could only take place within it.  In fact the Argentines conducted an operation, which was foiled by good intelligence work, as far away as Gibraltar.  South Georgia, which was way outside the TEZ, had already seen an amphibious operation.  The TEZ only applied to civilian shipping.
We only booted the Argie invaders off our islands.  There was no peace treaty and the Argies were never required to abandon their claim.  This was part of the penalty we paid for our strategic errors during the war, such as not bombing Buenos Aires.  Sadly, the low level of Argentine casualties has meant they were not deterred from planning further aggression.  They would be a lot less talk of war now had Michael Beetham's mighty Vulcans been allowed to turn downtown Buenos Aires into a parking lot.
A second Falklands war appears highly likely.  This time we will need to finish the job.  If we could finish off the UN too that would be a bonus.  They are far too sympathetic to the Argentine enemy, which could be a crunch point for UK membership.  They were an absolute pain in 1982, insisting on a messy end to the war.  There's another crunch point coming up in the Eastern Congo, where the UN, as big a failure as the League, is backing Kinshasa, and we are backing the nice Rwandans, who have started playing cricket.  It would be good to see the SAS take on the shameful blue berets – it's about time they took some heat!  No one in Britain – outside the Cabinet Office that is – has forgiven the UN its role in sponsoring the Rwandan genocide.  The Cabinet Office forgives genocide fairly easily.
That fine movie Judgment at Nuremberg was shown again on British TV this week.  Spencer Tracy gave arguably his finest performance ever, as an honest judge, who in the end votes to convict a fictional group of German lawyers and judges, who these days would probably be nominated onto the Supreme Court.  Burt Lancaster is very convincing as the dignified old judge who wasn't a Nazi but sentenced Jews to death anyway.  Richard Widmark plays the Pat Fitzgerald character.
The movie captures the atmosphere of the late 1940's when everybody thought the war was over.  Nobody of course was told that so far as German intelligence was concerned it was business as usual, indeed the Krauts got one of their allies – North Korea – to start a major war only two years after the events portrayed in the movie.
I think the war crimes trial were a mistake, indeed they were reduced to a farce when the Deputy Director of the DVD, Generalleutnant Erwin von Lahousen, was allowed to give evidence for the allies.  He was far more evil than any of the defendants and went on to support the single currency and the creation of the EEC.  The trials smacked of victors' justice and the use of hanging for military officers was a disgrace.  I respectfully agree with Reichsmarschall Goering that he should have been shot.
My old friend the late Lord Elwyn-Jones, later a distinguished Lord Chancellor, was a junior prosecuting counsel.  He told me when I was a young law student that he thought the trials were wrong and he was right.  Of course he reported to British Military Intelligence and he was smart enough to have picked up that the trial process was being abused.  There is also the issue of jurisdiction, which could only have been de facto.
A couple of trivia points: the supporting cast included William Shatner, later of Star Trek fame, who played the aide to Spencer Tracy's character.  It also marked, so far as I am aware, the first pairing of two of the lead actors in the brilliantly funny TV series Hogan's Heroes, Werner Klemperer ('Colonel' Wilhelm Klink) and Howard Caine ('Major' Hochstetter, who usually appeared in SS uniform, with the wrong rank insiginia).
Apologies to my declining band of critics.  IT issues have prevented me from uploading posts, but if any one makes a substantial point I can always deal with it on one of my articles.
My congratulations to the Ravens.  No word yet on who pulled the plug, but it wasn't the 49ers.
Michael Shrimpton was a barrister from his call to the Bar in London in 1983 until being disbarred in 2019 over a fraudulently obtained conviction. He is a specialist in National Security and Constitutional Law, Strategic Intelligence and Counter-terrorism. He is a former Adjunct Professor of Intelligence Studies at the American Military University.
Read Articles from Michael Shrimpton;
ATTENTION READERS
We See The World From All Sides and Want YOU To Be Fully Informed
In fact, intentional disinformation is a disgraceful scourge in media today. So to assuage any possible errant incorrect information posted herein, we strongly encourage you to seek corroboration from other non-VT sources before forming an educated opinion.
About VT
-
Policies & Disclosures
-
Comment Policy
Due to the nature of uncensored content posted by VT's fully independent international writers, VT cannot guarantee absolute validity. All content is owned by the author exclusively. Expressed opinions are NOT necessarily the views of VT, other authors, affiliates, advertisers, sponsors, partners, or technicians. Some content may be satirical in nature. All images are the full responsibility of the article author and NOT VT.