by Robert O'Dowd

(IRVINE, CA) –  BETRAYAL:  Toxic Exposure of U.S. Marines, Murder and Government Cover-up chronicles the story of the thousands of veterans and their families, once stationed at Marine Corps Air Station El Toro, California and Marine Corps Base Camp Lejeune, North Carolina, who continued to be ignored by the US government by denial of the effects of exposure to environmental hazards, including the highest incidence of occurrence of male breast cancer in any other demographic in the U.S. at Camp Lejeune.
Legislation to provide VA health care for 15 medical conditions for Camp Lejeune veterans and their dependents was passed in the 112th Congress.  No VA presumptive disability compensation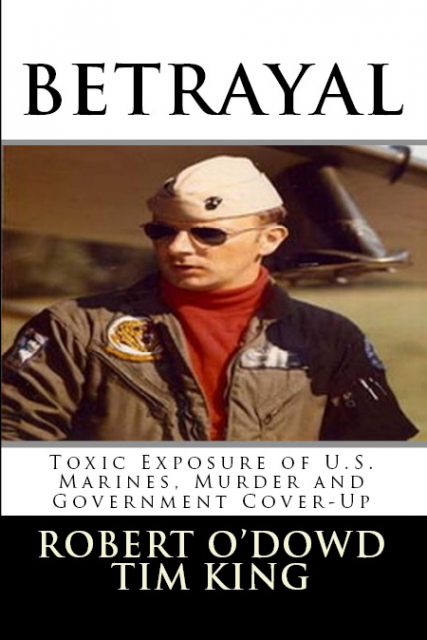 was included in the Janey Ensminger Act.
Camp Lejeune veterans, even those with terminal cancers, must get into line with other veterans and support their VA disability compensation claims with medical nexus opinions that state their medical conditions are "at least as likely as not" caused by exposure to the base's contaminated water wells (1953-1987).
A Salem-News investigation uncovered evidence that El Toro's base wells were in the footprint of the TCE plume.  Before they were destroyed, government inspections of several wells reported contamination; the Navy found one well screen opened in the contaminated aquifer in April 1998 but chose to look the other way and not inspect other wells for their well screen locations before sealing them in concrete.
All the permanent original well construction drawings are missing and only a physical inspection of each well could confirm the locations of their wells screen intervals—the first point that water and contaminants enter water well.
The government's position is that, "the wells were abandoned early when municipal water was purchased."  Don't believe it. Even with the purchases of municipal water, there are good reasons to believe that El Toro continued to pump water from base wells until the Orange County Water District found TCE contaminated agricultural on and off base in 1985.
The Marine Corps denied ownership of the TCE plume spreading into Orange County from El Toro for sixteen years until a lawsuit forced the government to accept responsibility in 2001.
There's strong support for the deliberate destruction of records at El Toro including the loss of all of the original well construction drawings (permanent records); over 40 years of water distribution engineering drawings; only two complete sets of water distribution drawings are in existence; one on file at the NARA from 1942, the original set, and the current set from 1986; no records on the dates the base wells were abandoned but several engineering drawings showing the base wells part of the water distribution system after the early purchases of municipal water; unexplained early cut-off of pumping records; and 55 gallon drums of TCE buried on the base to keep them from the Marine Corps Inspector General, after this toxic chemical was prohibited from use.
The Agency for Toxic Substances Disease Registry (ATSDR)'s 1993 report of "limited data available from on-station media" made perfect sense; you can't review or audit an activity that doesn't have records.  El Toro not only buried 55 gallon drums of TCE on the base but apparently trashed incriminating environmental records, too.
Unlike the burial of 55 gallon drums of TCE on the base to keep their use hidden from the Marine Corps Inspector General, there are no eye witnesses to the destruction of engineering drawings and other records but there's no other reasonable explanation for missing water distribution engineering drawings and original well construction drawings. The well construction drawings would show the locations of the critical well screen intervals.
The redrawing of the entire water distribution engineering drawings in 1986 (with no base wells in the system) completed one year after TCE contaminated agricultural wells were found on and off the base and after Camp Lejeune shut down ten TCE contaminated wells suggests an effort to hide incriminating and embarrassing information from the public.  Admittedly, the evidence is circumstantial, but the motive is clear.
 BETRAYAL includes the story of the murder of Marine Colonel James E. Sabow and others whose deaths have been tied to use of El Toro assets during the 1980s and 1990s to import South American cocaine into the U.S and to export weapons to the Contra Rebel faction of Nicaragua. The circumstances surrounding his death and the forensic evidence from the crime scene support murder by a government assassination team and cover-up, including a 'doctored autopsy photograph' submitted by the Defense Department to Congress in 2004; a 2010 bungled cold case investigation by the Naval Criminal Investigative Services (NCIS); and the legal opinion of Michal Jacobs, the supervising attorney in the Orange County District Attorney's Homicide Trial Division, who reported that "Colonel Sabow's death could not have been a suicide but had to have been a homocide inflicted by the hands of another."
Air Force and Marine C-130A's and Navy P-3A's aircraft were transferred on paper to the Department of Agriculture but went to CIA proprietary airlines to transport weapons and supplies in covert military operations to Central and South America, returning to the US with their cargo bays full of cocaine.
Nick Schou, Orange County Weekly, reported that, "It looked like an uncensored version of what had been faxed to my office a week or so earlier: instructions from the Pentagon to El Toro Marine Corps Air Station and March Air Force Base not to record landings or takeoffs by two civilian airlines.  This time, the names of the airlines weren't blacked out: Southern Air Transport and Evergreen International Airlines."
DOD denied that covert operations were used to cover the import of cocaine into the US, but Robert Tosh Plumlee, one of the CIA pilots, confirmed that he personally few many flights with cocaine into El Toro.
Salem-News interviewed Plumlee, a long time CIA contract pilot from 1954 to 1987, who told us that, "The approach into control airspace of El Toro was radar VFR in place of IFR FAA filed flight plan… most of the time at 0300 the El Toro tower was shut down and the approach lights were turned on by approach aircraft, transmitting an assigned, 'after tower operational hours' VHF frequency… a click of the radio mic would automatically turn on the runway lights."
The Kindle version of BETRAYAL will be FREE from 9/24 to 9/28. You don't need a Kindle device to download the FREE book. It can be viewed in the Kindle format on your PC during this promotion period.  See:  http://www.amazon.com/dp/B00FA3UWVY/ref=rdr_ext_sb_pi_hist_1
Robert O'Dowd served in the 1st, 3rd and 4th Marine Aircraft Wings during 52 months of active duty in the 1960s. While at MCAS El Toro for two years, O'Dowd worked and slept in a Radium 226 contaminated work space in Hangar 296 in MWSG-37, the most industrialized and contaminated acreage on the base.
Robert is a two time cancer survivor and disabled veteran. Robert graduated from Temple University in 1973 with a bachelor's of business administration, majoring in accounting, and worked with a number of federal agencies, including the EPA Office of Inspector General and the Defense Logistics Agency.
After retiring from the Department of Defense, he teamed up with Tim King of Salem-News.com to write about the environmental contamination at two Marine Corps bases (MCAS El Toro and MCB Camp Lejeune), the use of El Toro to ship weapons to the Contras and cocaine into the US on CIA proprietary aircraft, and the murder of Marine Colonel James E. Sabow and others who were a threat to blow the whistle on the illegal narcotrafficking activity. O'Dowd and King co-authored BETRAYAL: Toxic Exposure of U.S. Marines, Murder and Government Cover-Up. The book is available as a soft cover copy and eBook from Amazon.com. See: http://www.amazon.com/Betrayal-Exposure-Marines-Government-Cover-Up/dp/1502340003.
ATTENTION READERS
We See The World From All Sides and Want YOU To Be Fully Informed
In fact, intentional disinformation is a disgraceful scourge in media today. So to assuage any possible errant incorrect information posted herein, we strongly encourage you to seek corroboration from other non-VT sources before forming an educated opinion.
About VT
-
Policies & Disclosures
-
Comment Policy
Due to the nature of uncensored content posted by VT's fully independent international writers, VT cannot guarantee absolute validity. All content is owned by the author exclusively. Expressed opinions are NOT necessarily the views of VT, other authors, affiliates, advertisers, sponsors, partners, or technicians. Some content may be satirical in nature. All images are the full responsibility of the article author and NOT VT.