America's most discriminated veterans have their day in the sun
"Come on down to the Rising"

… Bruce Springsteen
 …by Jim W. Dean, VT Editor,   …with the Virginia Flaggers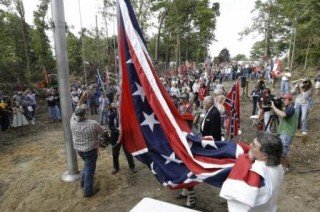 If any of y'all would like a nice big piece of the American pie, I would put on your list grabbing any chance you have to see a new big Battle Flag going up which the Southern heritage folks have been doing from time to time.
It's glorious event, goose pimples and hair rising on the back of your neck kind of buzz, particularly during the Sesquicentennial going on now. It is as close to raising the dead that we ever get to on this side of the river.

Political correctness is still a scourge on much of American heritage. It ebbs and flows depending on with the Left mainly, is in need of some fundraising or rebuilding their email lists.
They will pick out a Confederate monument somewhere and then the local NAACP will begin telling stories about how traumatized their community has been due to the public humiliation having a Confederate historical monument in their midst.
All to often, local press, desperate to remind folks that they are still in business, will publish any charges made about how babies will still die in infancy, the cancer rates will never go down, and jobs will never come back until every last vestige of the Old South is cleansed from their midst.
We had a case where an enterprising black homeless man filed a lawsuit that just the site of a Confederate Battle flag had so traumatized him that it would take at least $50,000,000 to repair the damage.
He was not successful, but many in the community wished him well, not realizing that if he had won, the town's insurance probably would not have covered that much and would have bankrupted them. But people aren't as smart as the used to be…all those chemicals in the air I suspect, and I have heard the education has been slipping a bit, too.
Virginia is the front lines now with their Museum of Fine Arts effectively desecrating a Confederate memorial by having it's flags removed. The VA flaggers have been picketing them for a good while now, but not the 5 1/2 years that Robert Rosebrock's veterans have been doing at the Los Angeles VT Medical Center.
It took that long to stop the looting of the most valuable undeveloped property in LA, that the local politicians and rich local neighbors that wanted for peanuts for parks and recreation… and screw the homeless veterans in the process.
The ACLU just helped Rosebrock's crew when a directed verdict with a scathing opinion. The VA Flaggers case is in a similar vein, promises to veterans that were broken by politically correct administrators when they feel it is safe to do so. This was the Flaggers petition:
Confederate War Memorial – Pelham Chapel


Confederate flags had flown over the grounds since the opening of the Old Soldiers Home in Richmond, VA in 1885. They were placed there by Confederate Veterans, to memorialize the Confederate dead, and honor the living.
On the eve of the Sesquicentennial Commemoration of the War Between the States, June 1st, 2010, Confederate Battle Flags were forcibly removed from the Confederate War Memorial/Pelham Chapel by a restriction in the lease renewal, at the insistence of the Virginia Museum of Fine Arts.
As citizens of Virginia and descendants of Confederate soldiers who gallantly answered Virginia's call to defend her, we demand that the VMFA remove these blatantly prejudicial restrictions and allow the Confederate Battle Flags to once again fly on the Confederate War Memorial. 
But while the Museum fight drags out the VA Flagger went on the offensive, working to put a large battle flag up along side I-95, which they completed recently. This drives the PC crowd nuts, which is just wonderful.
Susan Hathaway, a true Southern daughter with four Confederate ancestors has led the fight. And yes, the PC crowd did publish her place of employment for harassment purposes hoping to get her fired. It did not…but it is the kind of thing to be expected from 'them', as they have no class whatsoever.
Here is a good background piece I did in April,  2011, on how Confederate soldiers came to be official American veterans by Act of Congress.  This is buried history. If any of you think you might have Confederate ancestors and need help digging them up email me at jimwdean at A ho hell.com
I leave you with Bruce Springsteen to crank up the juices a bit. And if any of y'all should hear of another one of these going up, come one down for the rising… Jim W. Dean
Ok…All together now, "Bruce, Bruce, Bruce, Bruce, Bruce….
[youtube eNnB4dkVRJI] – The Rising
______________________________
 And now I will turn you over to master of ceremonies, Miss Susan Hathaway.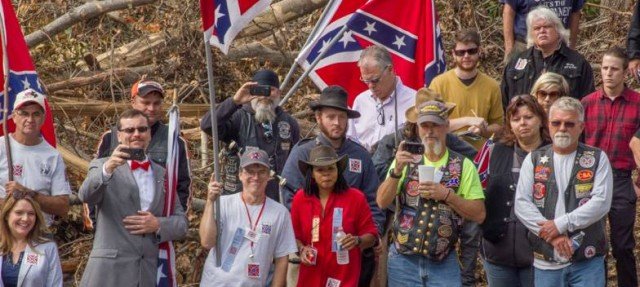 Va  Flaggers: Raising  the  RVA  I-95  Battle  Flag
… by  Susan  Hathaway – VA  Flaggers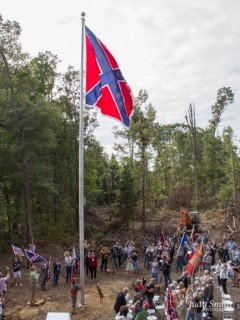 In the days leading up to the September 28th RVA I-95 Confederate Battle Flag raising in Chester, VA, the media filed reports filled with fears and speculation of "trouble" that was sure to accompany the planned Memorial and Dedication service.
Planning for a crowd of approx. 150, we were warned that folks would likely stay away in fear. Chesterfield County police officers visited with us in the days leading up to the service, to go over parking and traffic control plans, and to let us know that they would be on call should there be any disturbances.
As the Va Flaggers arrived to prepare for the event on Saturday morning, it soon became obvious that not only was the weather going to be perfect, but that all of those fears were completely unfounded.
Parking was plentiful, traffic was trouble free, and over 300 Southern Heritage Supporters made their way to the flag site, including visitors from as far away as North Carolina, Texas, Florida, Missouri, and Pennsylvania, as well as cities and towns from across the Commonwealth. Throughout the entire course of the event, there was not one single protestor, dissenter, or even a disparaging remark from passers-by.
As the crowd gathered, excitement began to build. What a privilege to meet so many new friends and fellowship with old ones at the base of the flag pole!
Promptly at 10:00 a.m., the ceremony began with an invocation and the colors were presented by the Color Guard of the Capt. Wm. Latane Camp, #1690, SCV. Salutes to the Confederate and Virginia flags, and the singing of "Carry Me Back to Old Virginny" drowned out the din of passing cars and set the tone for the ceremony. Va Flagger Luke M. shared a beautiful rendition of "Amazing Grace" on the bagpipes.
An informative talk about the Confederate history of the area was shared, and poetry read to honor the Confederates who fought and died near the location.


When the time came for me to speak, I was overwhelmed as I looked around at those who had assembled for the service.
On the ridge behind me, I saw a large group of men of the Mechanized Cavalry, SCV, and I could not help but smiling, realizing that just a few hours before, we actually had concerns about safety and security.
Who needs security when the Mechanized Cavalry has your back?
I spoke for a few minutes and standing there, in that spot that day, I marveled at the fact that there was none of the usual nervousness…no jitters…no stress or concern. About halfway through my prepared notes, a breeze lifted and took my notes with it.
I don't really know how to explain it, but there was a peace that washed over me and I found myself straying from my prepared notes a bit, and speaking from my heart.
I was full of emotion from the weeks leading up to that point, the excitement of the moment, and the realization that there were more gathered in that place than just those standing at the site.
Thanks to Ira Meredith, there is a an excerpt here…
[youtube mbrSgfSlr_w] – Susan
Immediately afterwards, and accompanied by the "Bonnie Blue Flag" on bagpipe, Grayson Jennings led a group of Va Flaggers in raising the 15×15 ANV Battle Flag. Watching it was an experience many of us will not soon forget.
As the flag rose, the air was still and the crowd quiet in anticipation. The flag reached the top of the pole, and as if on cue, or some would say, spurred by the breath of the Old Soldiers watching us, and amidst shouts of joy, a breeze suddenly lifted the flag and stretched her out for all to see and admire.
[youtube MNIdq_mlW0o] – The flag goes up
The Latane Color Guard offered a rifle salute, a final benediction was invoked, and the crowd was dismissed with a rousing rendition of "Dixie".
The extensive media coverage leading up to the event, while often negative, had quite the opposite intended effect, as we have received support and donations from across the country and around the globe.
The press immediately following the event has been surprisingly positive. Those reporters who attended the ceremony provided many quotes from our program in their reports, and interviews following the service by guests and Flaggers helped to better show the true meaning of the Battle Flag memorial as it was publicly dedicated to the honor and memory of the Confederate Soldier.
Daily News coverage
Marble Hill Constitution
There have been comments and concerns regarding the visibility of the flag from I-95. Please be assured that while the foliage served us well as concealment during the site work and pole setting, plans are underway to clear additional trees and branches to improve visibility… and fencing, lighting, and security cameras will be installed soon.
For now, it is enough for us to know that the flag is flying high, and is attracting visitors from all across the country to stop and admire her. Confederate-friendly neighbors who are helping to keep an eye on the site have reported that there is a constant stream of cars stopping by, with folks walking across the overpass for the best view and photo opportunities.
We are content in the fact that even if the current visibility from I-95 is not ideal, we know the flag is there…hundreds of thousands of people know its there…and most importantly, the SOLDIERS know it is there, and know that they are not forgotten!
More photos here, from Judy Smith Photography
A special thanks to each and every person who made the day possible, through your generous support and/or contributions, and those who took the time to come out and attend the ceremony. We are truly blessed by all who have joined us in this endeavor.
Finally, we encourage you to watch the horizon…in Virginia…and elsewhere, as the I-95 Battle Flag Projects are…to be continued…
 To learn more about future flag risings you can contact:

Susan Hathaway, Va Flaggers

Va Flaggers, P.O. Box 547, Sandston VA 23150
Editing:  Jim W. Dean
_________________________________________
Jim W. Dean was an active editor on VT from 2010-2022.  He was involved in operations, development, and writing, plus an active schedule of TV and radio interviews.
ATTENTION READERS
We See The World From All Sides and Want YOU To Be Fully Informed
In fact, intentional disinformation is a disgraceful scourge in media today. So to assuage any possible errant incorrect information posted herein, we strongly encourage you to seek corroboration from other non-VT sources before forming an educated opinion.
About VT
-
Policies & Disclosures
-
Comment Policy
Due to the nature of uncensored content posted by VT's fully independent international writers, VT cannot guarantee absolute validity. All content is owned by the author exclusively. Expressed opinions are NOT necessarily the views of VT, other authors, affiliates, advertisers, sponsors, partners, or technicians. Some content may be satirical in nature. All images are the full responsibility of the article author and NOT VT.