US in economic collapse as China, Russia 'moving away from using dollar'
… by  Linh Dinh    …  with Press TV
[Editors Note:  As I have been predicting, the brain dead obvious outcome of America's liberal use of sanctions and military forward deployment would be to cause those being attacked to circle their wagons.
Where the Western bully machine would have preferred military resistance to play into their strength, their intended victims were not obliging. They are responding on an economic level as that at least gets sleeping American's attention as we are the American elites human shield.
A decline in the dollar, sure it will boost exports, but at what cost? There has been no public debate on the strategy, if you could call it that, despite the huge long range effects it could have on our standard of living.
Countries that have growing economies are now considered 'the enemy' and must be encircled to threaten cutting off their raw materials, etc. This is what Churchill and Roosevelt discussed one evening when Winston took a call from the President. His dinner guests made note of it in their diaries.
They discussed toughening up the US State Dept. response to Japanese moves in Manchuria, to cut off steel and oil imports, etc. They calculated correctly that that would force them into a pre-emptive attack to get them back, which would roll out the red carpet for Americans coming into the war. It worked perfectly.
David Irving showed us the 'blue note' confirming it a few years ago in Atlanta…top secret stuff that was printed on light blue paper to be easily seen if not where it was supposed to me. The transcript of the conversation is still classified and will probably never be released. Welcome to that world as Gordon likes to say.
The Fed has already intervened in the gold markets to bring the price down,  and affording a killing for all those in the loop to know they were going to do it. Welcome to that world, too. 
It is time folks to demand a public discussion on America's economic war fare strategy. Why was our 'democratic' process cut out of the discussion? How long has it been going on?  Who has been interpreting their oaths of office to mean any damn thing they want it to mean? … Jim W. Dean ]
_______________________________
You can watch Mr. Dinh's interview here.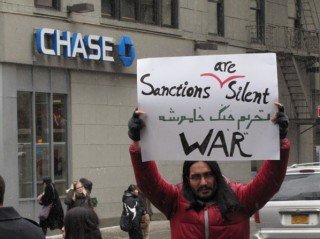 The United States is experiencing an "economic collapse" because major powers like China and Russia have decided not to use US dollar in trade, a political analyst says.
"The American economy is just beginning to collapse. China, Russia and many other countries are moving away from using the US dollar in trade," Linh Dinh said in an interview with Press TV on Tuesday.
"So when the US dollar loses its status as reserve currency, life will get much harder here. But coming months will show how desperate this situation is, so the lies will be even more insulting to people who have to suffer daily in this situation," he added.
The analyst criticized American news media for not telling the truth about the economic situation.
"The lying media put out news that the so-called recovery is picking up speed. The new lie is that the unemployment rate is down to 7 percent, but this is pure nonsense. In fact, only 47 percent of American adults have full time jobs, and 40 percent of US workers make less than $20,000 a year," he said.
"Many people make so little, they must rely on food stamps to buy groceries. Many go to church pantries. I know a family of four, with two jobs, who must do this. The father, with a full time job, must also sell blood occasionally," Linh Dinh explained.
He also compared Americans' income with their monthly spending.
"Even as the big banks receive bailouts and make record profits, they pay their bank tellers only $12 an hour, before tax, and a minimum wage worker only makes a ridiculous $8 an hour. Some even less. Meanwhile, prices go up, especially for food, rent and gas, but the inflation figure is also a lie," he said.
He noted that the US government "keeps on lying to deceive foreigners and the rich Americans who buy stocks. If there was a recovery, 47 million Americans wouldn't be on food stamps, a record high, and 1.2 million American public school children wouldn't be homeless."
"There are tent cities in every state now. Within a hundred miles of where I am, there are several tent cities where people live in the freezing cold and defecate into a bucket. Does that sound like life in the so-called greatest country on earth?" he asked.
"Meanwhile, the richest Americans become even richer, and this is all thanks to a government that serves only the richest, while masking over their failures and betrayal of ordinary Americans by lying about it, daily," he concluded.
Editing:  Jim W. Dean
__________________________________
Jim W. Dean was an active editor on VT from 2010-2022.  He was involved in operations, development, and writing, plus an active schedule of TV and radio interviews.
ATTENTION READERS
We See The World From All Sides and Want YOU To Be Fully Informed
In fact, intentional disinformation is a disgraceful scourge in media today. So to assuage any possible errant incorrect information posted herein, we strongly encourage you to seek corroboration from other non-VT sources before forming an educated opinion.
About VT
-
Policies & Disclosures
-
Comment Policy
Due to the nature of uncensored content posted by VT's fully independent international writers, VT cannot guarantee absolute validity. All content is owned by the author exclusively. Expressed opinions are NOT necessarily the views of VT, other authors, affiliates, advertisers, sponsors, partners, or technicians. Some content may be satirical in nature. All images are the full responsibility of the article author and NOT VT.