We have an old saying here in the US, "The witch you know is better than the one you don't."
… by  Jim W. Dean   … with  Press TV, Tehran
The devolution of the former Cold War
into the Neo-Economic War is writing another chapter this past week in the Ukraine. Once again we see powerful outside forces deeply involved in the domestic politics of smaller ones. The tactics may vary but trading block battles are wars all unto themselves.
Opposition groups that are out of power are always easy prey for foreign intriguers. When the Israel Lobby began their assault on our Congress, they focused on Senatorial elections in states with small populations as large influxes of outside cash had a lot more leverage over the local effort.In effect, they bought senators first where they were cheapest to buy no dummies they.
We saw some elections where outside funding was 90% of the total raised and spent, basically a car-jacking of the state's highest federal elected political offices.
With big long term outside money
behind them they were good seniority bets to eventually gain top committee chairmanships, the Holy Grail of Israeli political penetration.
The West was successful in looting the newly democratic Russia with our loaned out 'financial experts,' who did to them what hucksters do… robbed them blind. The Western carpetbaggers left the stage for the super rich oligarchs with the usual extra Israeli passport. Extraditions are impossible to get there if you have paid the right fees, and it's a good place to hide cash obtained by questionable methods.

The Putin rescue of the Russian people from Western-Oligarch serfdom was of course spun as the resurgence of the dangerous Russian bear.
The defense conglomerates feel lonely without a suitable bogeyman that they can build a huge threat out of and a bigger defense expenditure program for.
But it was the West that decided to attack, and they always want a big expensive plan. Hence we had the George Kennan's policy of 'Soviet containment' dusted off and made ready for new lipstick.
When he and his Wise Men buddies wanted to sell Congress on boxing the Soviets in with a $50 billion plan they knew would have to, and I quote …"Scare the hell of out them!"
But some critical background is needed here. I will try to be brief. If for nothing else, George Kennan is known for being the author of what came to be known as the "Long Telegram," a 5540 word analysis written in one sitting in April of 1946, on how best to handle future Soviet diplomatic relations. It was widely read among the Washington elites and went on to become basis of the Truman Doctrine.
Kennan followed up in July of 1947 with an article in Foreign Affairs magazine called Source of Soviet Conduct. Here is the silver bullet.
"…the main element of any United States policy toward the Soviet Union must be a long-term, patient but firm and vigilant containment of Russian expansive tendencies… Soviet pressure against the free institutions of the Western world is something that can be contained by the adroit and vigilant application of counterforce at a series of constantly shifting geographical and political points."
The policy of containment had been born, and it is still with us today, borrowed and copied by a new generation of counterfeit Western diplomats with no original ideas. And using dated methods on a totally new geopolitical situation is turning out to be an unnecessary disaster.
Ironically the situations of East and West have reversed. It was not the fear of Soviet expansionism nor a resurgence of Chairman Mao's Long March that triggered the Western decision to begin an encirclement of Russia and China. It was the greed of the elitists running the Western show behind their various front governments.

It was a multi front attack with the Balkans wars, NATO expansion and US military forward deployment out of the Persian Gulf, moving deep up into the Caucuses region to threaten petro and rare earth resources right in the backyards of two countries that were not forward deployed toward the US or even Europe.
Western policy has been wanton economic aggression and the American military was not only used for cannon fodder, or to enable the military contractor looting, or to get their hooks into the Afghan heroin trade… but as mercenaries to carve out and hold 'exclusive economic zones' like a conquering nation would impose on vassal states.
This is the situation of we find ourselves with on the streets of Kiev. It is not communist party infiltrators teaming up with minorities to create social-political mayhem. It is well heeled western elitist governments and hundreds of front group think tanks and NGOs that are the ones on the Great March, with Ukraine's domestic opposition out in front of them.
Why the Ukrainian opposition would want to jump onto the sinking ship of the EU that is only one big crisis or Persian Gulf war away from sinking beneath the economic waves, seems only like a desperate move to get back into power.
The lure of the EU market is a mirage, with its demise only delayed with cooking the books and, like a typical Ponzi scheme, needing new suckers to bring in to keep the game going a few more years so more of the hucksters can bail out before the crash.
One of those think tanks I was talking about has of course weighed in with their 'opinion,' and on CNN no less, a tip off of a very wired in think tank. They were sporting Joerg Forbrig of the German Marshall Fund of the United States, one of our premier shadowy front groups. Google them to get a profile on what a top of the line one really looks like. All of these big democracy spreading groups are often offensive Intel fronts.
Forbrig is selling the EU sinking ship as a life raft for Ukrainians. The snake oil salesman pitch he makes is… catch this… 'political, economic and social modernization.' I don't think you will catch the Marshall Fund hustlers pitching this tune to the Palestinians on the West Bank, or any of the Persian Gulf State people looking for a taste of freedom. This smokescreen is used selectively.
Brother Forbrig does reveal that the EU is not offering what a financially strapped Ukraine needs, like everyone else does… lots of cash. Yet Ukraine will have endless regulation hoops to jump through even as a junior member of the EU, which has a whiff of colonialism in it to me… and I have a good nose.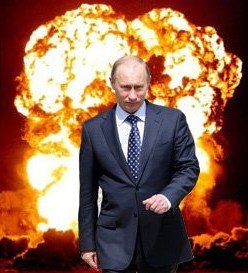 Putin on the other hand is offering what he has… subsidized energy prices, another key item that is critically important to all countries.
The Russians are not requiring all kinds of internal changes that the colonial West seems to thinks everybody should have, which of course includes their rules.
But the EU and fronts like Forbrig's group are pitching Putin as the returning demagogue, and doing this mind you when he is keeping his nose out of their internal affairs. The freedom hucksters think we can't see through their expensive charade.
Freedom House, another Intel front candidate adds their carefully prepared manipulation: Yanukovich "has decided it's more important to keep Tymoshenko in prison than to integrate Ukraine closer toward Europe," said David Kramer of Freedom House, a US-based nongovernmental organization.
"He has left his country vulnerable to Vladimir Putin's threats and pressure," he said. That legacy will belong to Yanukovich "if he doesn't reverse course."
That is pure unadulterated foreign propaganda. A membership that requires a blizzard of rules and regulations for aspiring members sounds a bit to me like permanent college fraternity hell week. It is something offered to serfs.
Many Ukrainians who want EU integration are only focused on the no visa aspect which allows them to leave and work anywhere they want in the EU. They have risen colored glasses on about that.
We have an old saying here in the US which seems appropriate here, "The witch you know is better than the one you don't." I will leave it at that… for now.
Editing:  Erica Wissinger
___________________________________
Jim W. Dean was an active editor on VT from 2010-2022.  He was involved in operations, development, and writing, plus an active schedule of TV and radio interviews.
ATTENTION READERS
We See The World From All Sides and Want YOU To Be Fully Informed
In fact, intentional disinformation is a disgraceful scourge in media today. So to assuage any possible errant incorrect information posted herein, we strongly encourage you to seek corroboration from other non-VT sources before forming an educated opinion.
About VT
-
Policies & Disclosures
-
Comment Policy
Due to the nature of uncensored content posted by VT's fully independent international writers, VT cannot guarantee absolute validity. All content is owned by the author exclusively. Expressed opinions are NOT necessarily the views of VT, other authors, affiliates, advertisers, sponsors, partners, or technicians. Some content may be satirical in nature. All images are the full responsibility of the article author and NOT VT.