Editors Note: I have known H. K. Edgerton for over a decade now, having met him through the Southern Legal Resource Center (SLRC) in Black Mountain, NC, outside of Asheville.
HK had been president of the Ashville, NAACP until he wanted to have an open dialog with the the Southern Heritage movement about what blacks and whites shared, fought and worked together on during their history.
The NAACP woud have none of that. Their nationaloffice backed a new election. Bylaw procedures on things like proper a 30 day notification were ignored and HK found himself an ex- NAACP chapter president in a little over a month.
In return he dedicated himself to fighting the Race Hustlers and has been at it ever since. The main response by the NAACP to his new work is to say "his elevator does not go to the top floor", pitiful indeed in it's cowardliness. No…they will not debate him publicly on anything.
At that time the SLRC was the tip of the Southern Heritage spear for taking on discrimination cases of Southerners when the NAACP decided they would revive their waning financial and membership decline by launching a Jihad against Southern heritage.
After decades of improvements in race relations in the South, acknowledged by just about everyone, the Race Hustlers who were worried about maintaining their non profit org jobs just decided they would set the clock back a few decades like none of the progress had ever happened.
The Democrats and the Leftist media took the queue that if they supported the effort the NAACP would keep delivering their 90% Democratic vote on election day. We penetrated some of their chapters to keep abreast of their plans, which were simple.
They were going to demand that all Southern heritage symbols be removed from public view, starting with those on public land, because they knew this would be resisted forever. The Race Hustlers then would claim, "See, this is proof that racsim still exits, so you folks have to keep sending their money in to help us protect everybody from being lynched or sent out to pick cotton.
It all sounds like a bad joke, but this is exactly what they did, and to a large degree it worked. Southern heritage organization funding for education, preservation, and new monument building took a big hit as legal expenses for long litigations drained bank accounts. NAACP lawyers continued to subsidize their struggling legal practices with their cut of the settlement money on the contrived cases they brought.
This was back in the days when Morris Dees was hyping the militia threat with a big fundraising campaign that Morris Dees was all that stood blocking the hordes of militia men coming down from their mountain hideouts, taking over town and cities, and stringing up the nice folks. The media poured all the gasoline they could on this fantasy.
The Race Hustlers are still at it as H.K. describes below. The financially struggling Jacksonville, Florida school system is spending $400,000 to remove Confederate Nathan Bedford Forrest from  a high school name, eliminating some kind of a dangerous looming threat.  They did this mind you, with all the other problems their locals are suffering under. But HOW they did it was why I posted this piece today.
The school board hearing flagrantly stacked the deck with the heritage haters and left HK sitting in the audience for three days, as they knew he could refute most of the phony negative history about General Forrest. They claimed because he was an 'outsider' he would not be allowed to speak. Can you imagine any school board saying that to Al Sharpton or Jesse Jackson?
Some can say what difference does it make whether a high school name is changed.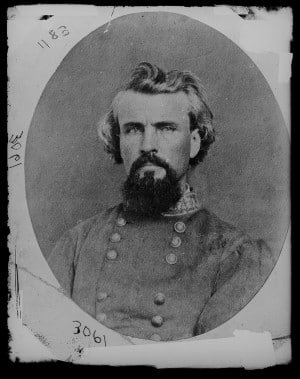 The answer to that is that when the public gets accustomed to political corretness to be able not only to submit totally bogus testimony in public that is refuted by the archival record, AND block anyone from pointing that out on the record, that puts us all in danger for the precedent that it sets.
Over forty black Condeferates rode with Forrest throughout the war. They got historically lynched by the Jacksonville, Florida  school system…and I can assure you that others are now planning to do more of the same.
Local institution revulsion of the rigged process was non-existent. The Race Hustlers see there is no fight in the community. No one can be bothered.
Such a people, whatever freedoms they still have, will learn they were just temporary and poor custodians. Edmund Burke warned us in his famous quote below.. Jim W. Dean]
---
by H. K. Edgerton, Asheville, NC
"Society is an open ended partnership between generations. The dead, and the not yet born, are as much a part of society as the living. To dishonor the dead is to reject the relationship upon which society is built, the relationship of obligation between generations. Those who have lost respect for the dead, have ceased to be trustees of their inheritance." … Edmund Burke's famous Parliament speech.
---
Dear Ms. Lunelle,
It is with a humbling heart that I continue to receive letters like this from folks like the Honorable Billy D. Chapman has sent to me here. (see below)

I just want him to know that I stand as much in front of the Black and Red men of the South who too need to be awaken to the forgotten sacrifices of their ancestors who stood shoulder to shoulder to fight a great evil from the North.
It could not be more revealing than what just happened with the farce in Jacksonville, Florida with the removal of the Honorable General Nathan Bedford Forrest as the High School namesake.
It was bad enough to remove this great man's name, but the slander and libel of him by those who profess to be knowledgeable and care about the students was tantamount to sacrilege.
Every hater of the South led by the NAACP had his say before these kids, their parents, and the unscrupulous School Board muffled with White folk guilt who orchestrated this. For three days they would not allow me, the only Black man standing to present to these babies a different tale than that being told.
Claiming that I was an outsider; with the full knowledge that allowing a Black man such as myself who would speak not only for the good General, but for those forty plus Black Confederate soldiers who rode with him, and of which the General claimed that they had stayed with him through the entire war, and that better Confederates did not live. Their professed reason was that I was an outsider, even though what they were doing would have national and regional repercussions.
After they had made a behind the door decision, they finally called for a public hearing, and in a 7 to 0 vote count, the decision was announced.
Even though this school and many others in Florida and across this nation are crying for funds to operate, they would choose to spend some $400,000 to remove the name of a friend to the African people, and a hero of the South from the school.
The race baiters would cry out the Ku Klux Klan, and Fort Pillow; shouting accusations that the United States Congress had already cleared the General of in their infamous Klan trials where the Congress full well meant to hang him.
The General certainly did not found the Klan. However, the Klan at time of Forrest broke the back of so called Reconstruction, and put a stop to the reign terror being unleashed upon the Southern people, Red, Yellow, Brown, Black and White, by the Union or Loyal League that would make the Klan look like a picnic with the Pope, and the Carpetbaggers, and the scalawags.
The Union army that protected and participated with them in their unholy enterprise of stealing, murder rape, and plunder that mirrored the total warfare policy commissioned by Lincoln against defenseless old men, children, and the women that they continued to rape, and in many instances kill if she offered any resistance, no matter her race or social standing.
As we began a new year, I would hope that those of us who care about the South and this nation would do as my friend and brother the Honorable Ernie Nivens has done in a letter that I shall publish; make a monthly pledge of monies and issue a challenge for others to do the same. There is no reason why we in the South should hold our heads down, and watch as the process of Southern social, and cultural genocide is ushered in.
I was once told by a gentleman from the League of the South that Black folks hate the Southern Cross and the Southern White man, and that there were not many out there like myself.
I can only tell him to get a copy of the Historic March Across Dixie Pictorial Documentary authored by my little brother Terry Lee Edgerton, and if he is blind, then find someone to read and tell him what they see.
I have had far more trouble from Yankees, Black and White than any other, and have found that in every instance where our Flag, monuments to our heroes, our true history, and heritage comes under attack; has come from someone of the White persuasion.
And in far too many instances, they are Southern Judges, Academics, and Southern politicians like Mimi Elrod, the Mayor of the Shrine City of Lexington, Virginia whose great, great, uncle would issue the oath of office to the Honorable President Jefferson Davis at his Inaugural.
Later this month I will do as the Honorable Joe Sparacino of the Sons of Confederate Veterans , and the Honorable Ms. Angela Carter of the NAACP in Cross City Florida will do with the Sons of Confederate of Veterans; don the uniform of the Southern soldier, and post his Colors in the annual Martin Luther King Jr. Parade and drag the Table of Brotherhood right down the route of the parade.
And I would hope that the press after three years would finally report to this nation a place that the Dream of King has come to fruition regardless of the efforts of the Poverty Pimps and their Yankee Masters who would lead them to do otherwise. God bless you, and again to Mr. Chapman, I say thanks.
Your brother,  HK
---
Bill Chapman letter to HK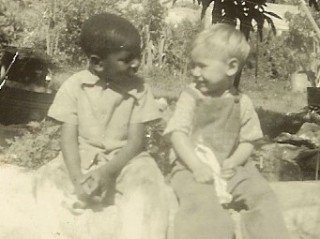 Let me say sir that you are a black angel from heaven that walks the road that all today fear to travel.
No where in the Americas are the white and black races further apart than in the U.S. where their relationships are legislated by the government.
History happens over a long period of time and in that context the Civil War was yesterday, the U.S. Government destroyed a civilization to confiscate the cotton fields of the South, no different than it's destruction of the ancient civilizations of the Middle East to gain control of the oil fields there.
There is only one culture that Washington D.C. can tolerate beside the one it has created and that is one that has been killed off and displayed in a museum.
The whites of the South should stand before you in shame that it would take a black man to carry the burden of awakening them to the forgotten sacrifices of their ancestors. Truly the white and negro races were of one family in the old South and and no one today not born and raised there can comprehend that.
May you be safely guarded in your continuing journey for you are certainly a treasure loved and cherished by many.
Sincerely,   Billy D. Chapman
Jim W. Dean was an active editor on VT from 2010-2022.  He was involved in operations, development, and writing, plus an active schedule of TV and radio interviews.
ATTENTION READERS
We See The World From All Sides and Want YOU To Be Fully Informed
In fact, intentional disinformation is a disgraceful scourge in media today. So to assuage any possible errant incorrect information posted herein, we strongly encourage you to seek corroboration from other non-VT sources before forming an educated opinion.
About VT
-
Policies & Disclosures
-
Comment Policy
Due to the nature of uncensored content posted by VT's fully independent international writers, VT cannot guarantee absolute validity. All content is owned by the author exclusively. Expressed opinions are NOT necessarily the views of VT, other authors, affiliates, advertisers, sponsors, partners, or technicians. Some content may be satirical in nature. All images are the full responsibility of the article author and NOT VT.