Bibi  &  Libie
(Netanyahu  and  Lieberman)
" In the Begining "

[ Editors Note:  Dear readers, We have another great piece by Uri today, an intimate peek into the changing political and culutural complexties of trying to get a peace deal done for Palestine.

And yes, we all know that the Zios are not willing partners for peace because things like borders would then become fixed and the Israeli people might want a Constitution some day, which they have never had.

And then there is the Zios' worse nigthmare, that with peace in the Mid East the focus for them to hand over their offensive WMD stockpiles would grow to the point that if they refused, which they would, that the sanctions ship headed their way would get a strong wind in its sails.

So they will do all that they can to keep a state of undeclared war continuing. That is the source of their power because it pulls in all the outside funding, without which they could not sustain their offensive capacity. The Israeli people would never pay the taxes to support it, and never have really.

The world Jewish Lobby, their offensive Intel which includes massive industrial espionage to steal trade secrets, corrupt legislators, and America's Christian Zionists and other taxpayers have been footing the bill, and borrowing the moneynow to keep doing it.

Too few read the archive material

There will never be peace in Palestine until it is imposed by outside forces. But no one wants to buy that tar baby, not yet anyway.

We will keep working hard to reveal the national security threat that Israel's militant Zionists and their 5th column helpers represent all over the world.

It will happen when people have had enough and decide to give the Zios a big dose of their own medicine, to use their own pre-emptive strike doctrine to eliminate them for the threat they obviously are.

But we will have to be careful to leave behind the good ones, those who want to live in peace with their neighbors without having the boot on their necks… Jim W. Dean ]
____________________________________
PERHAPS I am too stupid, but for the heck of me I cannot understand the sense of the Israeli demand that the Palestinians recognize Israel as a Jewish state.
On the face of it, it seems like a clever trick by Binyamin Netanyahu to divert attention from the real issues. If so, the Palestinian leadership has fallen into a trap.
Instead of talking about the independence of the putative State of Palestine and its borders, its capital in Jerusalem, the removal of the settlements, the fate of the refugees and the solution of the many other problems, they quarrel endlessly about the definition of Israel.
One is tempted to call out to the Palestinians: what the hell, accord them this damn recognition and be done with it! Who cares!?
THE ANSWER of the Palestinian negotiators is twofold. First, recognizing Israel as a Jewish State would be an act of betrayal towards the million and a half Palestinians who are citizens of Israel, If Israel is a Jewish State, where does that leave them?
Well, that problem could be solved by a provision in the peace treaty stating that irrespective of anything else in the agreement, the Palestinian citizens of Israel will enjoy full equality in every respect.
Second, that the recognition of Israel's Jewishness would block the return of the refugees. That argument is even less valid than the first. The solution of the refugee problem will be a central plank of the treaty. The Palestinian leadership, at the time of Yasser Arafat, already tacitly accepted that the solution will be an "agreed" one, so that any return will be at most symbolic. The recognition issue will not affect it.
The debate on this Israeli demand is entirely ideological. Netanyahu demands that the Palestinian people accept the Zionist narrative.
The Palestinian refusal is based on the Arab narrative, which contradicts the Zionist one on practically every single event that happened during the last 130 years, if not the last 5000.
Mahmoud Abbas could just come forward and announce: OK, if you accept our practical demands, we shall recognize Israel as whatever you want – a Buddhist State, a Vegetarian State, you name it.
On September 10, 1993 – which happened to be my 70th birthday – Yasser Arafat, on behalf of the Palestinian people, recognized the State of Israel, in return for the no less momentous recognition of the Palestinian people by Israel. Implicitly, each side recognized the other as it is. Israel defined itself in its founding document as a Jewish State. Ergo, the Palestinians have already recognized a Jewish State.
By the way, the first step towards Oslo was made by Arafat when he told his representative in London, Said Hamami, to publish in the "Times" of London on December 17, 1973, a proposal for a peaceful solution, which stated among other things that,
…"the first step must be the mutual recognition of these two sides. The Jewish-Israelis and the Palestinian-Arabs must recognize each other as peoples with all the rights of peoples." I saw the original draft of this statement with corrections in Arafat's hand.
THE PROBLEM of the Palestinian minority in Israel – about 20% of Israel's eight million citizens – is very serious, but it has now acquired a humorous twist.
Since his acquittal from corruption charges and return to the Foreign Office, Avigdor Lieberman is at it again. He has come out supporting John Kerry's peace efforts, much to the chagrin of Netanyahu, who does not.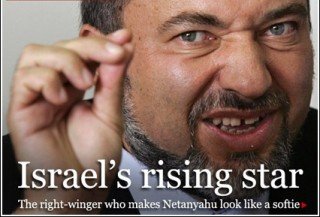 Why, for heaven's sake? Lieberman aspires to become prime minister some day, as soon as possible.
For this he has to (1) unite his "Israel Our Home" party with the Likud, (2) become leader of the Likud, (3) win the general elections. But over all these there hovers (4): obtain the approval of the Americans. So Lieberman now supports the American effort and peace.
Yes, but under one condition: that the US accept his master plan for the Jewish State.
This is a masterpiece of constructive statesmanship. Its main proposal is to move the borders of Israel – not eastward, as could be expected from an arch-nationalist, but westward, slimming Israel's narrow hips even further, to a mere 9 (nine!) km.
The Israeli territory that Lieberman wants to get rid of is the site of a dozen Arab villages, which were given Israel as a gift by the then king of Jordan in the armistice agreement of 1949. Abdallah I, the great-great-grandfather of the current Abdallah II of Jordan, needed the armistice at any price. Lieberman now wants to give these villages back, thank you.
Why? Because for this stalwart of Jewish Israel, the reduction of the Arab population is a sacred task. He does not advocate expulsion, God forbid. Not at all. He proposes attaching this area, with its population, to the Palestinian state. In return, he wants the Jewish settlement blocs in the West Bank to be joined to Israel. A transfer of areas with their populations, reminiscent of Stalin's redrawing the borders of Poland, except that Lieberman's borders look completely crazy.
Lieberman presents this as a peaceful, liberal, humane plan. No one will be displaced, no property expropriated. Some 300 thousand Arabs, all of them ardent supporters of the Palestinian struggle for statehood, will become Palestinian citizens.
SO WHY do the Palestinians in Israel cry out? Why do they condemn the plan as a racist assault on their rights?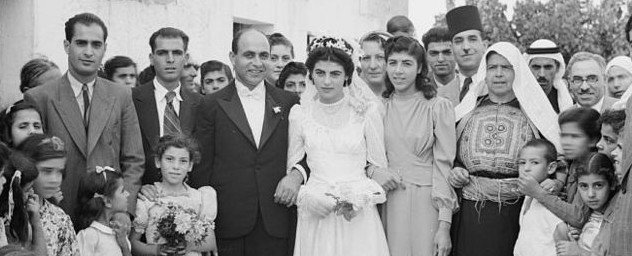 Because they are far more Israeli than they care to admit, even to themselves. After living in Israel for 65 years, they have become accustomed to its ways. They don't love Israel, they don't serve in its army, they are discriminated against in many ways, but they are deeply rooted in the Israeli economy and democracy, much more than is generally recognized.
"Israeli Arabs", a term they hate, play a significant role in Israeli hospitals and courts, including the Supreme Court, and in many other institutions.
Becoming citizens of Palestine tomorrow would mean losing 80% or 90% of their standard of living. It would also mean losing the social security net enjoyed in Israel although Lieberman promises to continue payments to those currently eligible.

After being used for decades to fair elections and the lively give-and-take of the Knesset, they would have to get used to a society in which, as of now, important parties are forbidden, elections are postponed and parliament plays a minor role. The place of women in this society is very different from their role in Israel.
The situation of the Palestinians in Israel is unique in many respects. On the one side, as long as Israel is defined as a Jewish State, the Arabs will not be fully equal. On the other side, in the occupied Palestinian territories, these Israeli citizens are not accepted as fully belonging.
They straddle both sides of the conflict. They would like to be mediators, the link between the two sides, bringing them closer to each other. But this has remained a dream. A complicated situation, indeed.
IN THE meantime, Netanyahu and Lieberman are hatching another plan to make Jewish Israel even Jewisher.
There are today three factions in the Knesset which derive their votes from the Arab population. They constitute almost 10% of the Knesset.
Why not 20%, to reflect their part in the general population? First because they have many more children, who have not yet reached voting age (18 years). Second, their rate of abstention is significantly higher. Third, some Arabs are bribed to vote for Zionist parties.
The part of the Arab MKs in enacting laws is negligible. Any bill they introduce is almost automatically voted down. No Jewish party ever considered including them in a government coalition. Yet they have a very noticeable presence, their voice is heard.
Now, in the name of "governability" (a trendy new term that can be used to justify any attack on human rights), Bibi & Libie, as someone called them, want to change the minimum share of votes that any election list needs to enter the Knesset.
I was elected three times to the Knesset when the threshold was 1%. Later it was raised to 2%. Now the plan is to raise the threshold to 3.25%, which in the elections a year ago would have equaled 123,262 votes. Only one of the three "Arab" parties crossed this line – and then only barely. There is no assurance that it could do so again.
In order to survive, they would have to unite and form a large Arab bloc. Many would think that this was a good thing. But it is very difficult to accomplish. One party is communist, another Islamist, another secular-nationalist.
Also, competing extended families play an important role in Arab electoral politics. The Arab lists may disappear altogether. Or two may unite, eliminating the third.
Some Israeli leftists fantasize about a dream party – a united parliamentary bloc that would include all the Arab parties with the Labor party and Meretz, turning it into a formidable challenger of the right wing.
But that would be too good to be true – no chance at all of this happening in the near future.
IT SEEMS that Kerry and his Zionist advisors already identify with the Israeli demand for recognition as a Jewish State or, worse, the State of the Jewish People (who were not even consulted). The Palestinian side is unable to accept this.
If the negotiations come to naught on this point, Netanyahu will have achieved his real aim: to abort the negotiations in a way that will enable him to blame the Palestinians. As long as we have a Jewish State – who needs peace?
Editing:  Jim W. Dean
 __________________________________
Author Details
Jim W. Dean is Managing Editor of Veterans Today involved in operations, development, and writing, plus an active schedule of TV and radio interviews. He broke into television work doing Atlanta Public TV programs for variety of American heritage, historical,military, veterans and Intel topics and organizations since 2000. Jim's only film appearance was in the PBS Looking for Lincoln documentary with Prof. Henry Lewis Gates, and he has guest lectured at the Army Command and General Staff School at Fort Gordon, GA.
He is working to find time now to database his extensive video archive of Americana and interviews filmed during his public TV days so individual topic segments can be key word searched to quickly use in future multi-media projects.
Read Full Complete Bio >>>
Jim's Latest Posts
ATTENTION READERS
Due to the nature of independent content, VT cannot guarantee content validity.
We ask you to
Read Our Content Policy
so a clear comprehension of VT's independent non-censored media is understood and given its proper place in the world of news, opinion and media.
All content is owned by author exclusively. Expressed opinions are NOT necessarily the views of VT, other authors, affiliates, advertisers, sponsors, partners or technicians. Some content may be satirical in nature. All images within are full responsibility of author and NOT VT.
About VT
-
Read Full Policy Notice
-
Comment Policy